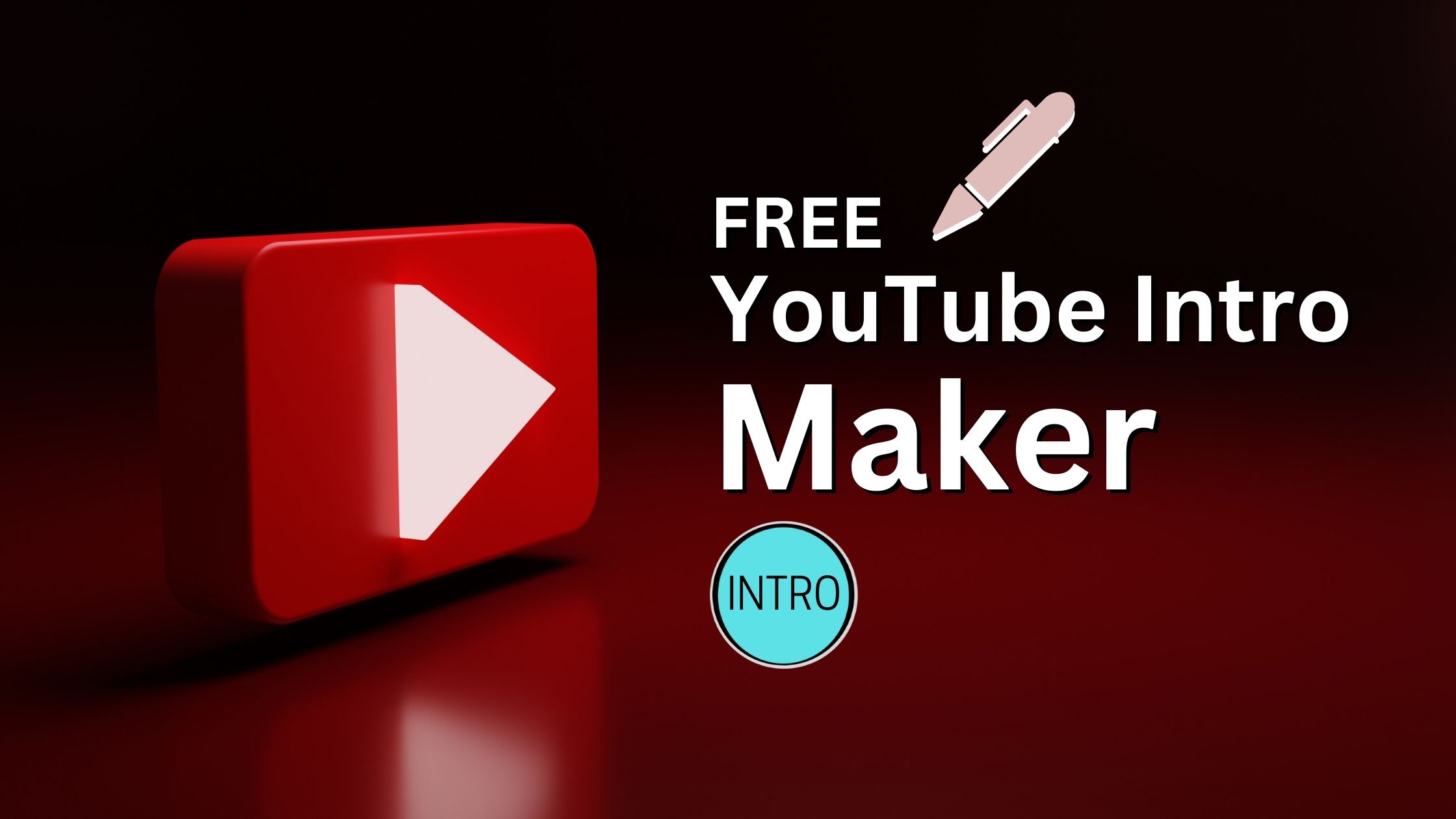 Top 13 Free YouTube Intro Maker for YouTubers (2023)
One of the most well-known websites on the internet is YouTube. It is a platform that offers news, entertainment, and even educational content. In essence, it's a platform that offers us whatever content we desire using the video format. The fundamental structure is straightforward: concise, memorable, and original. It must represent you as a creative, your work, your channel, and the subject matter of your videos. Ensure your logo and overarching theme are included because it has to represent your business. Depending on their topic's adaptability, some folks even have more than one intro. There are various options for making one, from basic video editing software to an easy-to-use online free YouTube intro maker. Of course, everything relies on your goals and level of expertise. So don't fear.
Even if you lack expertise and are just starting your YouTube channel resources free YouTube intro maker may greatly assist you in your early stages. It's not easy to find the best YouTube intro makers online, but we've got you covered.
Most individuals need more expertise to start from scratch and produce an original introduction video utilizing stock or raw materials and editing tools. Use Free YouTube video intro makers, and you can make YouTube intros free using them.
List of Best Free YouTube Intro Maker: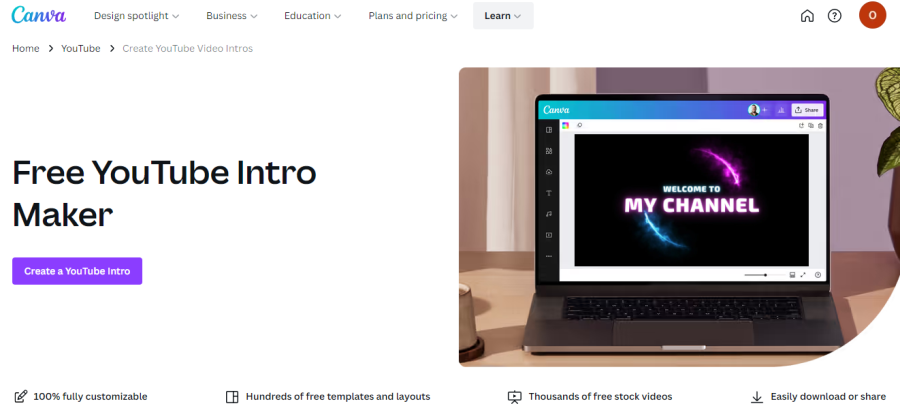 Use jaw-dropping YouTube intros to draw in internet viewers, presenting a free YouTube intro maker. Most popular YouTubers utilize intros to introduce themselves to their audience and establish their brands. You don't need an editing background to create them with Canva's free intro builder. Thanks to adaptable templates and a simple drag-and-drop intro creation process, your YouTube channel and brand will be available.
Use the free intro creator on Canva to create a standout opener that will draw in viewers and convert them into devoted fans and subscribers. You can create memorable introductions no matter where you are since it is easy to use and accessible on iOS, Android, and web browsers. Canvas YouTube intro builder allows you to edit a template and save your films, and a YouTube intro maker is free online without a watermark. Pay just when you utilize Canva's extra services.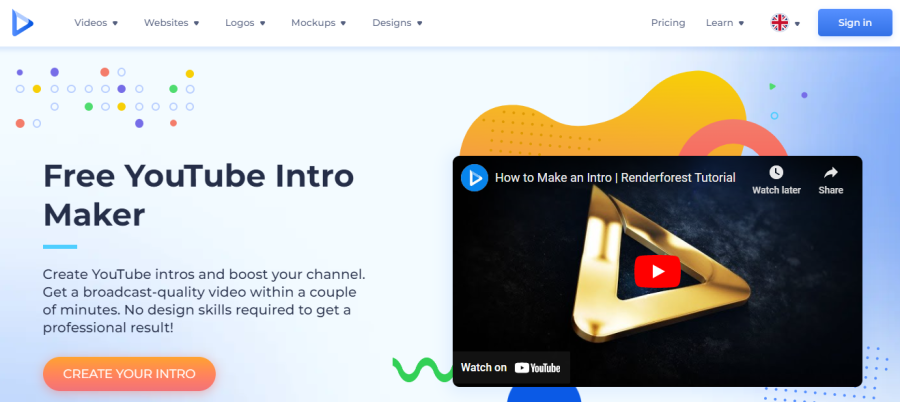 It's no secret that YouTubers create and edit their videos using a variety of video editors. The initial few seconds of your YouTube video clips matter, whether for a gaming channel or a tech vlog. Most spend hours skimming through YouTube videos, searching for anything interesting and useful. You aim to stand out amid millions of channels and videos using a free YouTube intro maker.
Without a doubt, everyone's number-one choice and the go-to website! A smart strategy to amaze your audience is to have a high-end introduction. To increase the value of your video, you should have an interesting introduction.
It gives people a condensed overview of the information you deliver. Also, it works well for lengthening your video viewing sessions and improving your YouTube ranking. Therefore, make sure you have a dependable YouTube intro creator available to make your videos stand out!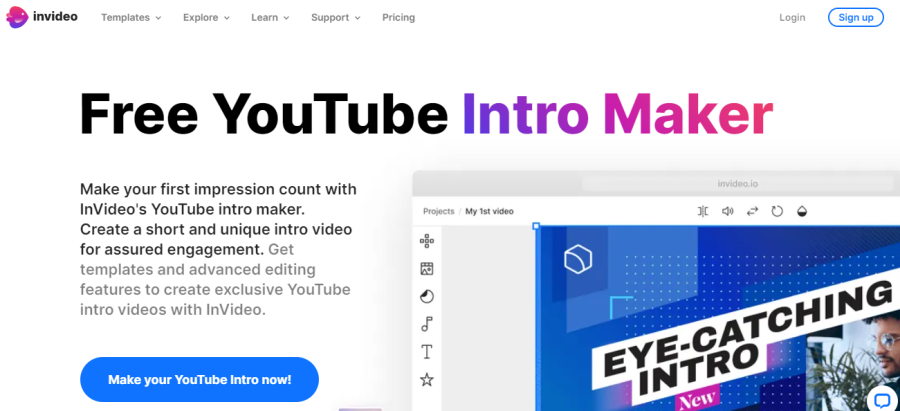 The free YouTube intro maker InVideo can help you make a good first impression. Make a brief, distinctive opening video to ensure interest. You have a wide range of options from which to choose while searching InVideo's huge collection for the best template for a visually appealing YouTube Intro video. Add creative elements from InVideo's stock collection to make a special film.
Once you've finished giving your YouTube intro its finishing touches, go ahead and export your video from the online YouTube intro builder and post it there. The topic and goal of your video must be consistent with your template.
InVideo's expanding library of templates caters to all customers' demands to make YouTube intros free. To further clarify the purposes of your film in the introduction, you may include voiceovers. You may also go through the InVideo stock collection for more audio choices.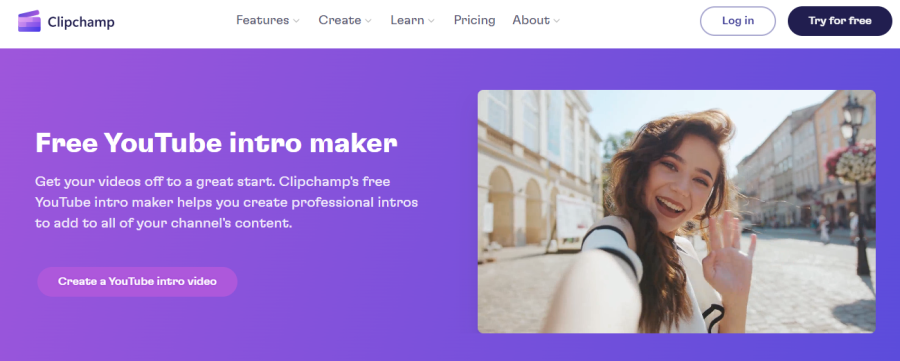 Make YouTube intro free Using our well-liked and well-known free video editor to quickly and beautifully produce films. Be inspired without being constrained, regardless of whether you need to speed up uploads, save money on storage, or start fresh with a movie.
With our video templates, you get the best of both worlds: ready-to-use layouts for everything from advertisements to wedding video inspiration, all inside a versatile video editor that enables you to customize each template completely. To make your project shine, here is Clipcha, a free YouTube intro maker. Do you need fresh video stock? You may choose as you go from our vast collection of stock music and video.
We understand that outstanding films combine original content and stock footage, which is the core of our editing experience. So since 2014, we've promoted online video production and continued expanding our in-house developed video technology.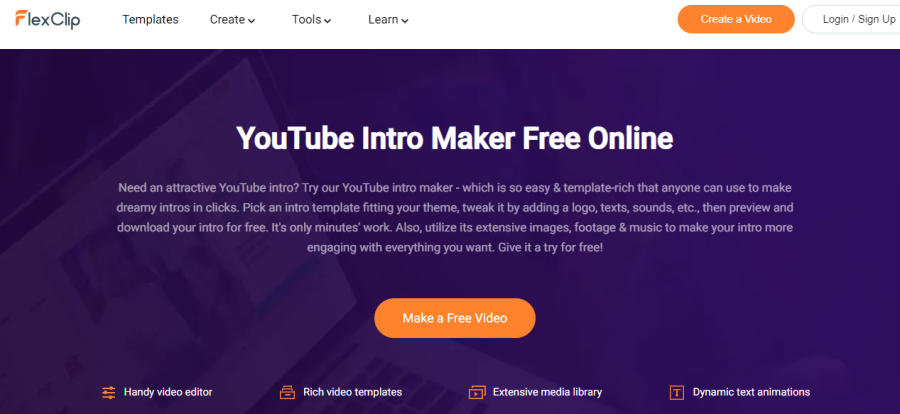 Do you need a captivating YouTube intro? Try this free YouTube intro maker; it's so simple and filled with templates that anyone can use it to create dreamlike intros in a few simple steps. Choose a template for your intro that fits your topic, customize it by adding a logo, words, sounds, etc., and then see and download your intro for free.
Use its comprehensive graphics, video, and music to add anything you want to make your entrance more captivating. You need a compelling introduction if you run a YouTube channel to draw viewers.
Even though an intro is only the first 5 to 10 seconds of a video, it is crucial to the success of any video. If viewers see an ordinary or below-average intro, they will likely leave. The YouTube intro creator from FlexClip includes all the tools you need to make a YouTube intro free.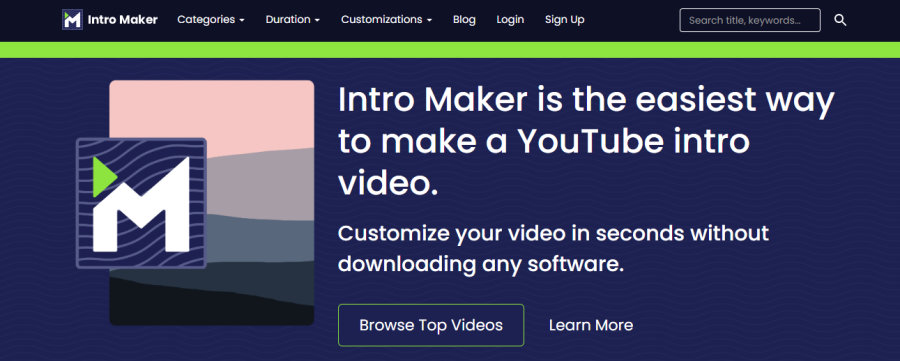 An entirely new video must be created, which takes time, expertise, and familiarity with specialized animation software. It costs money to hire experts. It may take up a lot of time; thankfully, a free YouTube intro maker, Intro Creator, and banner maker can assist you.
Search for video templates by genre, phrase, length, or modification possibilities. Intro maker has a video template for you, no matter if you need to make a logo, edited video or anything. Just upload your logo, complete a few fields, and presto! The rendering time for your free preview video is typically one minute.
Normally, full movies render in two hours or less. A strong introduction is a terrific place to start, but you must follow it with high-quality material. Of course, you won't become a unicorn after making a professional entrance video, but perhaps you've always been a star.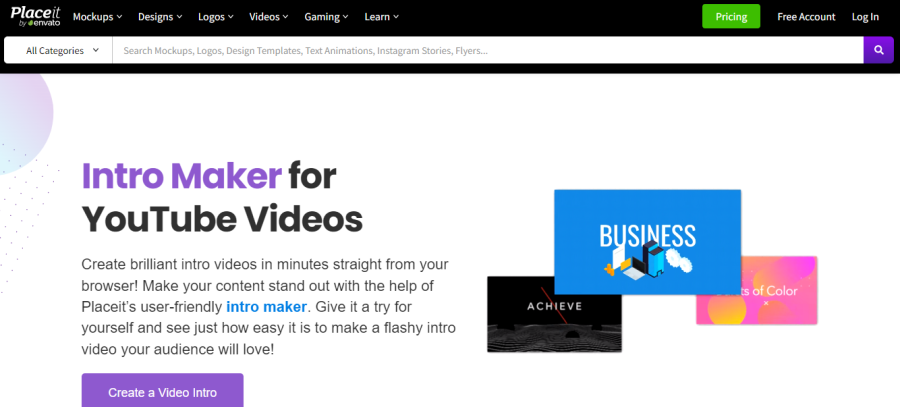 We take pleasure in providing our consumers with products that are absurdly simple to use while being sophisticated design and layout issues. The labour involved in creating intros for your YouTube videos is eliminated with Placeit's YouTube Intro Creator. Promoting sales and your social network accounts, displaying your brand, and doing everything else required to create engaging YouTube videos is simpler. Go through Placeit's collection of YouTube intro generators and pick a design that appeals to you to make a YouTube intro free.
Change the text, fonts, colours, animations, and images in your YouTube opening animation to make it unique. You may also add your logo! Your intro creator for YouTube videos is complete after you've chosen a song to go with your animation. All that's left to do is upload your brand-new, incredible YouTube intro to each of your videos, and you're done! Start dressing professionally!

Use PhtoADKing's YouTube intro templates to create a YouTube intro. A creative introduction creator for non-designers and amateurs and a free YouTube intro maker. Select the YouTube intro design that best serves your needs and add customizations utilizing our additional features. PhotoADKing offers free YouTube intro themes with attractive lettering and background music to make your move easier. Your YouTube intro themes may be easily customized and made to look as you want. Save your video after you're finished and download it to share.
Choose your preferred YouTube intro template from a collection available. Then, upload your logo or text to the YouTube intro editor. Text formatting options include letter spacing, font shadows, font size, font colour, and more. You may cut and replay your music or sound clip when adding or replacing it. Download the YouTube intro in both standard and high-resolution MP4 format.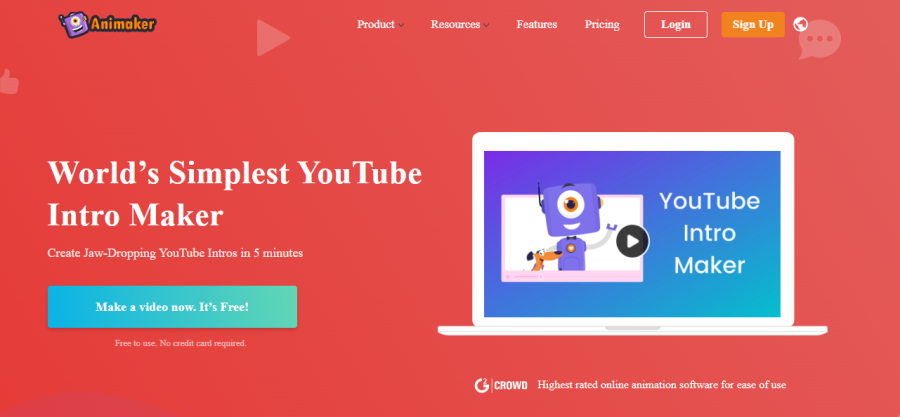 About 18 million individuals have used Animaker to generate amazing films alone! Some of the world's top companies also regard it with confidence. So, do you want to start your production? First, make a YouTube intro free by selecting a YouTube intro template from Animaker's enormous template collection. Replace every component in the templates with elements from the Animaker collection or your own uploaded assets, such as your logo or brand mascot, to make them uniquely yours.
Next, add music to your YouTube intro to make it more engaging. You may quickly add one by choosing from our vast music available without a license or by uploading your own song. Do it yourself or trust our expert templates, we have it all!
You may save your lovely intro to your computer or publish it immediately on your YouTube channel after you've finished creating it from this free YouTube intro maker.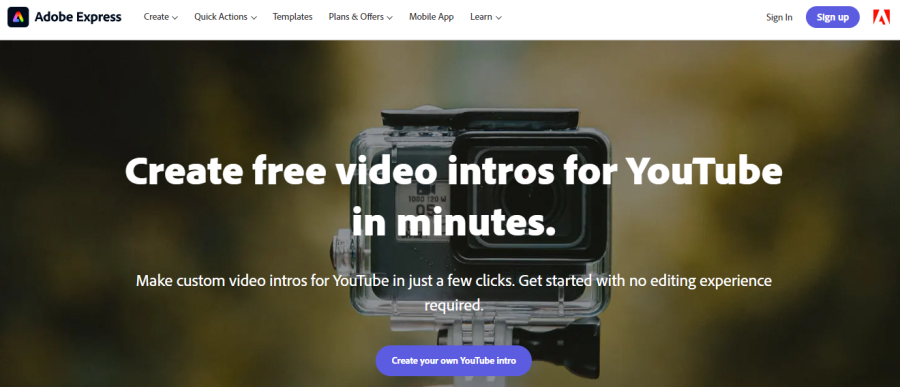 Learn how to create a YouTube intro to draw viewers, establish your brand, and mark your material. With Adobe Express, you can make a YouTube intro free while utilizing the strength of top tools. No design expertise or technical knowledge is required; select a template, alter it, and upload it. Your opening video can look just like many others on YouTube if you use standard video editing tools. Thanks to the Adobe Express free YouTube intro maker, video production is now easier than ever.
Keep it brief, so your movie can quickly get to the important parts. Brand your intro to let your audience know when they are viewing your distinctive material. Draw in your audience with exciting animation or a well-chosen tune. To acquire their opinions and ensure your video opening is being received as planned, show it to close friends, family, or co-workers.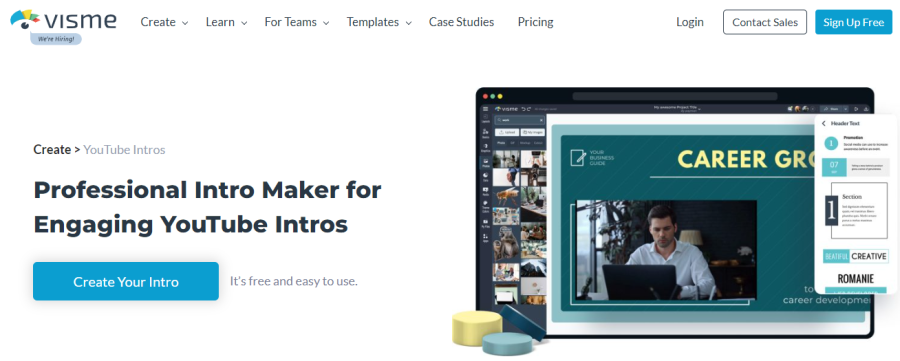 There are several pre-designed designs available in Visme's free YouTube intro creator. With these templates, it's simple to create cost-free video introductions that you may modify to suit your requirements. With the help of our expertly crafted graphic components, you can create a YouTube intro for free with the Visme intro creator.
First, discover the ideal match by perusing our template collection. Then, use Visme's online video intro builder to create a captivating intro and engage your viewers. This free YouTube intro maker engine is brimming with user-friendly tools and precious resources to help inspire your imagination.
You may manage your movie's overall appearance and feel with the professionally prepared templates that come with the Visme YouTube intro creator. Your YouTube channel goals were considered while creating the Visme video intro creator. After finishing your intro, it's simple to export your movie and post the finished result to YouTube.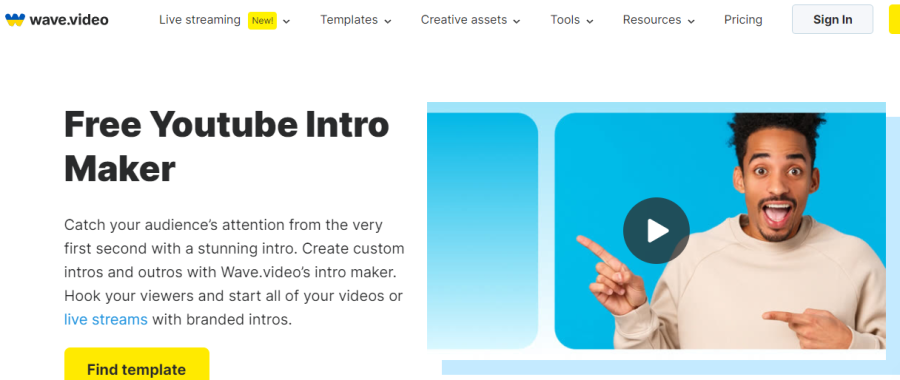 With a spectacular introduction, you can immediately capture your audience's attention. Using the intro creator on Wave. Video, you may design your intros and outros. You may upload your files or select videos from our more than 300 million stock videos database while using our intro creator. You may use animated text effects, add a watermark, apply video filters, and add the name of your channel or event to the video.
Upload your intro video to your channel or make it available to your audience before the webinar is finished. You may make intro and outro videos for your channel, webinars, and other live performances with Wave. Video. With the Wave. Video live solution, you can now organize live events. Using Wave, you can effortlessly resize the same video to fit all the common formats, such as Instagram Stories, YouTube live streams, Facebook feeds, etc., and video intro creators.
Conclusion
Regardless of format, every TV series, talk show, and other broadcast program has a distinctive start, and this is not by chance. When it comes to establishing brand familiarity and trust, intros are crucial. They assist us in recalling and empathizing with the material we view. It facilitates our comprehension of what we're about to view. Also, it helps with marketing and is professional.
The above-mentioned free YouTube intro makers will help you grow your channel and reach various audiences. You can choose any and your audience will be amazed. As you can see, the introduction is not just something you must have because someone told you to. It is indeed a crucial component of a YouTube video. Thus, if you don't have one or wish to create a new one, we advise you to do so immediately. You'll benefit much from it.
The section of the video that comes first is the intro. It might be a little animated segment or your brand's logo, which quickly defines the identity of your film. You gain extra strength from an intro, which you may use to increase your marketing efforts. Thanks to contemporary technologies, it is now quite simple to edit movies online and produce top-notch intros.




© Upviews 2022 All Rights Reserved.