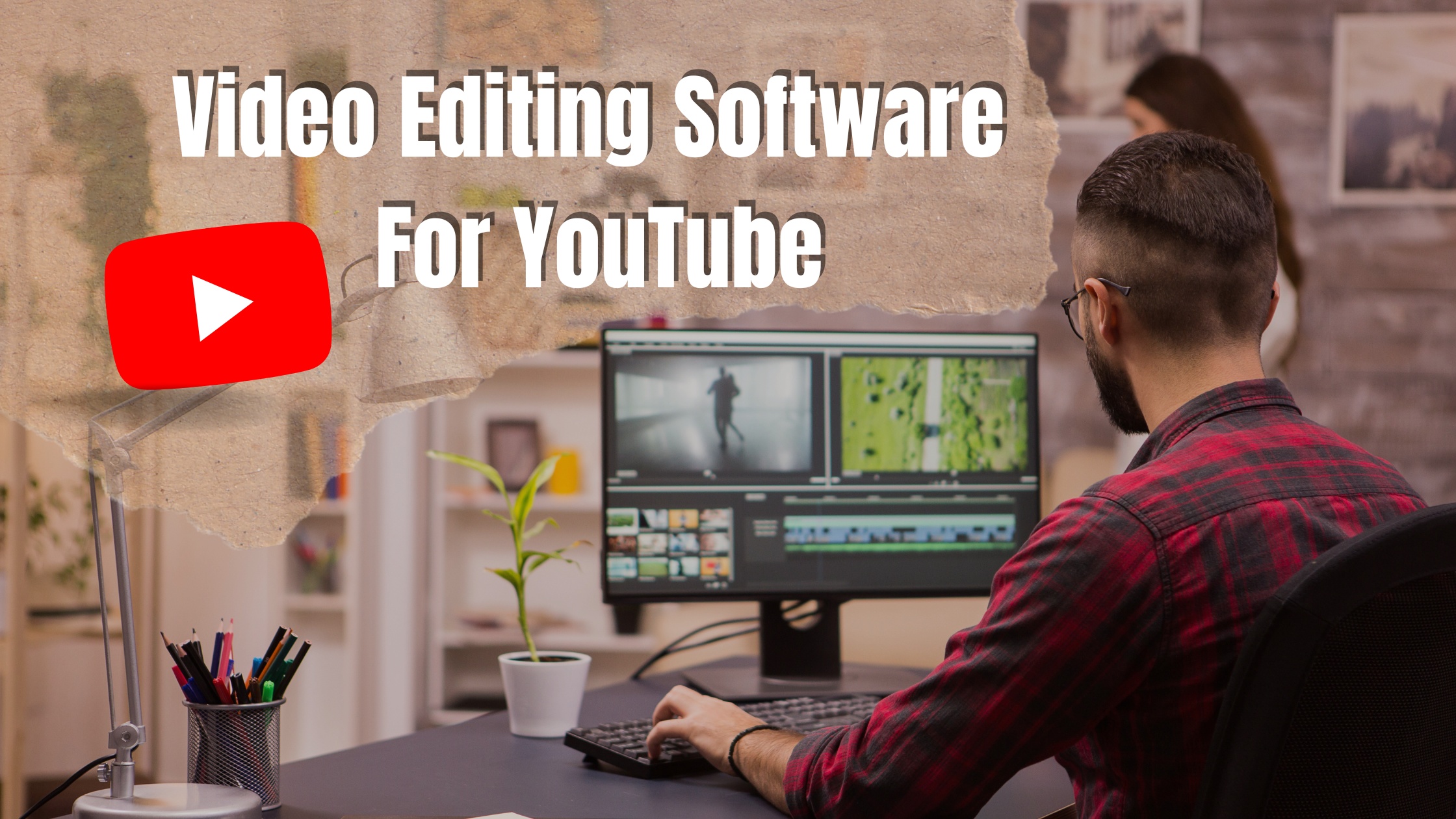 YouTube is one of the most popular social media platforms with over two billion active users. It's also a great platform for sharing videos and building a following. If you're looking to start a YouTube channel or improve your existing one, you'll need to invest in some good video editing software.
Best Video Editing Software for YouTube: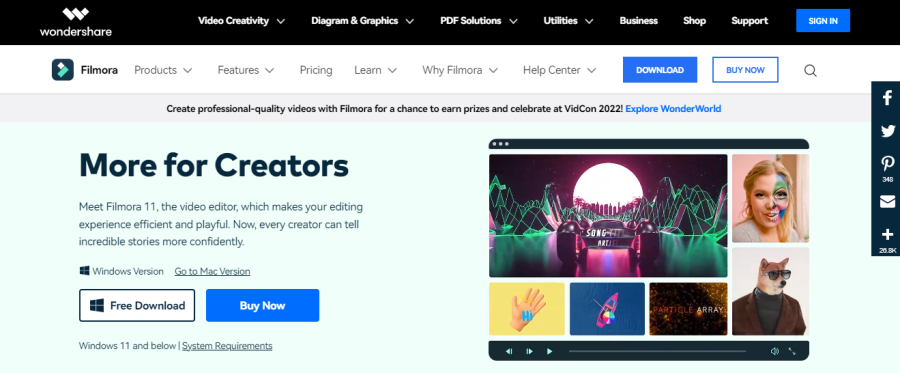 If you're looking for a powerful and easy-to-use video editor, look no further than Wondershare Filmora. With its built-in editing features, Filmora makes it simple to create impressive and captivating videos in just a few steps. You can also take advantage of its free download to get started right away.
With Wondershare Filmora, you can add more possibilities to your video editing with advanced functions like keyframing, motion tracking, speed ramps, split screen, green screen, and masking and blending. You can also make your sound stand out with powerful audio editing features like the audio visualizer, auto beat sync, and audio ducking.
And with the new silence detection feature, you can quickly identify and remove silent sections of your video. So whether you're creating a professional video or just sharing a favorite clip with friends, Filmora has all the tools you need to make your vision come to life. It is the best video editing software for YouTube.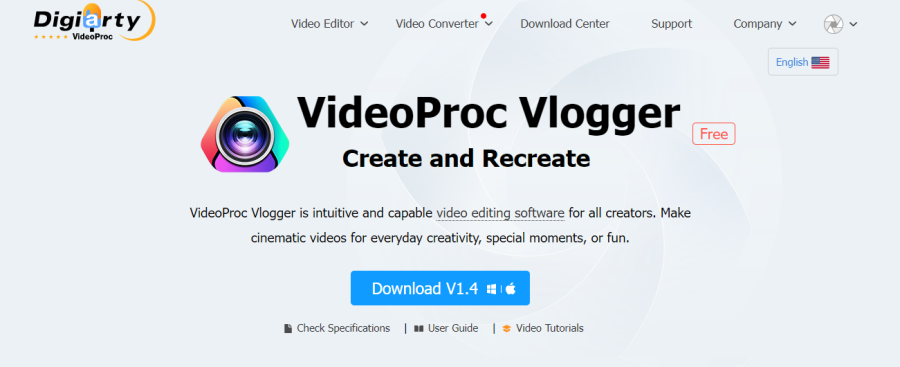 Do you love making videos but find the editing process to be a bit overwhelming? Well, say goodbye to your editing woes with VideoProc Vlogger! This intuitive and capable video editing software is perfect for all creators, whether you're making everyday videos for fun or special moments. With VideoProc Vlogger, you can easily add filters and effects to make your videos look truly cinematic. So why wait? Get creative and start creating amazing videos today with VideoProc Vlogger!
With Video Proc, you can control the speed of your footage like a pro. You can change the speed constantly or variably, and add some speed ramping to liven up your videos. This is a great way to alter the tone and tempo of your GoPro or DJI footage. Let ordinary videos have focuses and upsurges. With Video Proc, you can make your videos more interesting and engaging.
The Video Proc is a powerful video editing tool that gives you the ability to create dynamic and engaging videos with ease. With its flexible bezier curves, you can create speed changes for sports videos, action videos, and travel vlogs without having to split them into segments.
Additionally, the automatic keyframes make it easy to speed up or slow down any parts of a video, and the motion crop feature allows you to dynamically crop and reframe your shots. You can also add push-in/out and close-up shots to vlogs with ease using the presets, and stylize your videos with shakes, fast zooms, and rotation. The best part is that this is free video editing software that you can download to your device.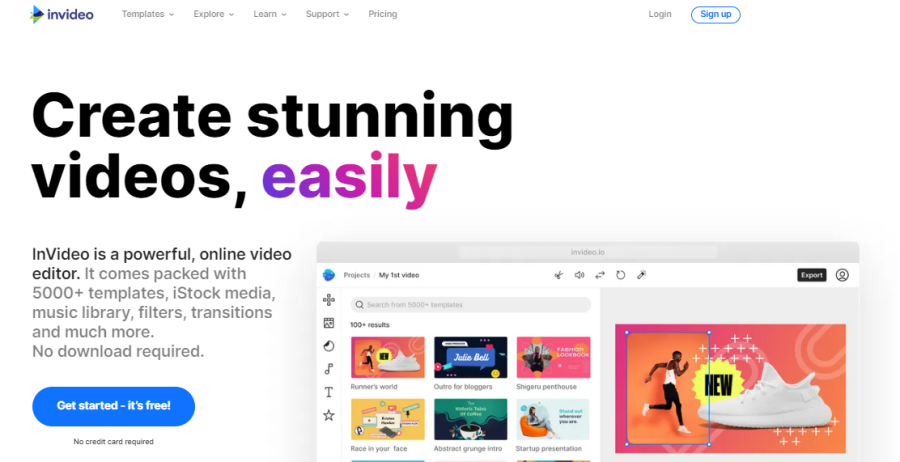 Looking to create amazing YouTube videos without hours of editing? Introducing Invideo, the YouTube video editor that makes it easy to create stunning videos in just a few minutes. With our easy-to-use tools, you can import, trim, and cut your footage, add audio and other media, and create a YouTube video that's ready to publish. So whether you're a YouTuber looking to edit your next video or a marketer needing to quickly create a promotional video, Invideo is the perfect solution. Try it today and see how easy and fun video editing can be!
Get your hands on this video editing software free trial pack. Their easy-to-use online video editor makes creating high-quality, engaging videos a breeze. With over 5000+ customizable templates, 8 million+ stock photos and videos, and powerful editing features, you can create stunning YouTube videos that will make your channel stand out from the crowd.
And with the brand kit feature, you can easily apply your branding to any video with just one click. Plus, the team collaboration features make it easy to work with others on your videos. So what are you waiting for? Create unforgettable YouTube videos today with InVideo!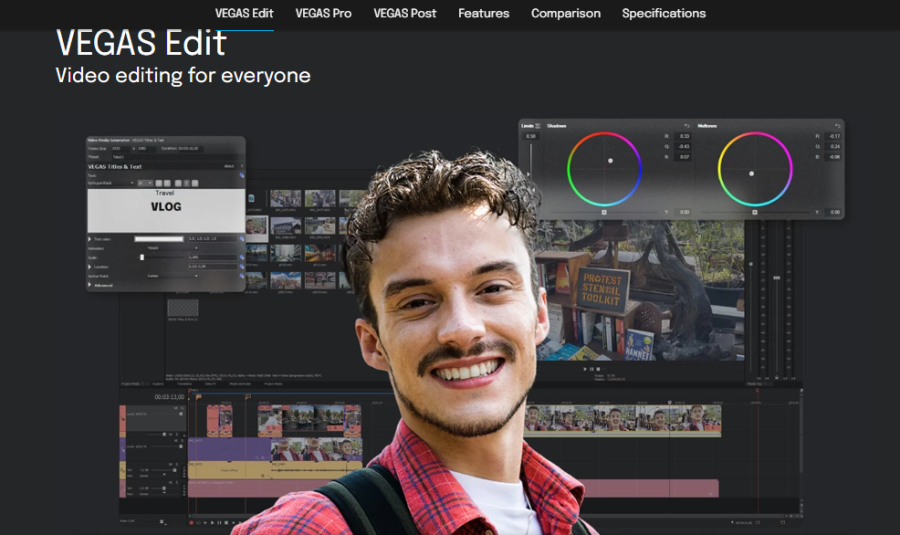 Are you a content creator looking for a powerful but intuitive video editing software free trial? Vegas Edit is perfect for you! With Vegas Edit, you can easily produce YouTube videos, tutorials, or product reviews and share them with your audience.
Vegas Edit is packed with features that make video editing easy and fun. Intuitive drag-and-drop editing makes it simple to rearrange your footage, while advanced features like green screen and Chroma Key allow you to take your videos to the next level. Plus, with Vegas Edit's built-in sharing tools, you can quickly post your videos online or share them with your friends and followers with just a few clicks.
If you're looking for the best video editing software for YouTube that will allow you to create amazing videos, look no further than Vegas Edit. With its easy-to-use professional tools, you can create simple vlogs or cinematic masterpieces with ease. Vegas Edit supports a wide range of formats and features storyboard and timeline synchronization, scene detection, and event editing.
You can also export your videos to social media. Plus, with its hundreds of presets, filters, and effects, you can create eye-catching scenes that will engage your audience. So if you want to create videos that are both creative and professional, Vegas Edit is the perfect video editing software for you.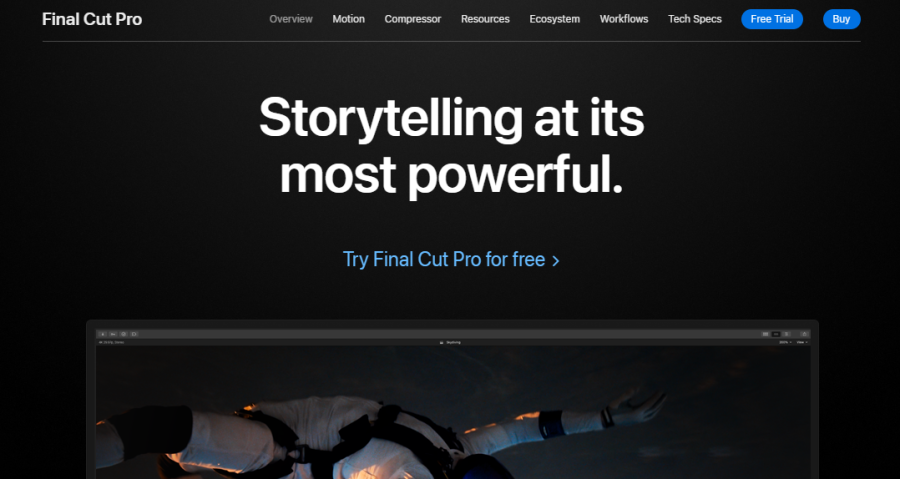 Final Cut Pro is the best video editing software for YouTube professionals. With its unrivaled performance, advanced editing features, and support for leading plug-ins and effects, Final Cut Pro is the perfect tool for any video editor. From editing to color grading, motion graphics to audio, Final Cut Pro has everything you need to create stunning videos.
With Final Cut Pro, you can take your creativity to the next level. The Object Tracker feature uses powerful machine learning to detect faces and objects, then matches their movement with titles and effects. This gives you the ability to add dynamic text or color correction to moving footage.
You can also drag a title, graphic, or effect directly into the viewer to detect faces and other objects using powerful machine learning. Final Cut Pro also allows you to adjust focus points and depth of field on clips captured in Cinematic mode on iPhone 13. This gives you the ultimate cinematic effect. If you are looking for the best free video editing software trial for iOS then this is the one.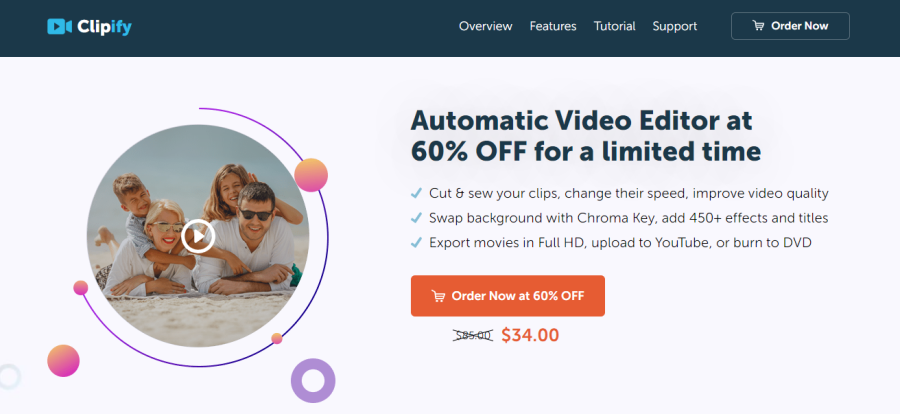 Looking to take your video editing skills to the next level? Clipify is a powerful, yet easy-to-use video editor that can help you create professional-looking videos in no time. With Clipify, you can cut and sew your clips, change their speed, improve video quality, and more. Plus, with the built-in Chroma Key tool, you can swap out backgrounds with ease.
And with over 450 effects and titles to choose from, you can customize your videos to perfection. Export your finished video in Full HD and upload it to YouTube or burn it to DVD. Act now and get Clipify at 60% off for a limited time!
The software comes with a variety of tools to make movie-making as simple and fun as possible. The auto video creation feature allows you to create a stunning movie in just 5 minutes by choosing from a range of templates for different occasions. Add some zest to your videos with Clipify's 150+ spectacular effects and filters! With just a few clicks, you can add vintage effects, retro vibes, black and white or sepia finishes, fog, flames, sunbeams, sparks, or glow to your footage.
You can also explore Clipify's built-in music library of over 200 royalty-free tracks of all genres, moods, and tempos. So whether you're looking for an epic and dynamic soundtrack or something serene and mellow, Clipify has you covered. So spice up your footage today with Clipify! Unfortunately, this is not free editing software. However, it is the best budget video editing software for YouTube.

FlexClip is the best video editing software for YouTube for creating stunning clips. It's flexible and easy to use, so you can create videos for any purpose. Whether you're looking to promote your brand, share a social media post, or just capture a special moment with family, FlexClip makes it easy. With its simple interface and powerful editing features, you can create beautiful videos that are perfect for any occasion. Creating top-notch videos doesn't have to be complicated or time-consuming.
With FlexClip, you can easily level up your video creation with built-in resources. From fantastic text animations and preset styles to millions of dynamic vector elements and 4,000,000+ royalty-free stock assets, FlexClip has everything you need to make stunning videos that'll grab attention and keep viewers engaged.
And the best part is that you can create and share your videos seamlessly across different devices. So why wait? Get started with FlexClip free video editing software trial today and see how easy and fun video creation can be!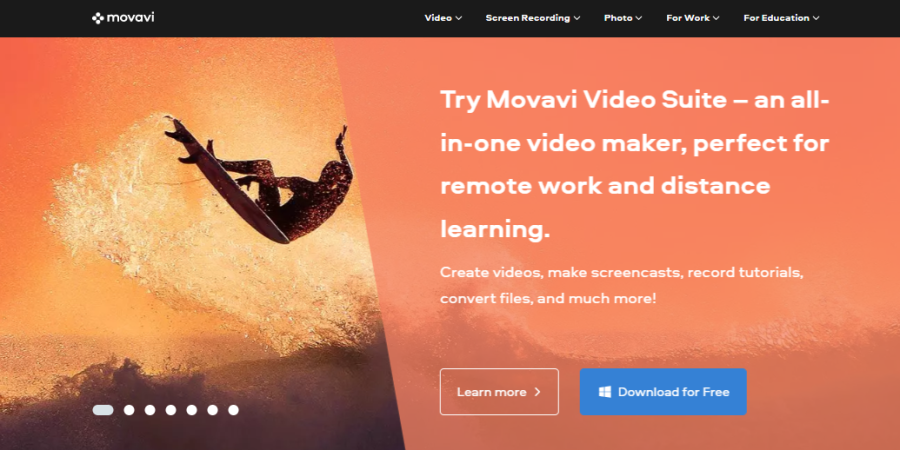 Movavi is a powerful multimedia program that lets you work with video, audio, and images anywhere. With Movavi, you can easily edit videos, capture screens, and convert media. You can also edit photos and create beautiful slideshows. Movavi is the perfect tool for anyone who wants to be creative with multimedia. Movavi Video Suite is the perfect video editing software for both beginners and professionals.
With its new tools, you can easily optimize your screen space, switch between light and dark themes, and get personalized recommendations. Plus, with the latest Movavi tools, you can create unique styles for your videos, enhance audio quality automatically or manually, and monitor sound levels on the volume scale. And with Picverse Photo Editor, you can let artificial intelligence improve your photos in no time. So why wait? Get Movavi Video Suite today and make your dreams a reality!

PaintShop Pro is an incredibly powerful image and the best free video editing software trial pack. It has been designed to make creating show-stopping images easy. The all-new Frame Tool makes placing raster objects into shapes quick, easy, and intuitive, while the AI Background Replacement and AI Portrait Mode feature powered by artificial intelligence and machine learning technology make it easy to create something truly original.
Additionally, the Welcome Screen Experience has been enhanced for an even better user experience. Creative content included with PaintShop Pro provides even more ways to make your images stand out.
Paint Shop Pro is your complete photo and video editor, with everything you need to edit stunning photos and create compelling design projects. With PaintShop Pro, you can retouch photos, remove unwanted objects, and even create your digital art. And with VideoStudio Pro, you can produce entertaining videos with ease. Whether you're a seasoned pro or just getting started, Paint Shop Pro has everything you need to make your creative vision a reality.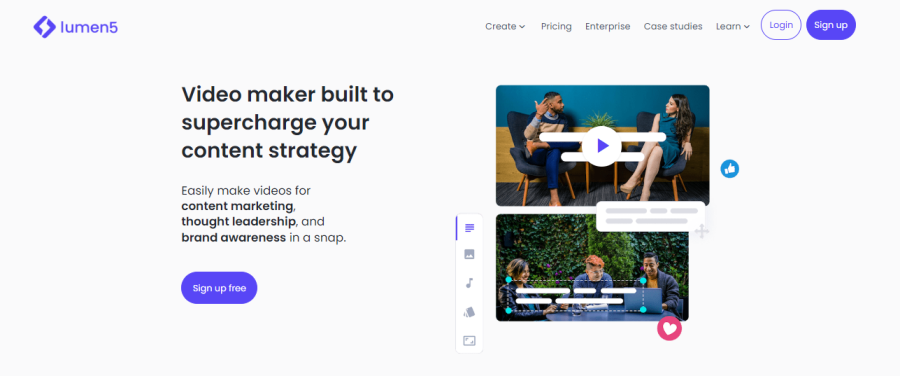 Looking for the best free video editing software to supercharge your content marketing strategy? Lumen 5 is the perfect tool for easily creating videos that engage your audience and promote your brand. With Lumen 5, you can quickly and easily create videos for content marketing, thought leadership, and brand awareness.
The built-in video maker makes it a snap to create high-quality videos that capture your brand's unique voice. With Lumen 5, you can reach your target audience with powerful, engaging video content.
With the easy-to-use drag-and-drop interface, you can create engaging videos without any prior experience. And with the AI-powered technology, storyboarding your ideas is a breeze! Plus, the media library gives you access to millions of high-quality photos, videos, and audio files. So get started today and see the difference Lumen5 can make!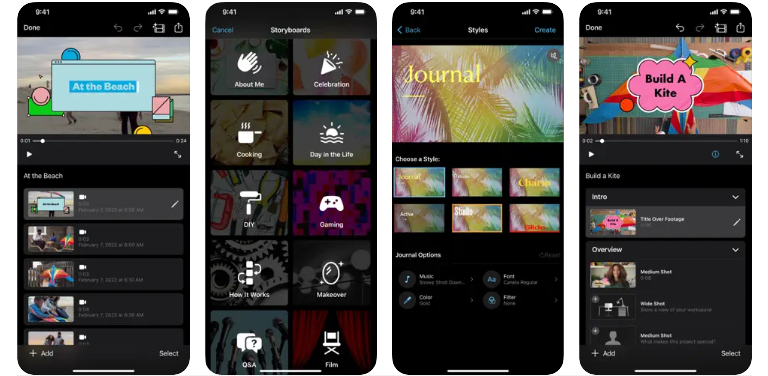 IMovie Maker is the perfect way to turn your videos and photos into Hollywood-style trailers and beautiful movies. With its streamlined design and intuitive Multi-Touch gestures, iMovie lets you create stunning films with ease.
Simply select an album or group of videos or photos and iMovie will do the rest, creating a stunning video with titles, transitions, and music. You can also easily rearrange or delete clips in the simplified shot list. And if you want to change up the look and feel of your video, simply apply a different style.
IMovie Maker also comes with 20 pre-made Storyboards to help you get started with popular video types. Plus, you can record video or take photos right into each placeholder.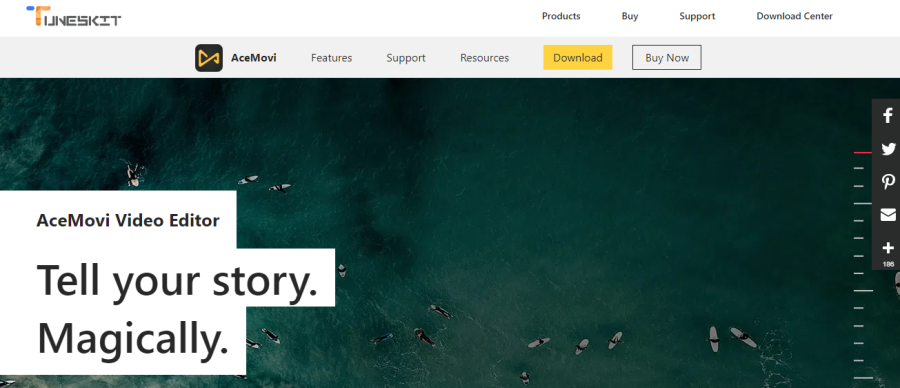 AceMovi is the best video editing software for YouTubers who want to unleash their creativity. This simple yet advanced video editing software makes it easy to edit any video, with a wealth of features that guarantee everyone can grow as an editor easily.
With AceMovi, you can rotate and flip your videos, crop, and zoom, split and merge, add audio and text, control speed, and detach audio – all with just a few clicks. This intuitive software makes editing a breeze, and the drag-and-drop filters make it easy to create your masterpiece. Plus, with keyframing and split-screen capabilities, you can enhance your footage and place several amazing video clips on one screen.

If you're looking for top-quality free video editing software that's powerful, lightweight, and user-friendly, VSDC Pro is a perfect choice. It's designed for video creators who want to take their skills to the next level without spending a fortune.
With VSDC Pro, you can quickly fix your footage or create brand-new movies using advanced tools for masking, color correction, and motion tracking. And with a worldwide community of 5+ million VSDC users, you'll always have access to creative inspiration and support. So why wait? Unlock your creativity today with VSDC Pro.
VSDC is a powerful video editing software that provides users with a built-in motion tracking tool. This allows you to analyze the trajectory of any moving object in a video, record it, and assign that same trajectory to any other object in the scene.
You can censor moving objects in the video, recreate memes, or add stylish and dynamic captions. Additionally, the software provides a tool called "Edit the beat" which allows you to synchronize any effect parameter with the sound of the beat. This can be used to create stunning music videos with dynamic audio visualizations.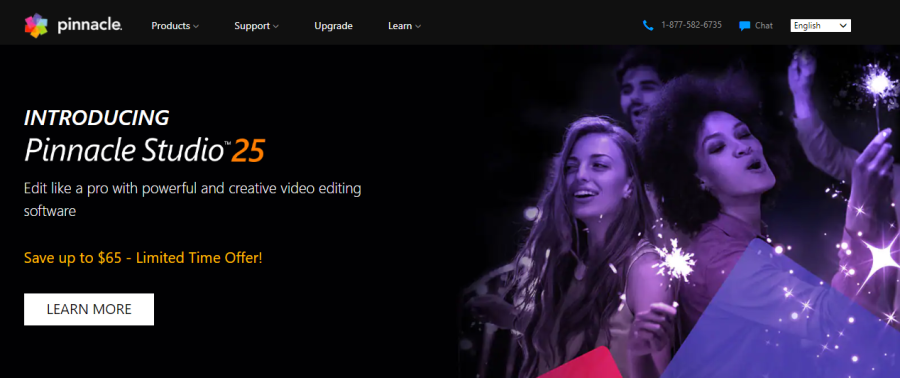 Welcome to Pinnacle, the most popular video editing suite around. Their ultimate package is loaded with pro-caliber tools and premium effects to help you create stunning videos. If you're new to video editing, we've got you covered with access to video tutorials, tips, and tricks perfect for all skill levels.
And if you're an experienced editor, we've got some great add-ons to help you take your skills to the next level. Check out our VHS to DVD converter and our screen recorder. So whether you're a beginner or a pro, Pinnacle has everything you need to create amazing videos.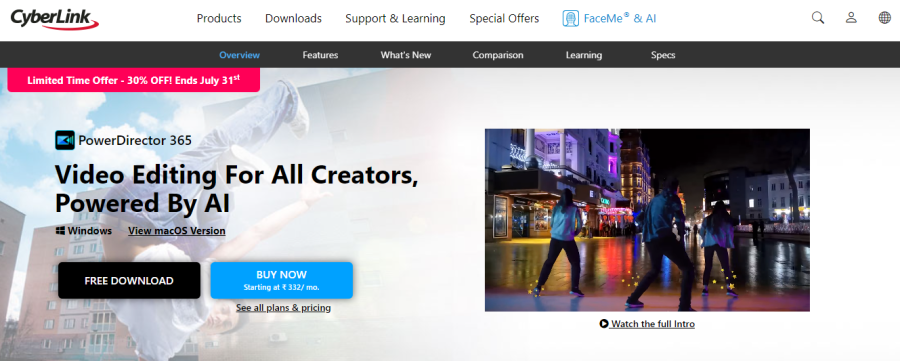 CyberLink PowerDirector 365 is the best video editing software according to PCMag. This powerful prosumer Video Editing Software offers limitless capabilities and an intuitive workflow that makes it easy for anyone to create stunning content.
With powerful new effects, a streamlined user interface, and ever-growing resource libraries, PowerDirector 365 is the perfect tool for anyone looking to take their video projects to the next level.
Conclusion:
These are some of the best video editing software available. With so many choices, it can be hard to decide which one is right for you. But with this guide, you should be able to find the perfect software for your needs. 




© Upviews 2022 All Rights Reserved.