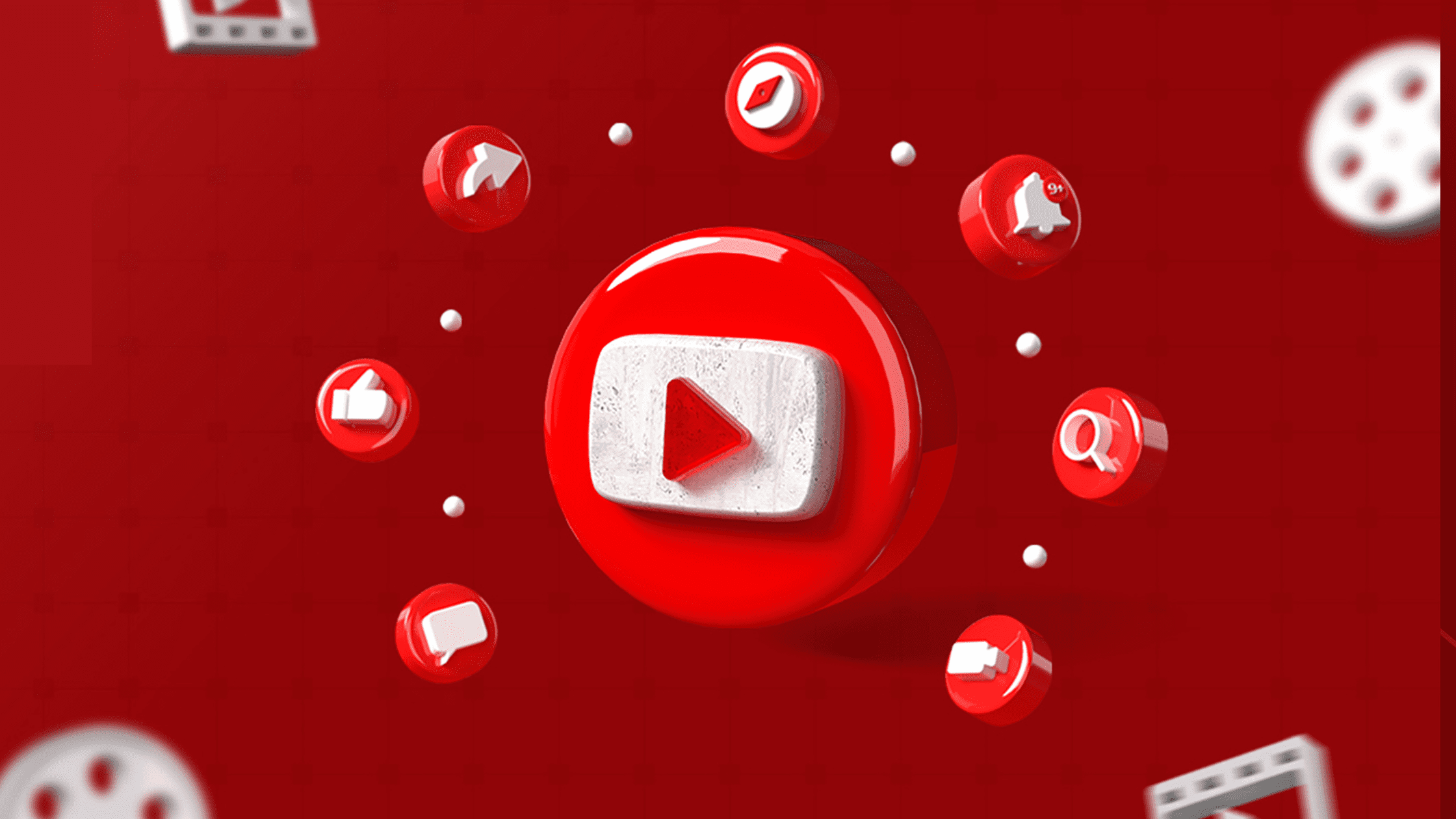 Finding the correct YouTube marketing tools is important. The tool should help you grow your channel by making your workflow more efficient and effective. If you get stuck with a tool that is sluggish and gives a bad user experience then it makes it harder to grow. Today, we decided to look into some of the best YouTube marketing tools that professionals use to grow their brands on YouTube. If you are struggling with YouTube marketing and promotion you can use these tools as well. So, let's get into it.
Best YouTube Marketing Tools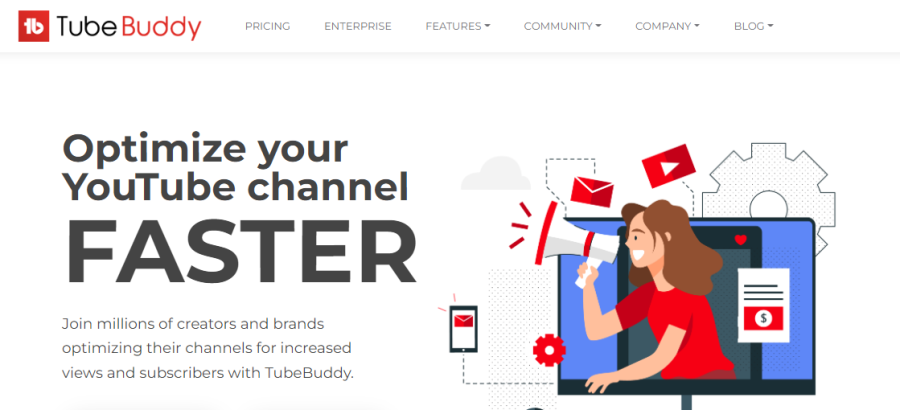 TubeBuddy is a tool that can be used to optimize your YouTube channel. Using this tool it becomes easier to optimize your channel in less time. Multiple brands, creators and businesses have used this site to grow their YouTube channels and get more subscribers and views. There are a couple of decent features that can help you get your videos more visibility.
You can use the advanced keyword research feature to get keywords that will help rank your videos higher. Using the suite of tools and templates that can help you reduce publishing time. There are guides and tips as well on the website. These tips are meant to help you understand YouTube SEO and rank your videos higher.
If you are looking for good YouTube marketing tools to help with YouTube growth and promotion then you should check out TubeBuddy. There are multiple tools and services that can be useful for the growth of your channel.

Oftentimes we might need a tool to make our workflow more efficient and effective. Most companies, brands and creators fail not because the content they produce is bad but mainly due to the lack of consistency. Consistency in quality, frequency of uploads, and the theme of the content can be quite harmful to any channel's growth.
Having a tool like Tubics on your side can help propel your channel by making the workflow more efficient. Using Tubics's services you will be able to create relevant video content. You will be more particular and confident with your content which will convert into more vires and reach. The tool aims to cut down on wasted finds during content production.
It helps in searching for video topics that you make content that is relevant to the niche you are trying to grow in. That's one of the features that a YouTube marketing tool needs. Besides that, you also get all the stats about video length, editing and even optimization. 

More than an active tool, SocialBlade is used for analytics purposes. It is one of the most popular tools that people use to analyze competitors and YouTube channels. The idea is to understand who is getting more clicks and views and what kind of videos are working. SocialBlade can also be a good tool for brands to understand the rankings of various YouTubers and influencers. Besides YouTube SocialBlade also provides insights into other platforms like Twitch and Instagram.
This means that by using SocialBlade you can get a more complete picture of an influencer's influence as you get a better idea of which platforms the creator is popular on and how much popularity they have. This is a good starting point for competitive analysis if you have just begun your YouTube journey. You can get good insights into your channel and other channels in your niche for free. 

Data is one of the most important commodities when it comes to growth on social media platforms, especially for businesses and brands. Data helps you get an idea about what is and what isn't working. So, if you have a tool that can analyze that for you and give you some comprehensive reports, it can help with social media growth.
Unbox Social is one of the tools that you can use to grow your online presence. You can track your competition easily using this tool. It is not limited to YouTube. You can get social with analytics from a bunch of different and popular platforms.
Besides providing analytics the Company also has services that can help with scheduling and publishing content on the platform of your choice. Brands and businesses looking for good influencers to promote their products and services can utilize the influencer marketing service that Unbox Social provides.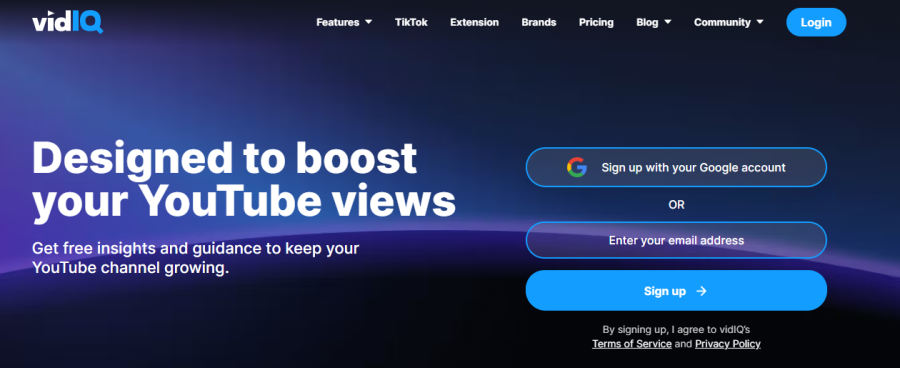 All the tools that we mention on this list are third-party tools and VidIQ is no different. But one of the things that set this tool apart is that this is a YouTube-certified video-marketing tool. Oftentimes videos get noticed or rather recommended in the algorithm if it is talking about or covering a topic that is popular or trending at the moment.
Of course, the quality of the video matters. But if the video is about a topic which no one is interested in or only a few people are talking about then it won't get a lot of visibility. VidIQ helps creators and brands in researching and finding out topics that are currently in the buzz.
Besides that, the tool also provides a visual scorecard that can help provide a score to videos based on all the important stats. VidIQ is much easier to use than many platforms including YouTube studio. If you use Firefox to browse the internet then you can install the Firefox extension of VidIQ.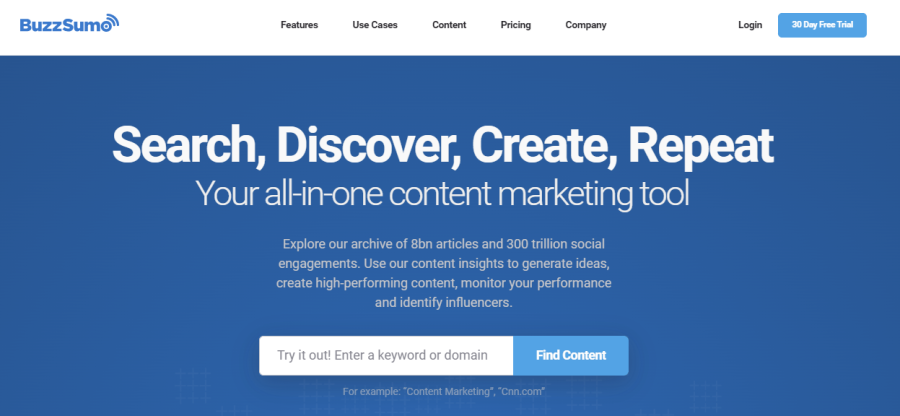 Many brands, businesses and creators use BuzzSumo. It is one of those YouTube marketing tools that are popular among marketers and creators. Using BuzzSumo you can research video topics. It helps you understand and narrow down which content areas, genres or niches will work best for your brand.
It is the go-to marketing software for many brands as well. You can type in a keyword and get some good ideas about topics to cover and content to create. This is great. Besides giving ideas for content creation the tool can also be used for analytics.
It does monitor video performance and provides you with important stats. It is a paid tool but there is a one-month free trial. This can be a good way to get familiar with the services and see if it is compatible with your workflow. You do not have to plug in your credit card details.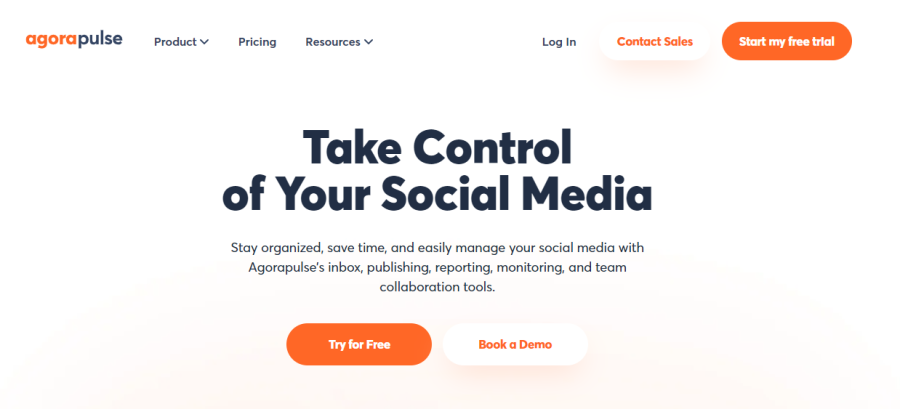 Good strategy and planning lead to success. Many people don't want to go through this process because there are a lot of things to consider and it is easy to waste time on things that are unimportant. Using Agropulse you can better your marketing and promotion workflow. You can use the services to get better at your strategy and know what type of content to create.
It can also be used to track the performances of your videos. The tool is easy to use and you can use it for a bunch of different stuff to formulate strategies and create content that works. The analytics and reports you get from the tool are condensed and comprehensive.
Many brands use this tool to help with their promotion and growth. The tool is browser-friendly and present in the form of an app on Google Play Store and AppStore. You can use the one-month trial period to get an idea about the tool. No need to provide any credit card details.

Biteable is another tool that can help with content creation. The tool can help you narrow down topics that you should be creating content about. You can collaborate with your team using this tool. The platform is very easy to use.
The tool is used by many Fortune 500 companies as well as entrepreneurs, marketers and creators. Biteable aims to help clients gain more visibility using video content. It is very easy to use Biteable to create videos. There are a bunch of animations, templates and footage that one can use to create interesting videos that grab the eyes of the audience.
The company follows a customer-first approach. That way it can focus on solving customer issues. Biteable is focused on delivering results. So, you can use this tool to create content that gives you the results you are looking for. The plan starts at $99 per month. You get all the features and 24/7 customer support.

Vidooly is a tool that is more suited for marketers and brands who want to use videos to promote their products and services. This is a good tool for brands that want to boost their online presence. If you are looking for good services to improve your YouTube marketing then you can check out Vidooly.
It basically offers three services. One of them helps with competitive analysis. You get a leaderboard where you compare your growth and performance with other players in the same niche or your competitors. There is another service called Brand Intelligence. This helps with video marketing strategy.
Using this tool you will have more contexts which will lead to better video marketing decisions. Vidooly also offers a creator dashboard. Using that you can boost the visibility and reach of your video by driving traffic to it. You can rely on the customer support provided by the company if you have any queries.

Livecaster is a bit different from the other tools on this list. Using this tool one can launch pre-recorded videos and go live on platforms like Facebook and YouTube. Of course, you should only do this when your audience is not expecting you to be present and interact with them on video. It is good for marketers looking to promote a product.
There is no need to speak live and mess up some details. Rather you can just record the session and then do q&a later or just type the answers in the chat. Livecaster claims that using this tool you will get a good boost and gain more clicks and views.
If you are worried if this is something in the gray areas of terms and conditions and whether you will get banned, then no need to worry. The tool is compatible with the terms and conditions of the social media platforms it is meant for. 

Repurpose is a site that aims to help brands and creators by reaching more people without extra effort. Your job will be to find the best topics to cover in your video and create engaging content. Once that's done you can use the power of Repurpose to help distribute your videos to a bigger audience.
Thousands of content creators have used Repurpose as a distribution platform. The company claims that it will help reach your content to your audience. You create one piece of content and publish it on all the popular platforms while optimizing it for them.
You can even schedule the publish which can make your workflow quite organized as you can schedule the Publish whenever you are done completing your video. If you face any issues or have questions or doubts you can use customer service to get some help. There are video guides as well that can help you understand how to use this tool.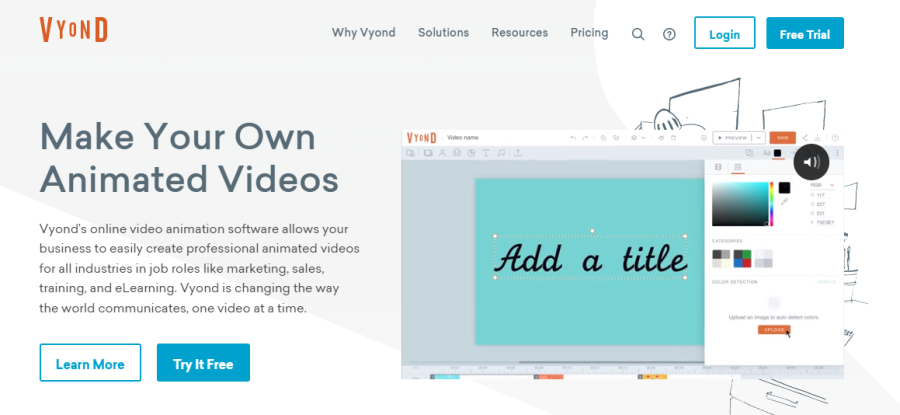 Making animated videos can be tough. There is a big learning curve involved if you want to get good at it. With Vyond the process becomes somewhat easier. Using this tool you can create high-quality animated videos that look professional. Whether you want to make videos for your company, for a course, for training purposes or just for fun you can use this tool.
This is good enough for agencies and even enterprises. If you want the YouTube videos for your brand to look decent and you don't want to involve a lot of filming then this is great. You can whoop something up quickly while still maintaining good quality. The price of the tool starts at $49 per month.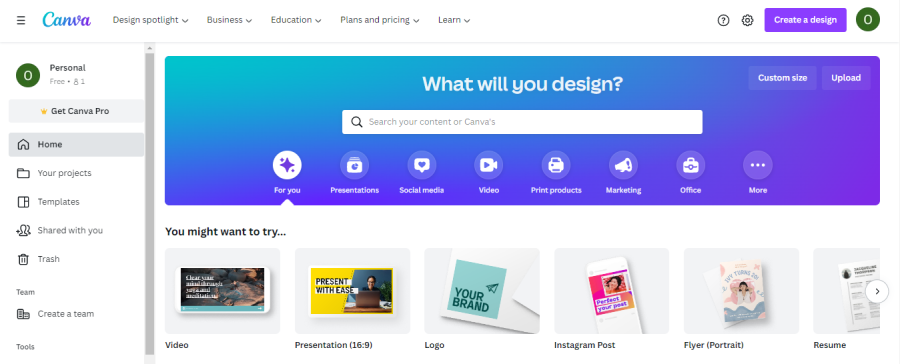 Alright, Canva is a bit of a different tool than many of the other entries on this list. You don't use Canva to monitor stats or directly promote your videos. Canva can be used to make your videos more visible by using its templates and images to create high-quality and visual thumbnails to stop people from scrolling past them.
Doesn't matter how much time you invest in making your video or how good it is, if people are not clicking on it you will not get views. Using Canva you can get high-quality images and templates which you can use to draft catchy thumbnails which do fall under YouTube promotion.
So, yeah if you are looking for a YouTube marketing tool you can club Canva with the other tools and get better results. There are over 250k templates that you can use for free. But you don't have to use the default template directly. You can customize it as you like to make it more in line with your channel and brand.

ViralStat is a powerful tool. It knows the power of video content and wants to help brands and creators grow using their content. The services that ViralStat offers can be categorized into four groups. The first function is to provide users with clear engagement metrics. To create content that fit your audience you have to know what sort of things they like.
The tool will provide you with various metrics to help track what your target audience likes. The next function is to help clients analyze their competitors. Looking at what other brands and creators have done in the past can often help you improve in the present. You can check out their successes and failures and avoid common pitfalls.
You can use ViralStat to get ideas for content creation as well. Using this tool to analyze trends can help create videos with more reach. The last function is influencer discovery. This is for brands and businesses to find the right creator to promote their products and services.

Giveaways and contests are two of the best ways to engage with your audience while giving something back to them. Many creators, brands and businesses conduct regular contests and giveaways. It gives them a chance to create content that gets more reach and higher visibility because people want to win stuff.
RafflePress helps in making attractive giveaways and contests. There are multiple templates you can use to build the perfect post for the giveaway. It is not a free tool but it regularly runs deals and sales which you can use to get some discounts. 
Conclusion:
So, this was our list of some of the best YouTube marketing tools. We have provided the link to the websites of the tools. You can check them out. Most of the above companies provide customer support. If you have any doubts or queries reach out to them. This will also help you vet companies that do not have good support. We hope our list was helpful and you can find a couple of good tools to help boost your YouTube performance.




© Upviews 2022 All Rights Reserved.