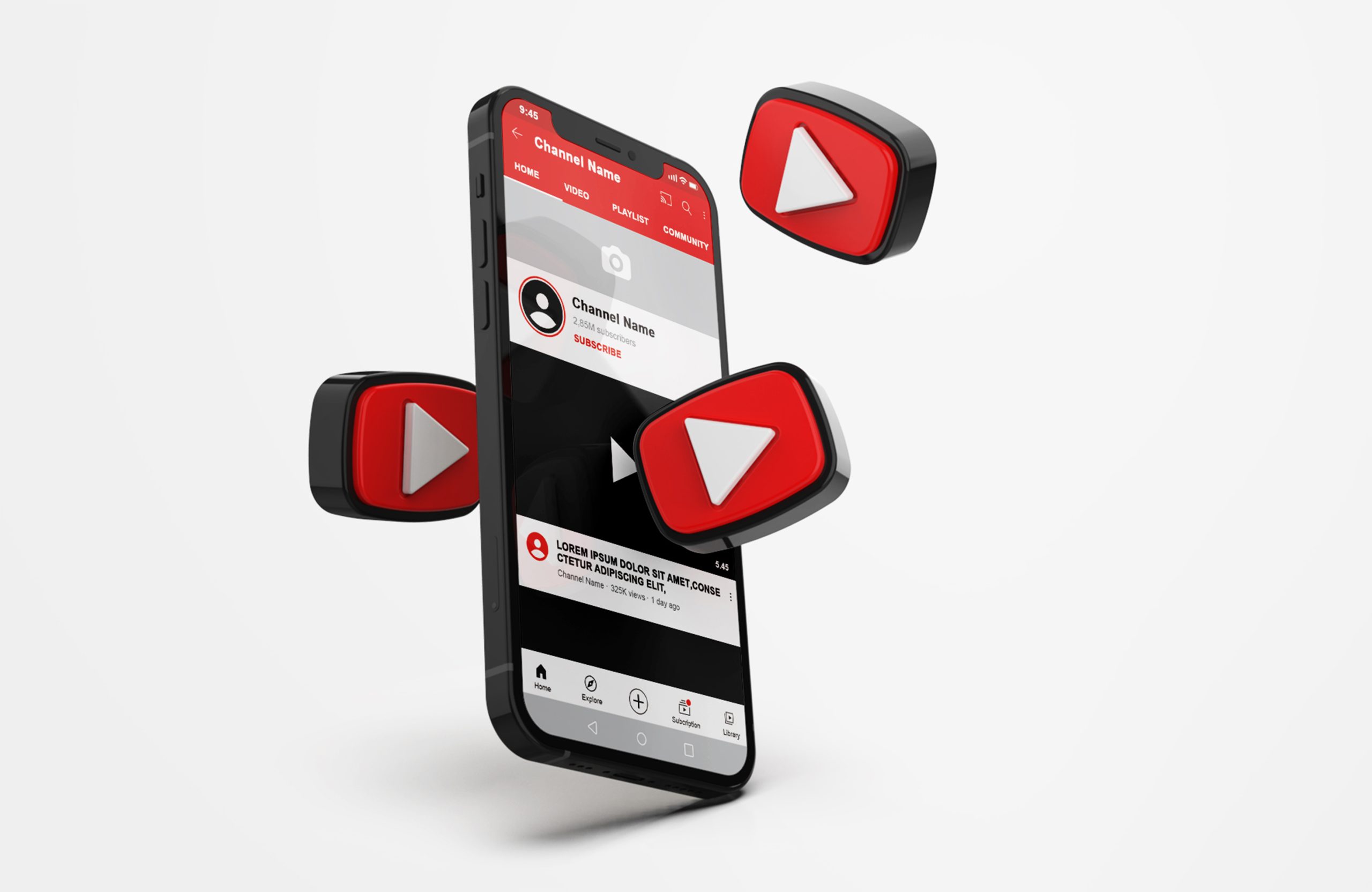 How to Promote Your YouTube Channel in 2023
YouTube is a prominent website where video artists may upload and share their work. YouTube is one of the most popular internet advertising platforms, with an estimated 1 billion daily ad impressions. Businesses have invested in high-quality video production to raise brand awareness around the world, targeting various demographics and demographics depending on interests. One of the ways to promote your YouTube channel.
Because of its widespread appeal, 'Youtube quality' has become a marketing benchmark for promoting business products and services. However, it's not only what you offer that drives organic development and increases interest in your channel; it's also how you make it. Filming a video and submitting it to YouTube has become remarkably simple in recent years. Even for average people like us.
With simply a smartphone or webcam, you may start shooting videos without knowing what you're doing in front of the camera. When you think about it, it's innovative, but just because something is simple doesn't mean it's effective. To ensure that your Youtube channel takes off and earns you money these days, you'll need a lot of effort and strategy.
Choose a YouTube channel name that is related to your niche
We all know that choosing a suitable YouTube channel name is the best approach to growing and promoting your YouTube channel. A decent YouTube channel name should be 4-5 words long and have a logical connection to your niche. It's also critical to remember this while selecting a domain for your website or blog.
When you choose a good YouTube niche, you're introducing your viewers to issues that they're interested in while also improving their online experience. However, by using phrases that reflect the content of your videos in your title, you make it simpler for viewers to locate your channel by narrowing the search and incorporating words that explain the substance of your videos.
Determine who your target audience is and what their preferences are
It's important to consider your target audience when you are promoting your Youtube Channel. You can promote your Youtube Channel on social media, but depending on the demographic you want to reach, different platforms might be better.
To determine who your target audience is, you need to understand their motivations. There are several things that relate to the motivations of your audience. For example, there might be people who want to learn new skills in videos and your target audience may be people with some educational background. The best way to promote your Youtube Channel is to target a specific demographic, which consists of people who have a specific interest.
Another thing that characterizes a successful video series is the duration they are willing to invest in it. If one wants to make a healthy and nutritious meal and keeps watching the same recipe over and over again, it's because they like it or have an interest in cooking.
Improve Your Insights by Conducting a Competitor Analysis
If you run a YouTube channel and want to start making money off of it, then you've probably noticed that there are a lot of competing channels out there. In fact, with over 2.3 billion views each day across the world, the entire online video streaming market is worth approximately $70 billion annually.
That's where competitor analysis can help.
Competitor analysis is a powerful technique that allows you to identify your opponents, understand their content, and assess how well they are doing on certain metrics like views, subscribers, and more.
Generate a competitors list. You can simply use the easiest search process on YouTube: typing "competitor analysis" in the search bar at the top right of your screen (see image). This will give you a list of all of the channels that have been using this keyword within their bio or video descriptions. From this list, pick the ones you want to analyze further. Remember that these are competitors, so you can outdo them at any point in the process.
Think of your channel as a business and your videos as products. Your channel is an online store where it showcases your products. Select the channels which have similar products and have a similar target audience to yours.
To learn more advanced skills, subscribe to top YouTube channels
We understand how difficult it is to market your channel and increase views. However, if you want to take your channel to the next level, you'll need to learn new abilities. This is where the best YouTube channels can help. They'll teach you anything from how to edit videos in Adobe Premiere Pro (or whatever editing software they use) to how to shoot the perfect video to how to use Facebook and Twitter social media marketing.
But wait, there's more! These channels will also teach you how to create an effective showreel or demo reel of your recent videos, as well as how to design a strategy for future promotions and how to buy advertisements on YouTube and Facebook that are genuinely worth it (believe me!).
Make a memorable video title and description
YouTube is a highly competitive and saturated platform, so it's crucial your video title and description will attract viewers.
Here are ways to promote your youtube channel by creating an attention-grabbing YouTube title and description:
What topics does your audience typically talk about? Where do they share their thoughts? How can you create a YouTube video that resonates with them?
Your goal is to compel people to watch the whole video or at least skim through the title for curiosity value. If you can't hook their interest in the first sentence, imagine how much harder it'll be for them to move on! Keep this in mind when you're brainstorming ideas.
Highlight the main points:
Your description outline, or "SEO script," should include a summary of your video's major points and features.
Create a fully formed description:
The more detailed your description, the easier it is for viewers to determine if they want to watch the video. Give them a taste of your content so they know what they're getting into, and include links/citations if you want them to view other videos after watching yours.
Repurpose your YouTube title and description into blog content:
Here are some ways you can expand the reach of your YouTube channel by repurposing your title and description for blogs (if you're interested in this idea).
Upload Videos on a Regular Basis and on a Schedule
If you love YouTube and want to promote your YouTube channel as well as want to become a professional content creator, it's necessary for you to upload videos regularly and on a schedule. You're working towards this goal, starting with a consistent upload schedule for your channel will help in the long run.
If you want to grow your YouTube audience, uploading videos on a regular basis is the easiest approach to do so. Consider this: when was the last time you watched old episodes of your favorite TV show? It's likely that you just realized it was coming up on Netflix because you remembered it was coming up.
It's the same with watching videos on the internet. Viewers expect new content daily, not simply when they happen upon your channel. Drop at least one video every week to keep viewers interested and make them feel like they can rely on you for entertainment (more is always better). In order to be successful on YouTube, it is necessary that your video gets enough views for you to make money from advertising.
Check out YouTube Analytics to see how well your channel is performing
YouTube analytics are the best way to promote your youtube channel and to see how well your channel is performing. So, if you're wondering what makes a YouTube channel successful, look no further!
YouTube Analytics allows you to track your progress and compare your results to those of other producers so that you can keep on top of the latest trends and developments. You'll learn who views your videos and who subscribes to your channel, as well as some recommendations for enhancing your YouTube channel's performance.
Make your thumbnails unique
YouTube is a tricky platform to market to. It's all about the thumbnails and you have to make them unique to catch your viewers' attention. One of the ways to promote your YouTube channel is to open up PowerPoint and choose a template that matches what type of content you upload— if it's a cooking tutorial, try using the contemporary food template or if it's a makeup guide then go with small makeup.
Because thumbnails are the first thing most people see when searching YouTube, it's crucial that your thumbnail matches what they're expecting to see. So, discover a sample of how you want your thumbnail to look before you start modifying with this step in mind.
If you're using a template for your thumbnail and it's too cluttered, consider taking a more minimalist approach by deleting any unnecessary elements such as shapes and fonts from your thumbnail. You can always add them back in later but each time you do so will require careful consideration of whether or not it will look good getting on the feed.
Organize a competition or a giveaway
Finding techniques to increase your subscriber base is the most critical component of promoting your YouTube channel. Running a competition or a giveaway is one method we've all done in the past which is also the best way to promote your YouTube channel.
This increases the number of views on your video, which leads to more subscriptions because people are more likely to watch videos from channels with a large number of subscribers and views.
Cross-promote your own YouTube videos
Many YouTube videos, or even channels, have gone viral and become popular all over the world. One of the things that help you to promote your YouTube channel is cross-promotion. If you are just starting on YouTube and haven't yet built up your audience, though, it can be difficult to promote yourself without paying for expensive services like ads or getting lucky with a viral video.
When you Cross-promote your own YouTube videos you can get more views and subscribers to your videos in just a few steps. This process gives you a chance to grow your brand outside of YouTube. With the surge of new content being uploaded daily, this is the perfect time for you to take advantage of this opportunity.
Conclusion:
Finally, there are a variety of approaches to getting your YouTube channel noticed by the general audience, with varying degrees of success. We hope that by concluding this blog post with a list of ten things you should do to properly advertise your YouTube channel, our efforts have aided you in your quest for success. Best of luck!




© Upviews 2022 All Rights Reserved.