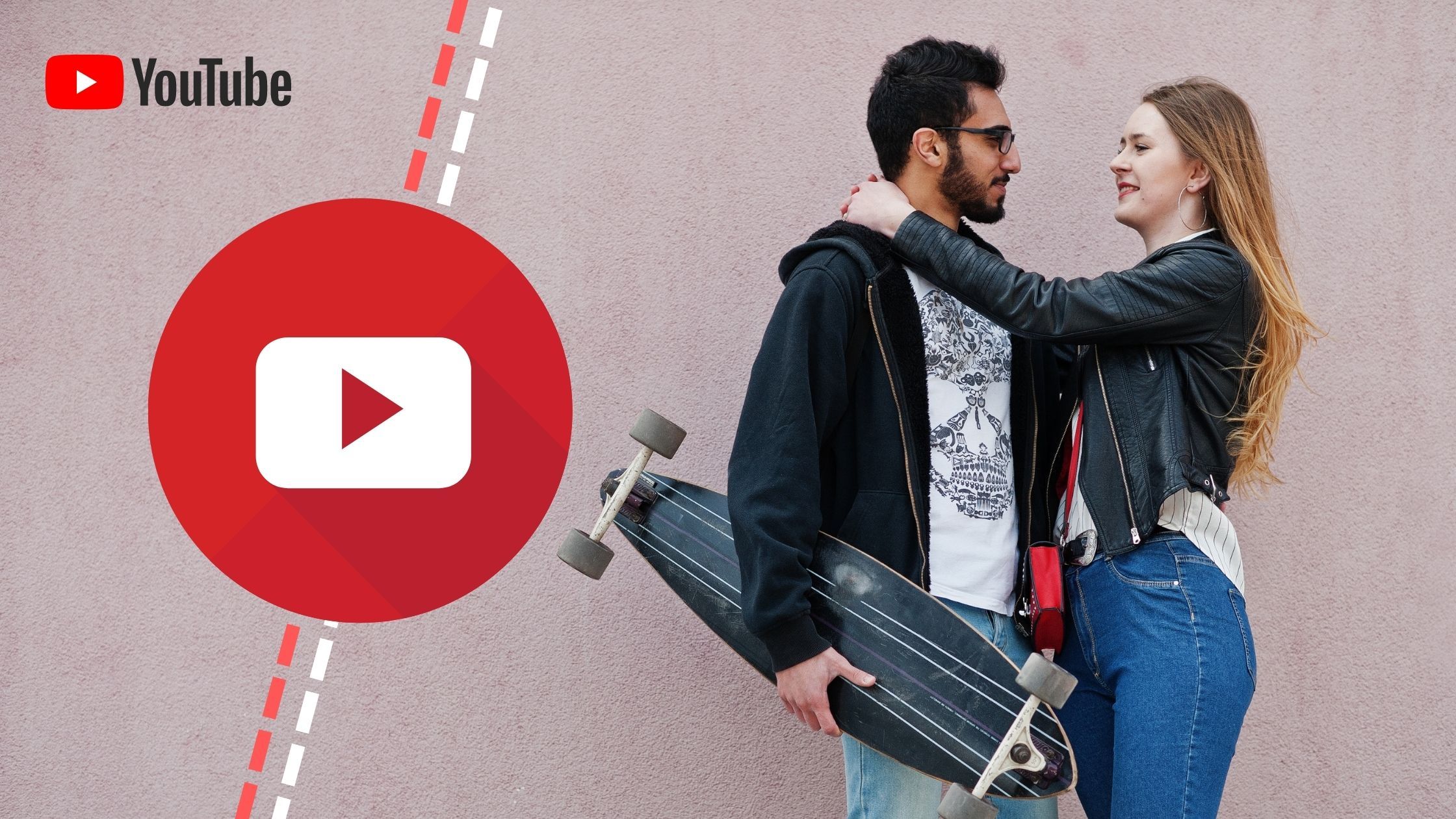 8 Best YouTube Couples You Should Follow in 2023
Whether it's cooking, cleaning or even going to the loo, most people watch a ton of videos as they go through their daily lives. Subsequently, YouTube is the second-most visited website, right after its parent company, Google. So it is no wonder that a huge chunk of our time is spent watching videos on YouTube. One of the most thriving subcultures on the platform is the YouTube couples who run their channels together.
They typically post content related to their relationship, their daily lives, trending challenges etc. And people can't seem to get enough of these lovey-dovey videos. Watching their amazing chemistry is guaranteed to boost your dopamine levels through the roof.
Additionally, many of these couples on YouTube boost a massive number of views and subscribers by buying youtube subscribers. Quite a few famous YouTube couples even have loyal communities on YouTube that actively support their relationship. Some of these YouTube couples are well-known for their funny prank videos. And others are very popular for their daily or weekly vlogs.
There are currently many couple YouTubers channels you can browse through to get your daily fix of relationship goals. But there are some famous YouTube couples that just stand out because their videos are crowd-favorite. So if you're looking for relationships you can dream about on YouTube, your search ends here. Read on to find out which are the best couples on YouTube below.
Best Couples on YouTube: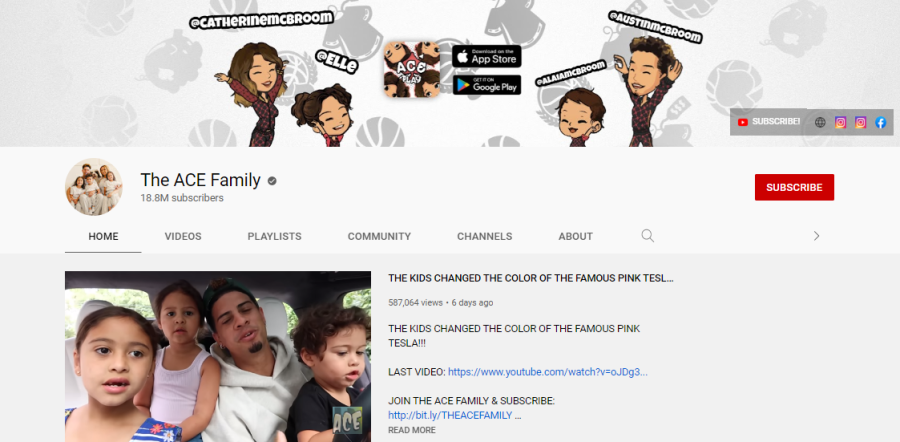 If you haven't heard of The ACE Family, you've probably been living under a rock. The duo consists of Austin McBroom a professional basketball ace and his wife Catherine McBroom. Together with their three children, Ellie, Alia and Steel, they are a great channel to binge on YouTube.
Besides that, Austin and Katherine are probably one of the most popular couples on YouTube. They started their channel in 2016 and got engaged the following year. Their relationship has been such a hit with viewers that they currently have over 18 million viewers subscribed to their channel. This makes them one of the most followed YouTube couples on the platform.
Initially, Austin and Catherine stuck to uploading pranks and lighthearted challenges on YouTube. Later on, they also started including videos of their daily lives as well. This family mainly uses humour to provide content that will have you glued to your seats.
Many of their YouTube videos also feature their adorable children doing all sorts of fun activities. So The ACE Family is definitely worth checking out if you enjoy watching these types of videos on YouTube.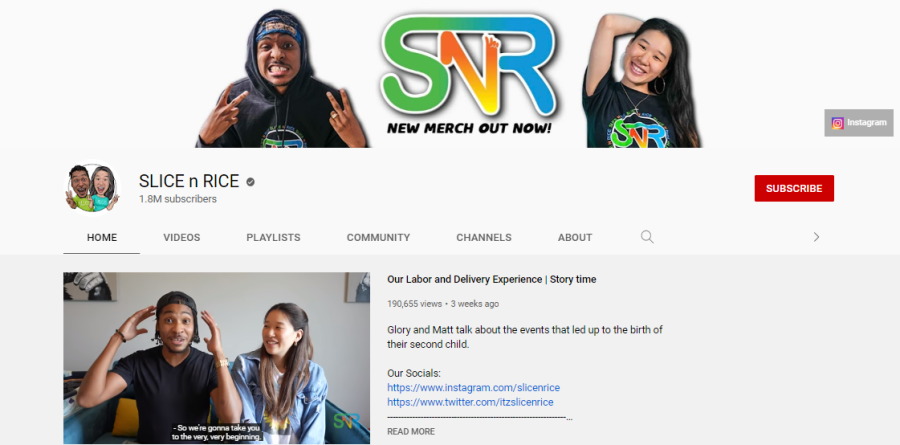 If you were an avid YouTube user from 2015 to 2018, you've probably already heard about the Slice n Rice. They were and are still one of the best couples on YouTube out there. Matthew "Slice" and Glory "Rice" even got amazingly creative with their nicknames as a way to pay homage to their African and Korean cultures.
But that's not the only way they're staying true to their roots. When you browse through their channel, you'll find tons of videos where Glory introduces Korean food, language and music to Matthew and makes him react to it. Similarly, there are many videos of Gloria being introduced to African culture as well. They also lovingly named their subscribers as "Ninjas".
In addition, you can tune into their crazy and hilarious reaction video too. Plus they also film a ton of the most popular trending challenges. Rice n Slice are now married and have two heart-achingly cute baby boys together.
Their kids don't make appearances on their videos as often. But you can still watch their birth storytimes, pregnancy updates, diaper changing challenges and more. Do you think you're a fan of YouTube couples who are all about being themselves and having fun? If yes, then you should definitely check out their YouTube channel.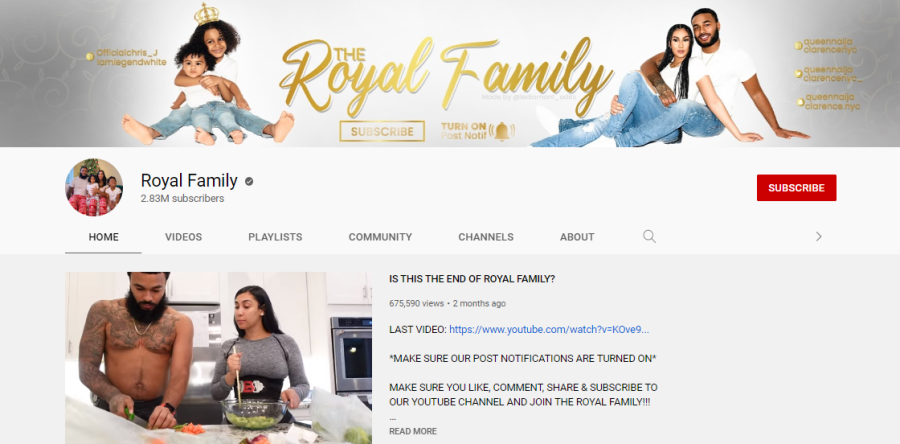 Another one of the famous YouTube couples is R&B star Queen Naija and Clarence White. Together with their two children, they run a YouTube channel called "The Royal Family". White was on YouTube even before their joint channel started. But soon, fans noticed that Queen Naija started making frequent appearances in his videos. You can now find a large collection of fun pranks and vlogs by the dynamic duo on YouTube.
Queen Naija and Clarence are a beautiful couple that has had their fair share of ups and downs. Their chemistry remains unmatched and could give any other couple a good run for their money. Through their YouTube channel, they offer a peek into their fun family lives. You can find anything from family cooking videos to room makeovers.
In their videos, they never fail to express their love for each other and their kids. One of the ways they express their affection is by giving lavish surprise gifts like their dream cars and more. You can also have a good laugh at their numerous prank videos. Besides that, they also share some romantic moments with their subscribers on their dates and getaways.
The Royal Family, Queen Naija and Clarence White's YouTube channel currently have over 2 million subscribers. If you enjoy watching fun family content, head on to their channel now.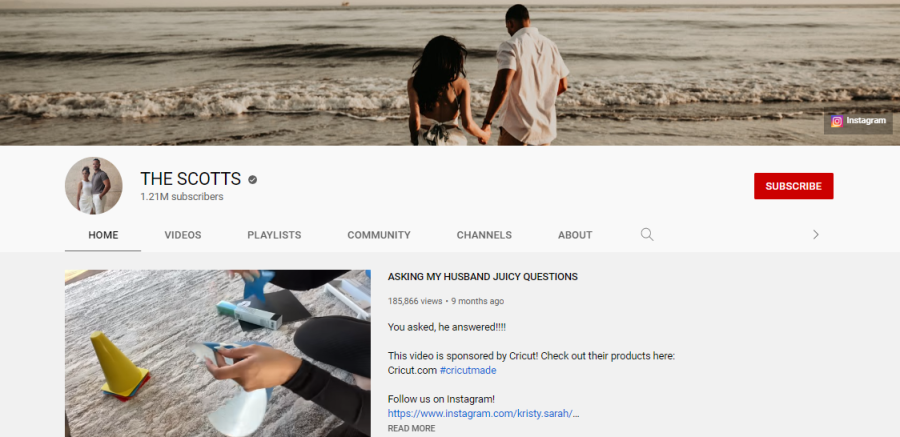 The Scotts were initially a phenomenal hit on Tiktok with their hilarious videos. But they didn't stop just there on their quest to give viewers a glimpse of the daily shenanigans at the Scott household. So later on, they took the YouTube world by storm too. And soon, they became one of the most well-liked YouTube couples on the platform.
Kristy Sarah Scott and Desmond Scott have undeniably amazing chemistry between them. They are high school sweethearts who have now settled down and share really funny videos on YouTube. Plus their little gang of mini-Desmonds running around only adds to the charm of their YouTube videos.
When you browse through their channel, you'll mostly find more YouTube shorts than actual videos. But that doesn't make their content any less funny. Between Kristy's goofy pranks and Desmond's hilarious reactions, you'll find yourself truly attached to this adorable couple. From pretending to eat cake disguised as raw chicken to scaring him with creepy costumes, Kristy does it all. Desmond also happens to be an amazing cook. So you can also watch him work his magic to wow Kristy with his recipes.
Kristy and Desmond have captured many hearts on YouTube with their cute relationship. They have currently gathered over 1 million YouTube subscribers. Do you enjoy watching couples who just have a naturally goofy vibe? If yes, then Kristy and Desmond are the perfect couple for you to binge-watch on YouTube.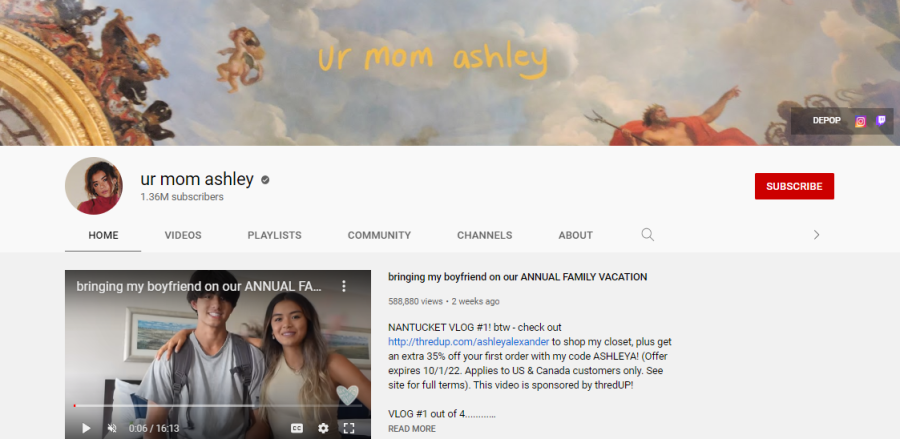 They might be one of the relatively new YouTube couples on the block. But Ashley Alexander and Kelly Wakasa are definitely giving other famous YouTube couples a run for their money. The best thing about this couple is that their fans got the chance to watch their friendship bloom organically into a relationship.
Ashley and Kelly started making appearances in each other's vlogs when they moved into an apartment together with two other friends. Even during the initial stages of their friendship, the chemistry and spark were undeniable.
Since then, Ashley has posted many YouTube videos with Kelly as they travel to new countries together. In return, Kelly's channel also has tons of videos featuring Ashley. You can also go through Ashley's channel to watch them hang out with Amber and Andrew, Ashley's siblings. Both Ashley and Kelly currently have over 1 million subscribers on each of their YouTube channels. They are quite popular with the younger audience as their bond appeals to Gen Z's relationship goals.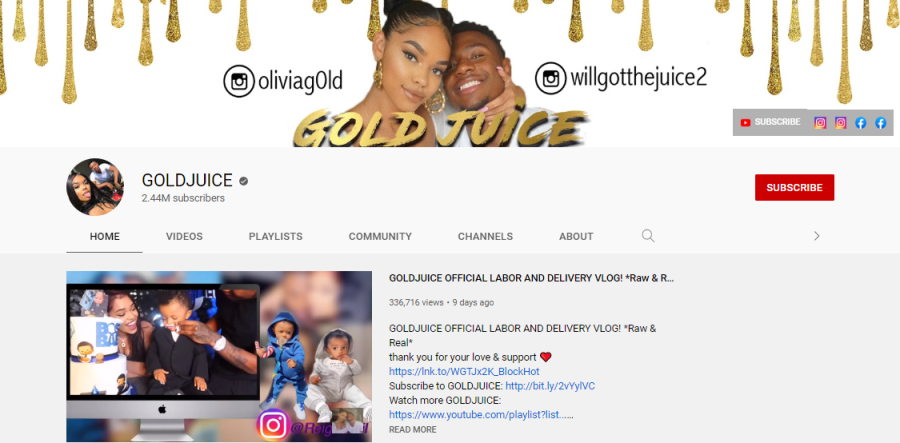 Goldjuice is another name that's popular among famous YouTube couples. Made up of beauty YouTuber, Olivia Gold and rapper, Will Got The Juice, their channel has been a huge hit on YouTube, bringing in over 2 million subscribers. They also gained tons of loyal fans and fan pages within just six months.
Although they both have well-established separate fanbases, they decided to merge and create the Goldjuice channel. This was probably one of the best moves they made because their fans absolutely loved their relationship content. They also attracted new viewers with the variety of fun challenges and pranks they did.
Through their YouTube videos, they give you a glimpse of their relationship and their passions. They have such amazing chemistry together that the viewers immediately became fans. Goldjuice is a very creative channel that shows you everything from hilarious pranks to vlogs and random content.
They've also started to work on a brand that will help them connect with their audience better. That's just how much they adore their fans. They have enough content on their channel to keep you bingeing all weekend. Besides appearances from their kids, they also post a ton of relationship pranks that they play on each other.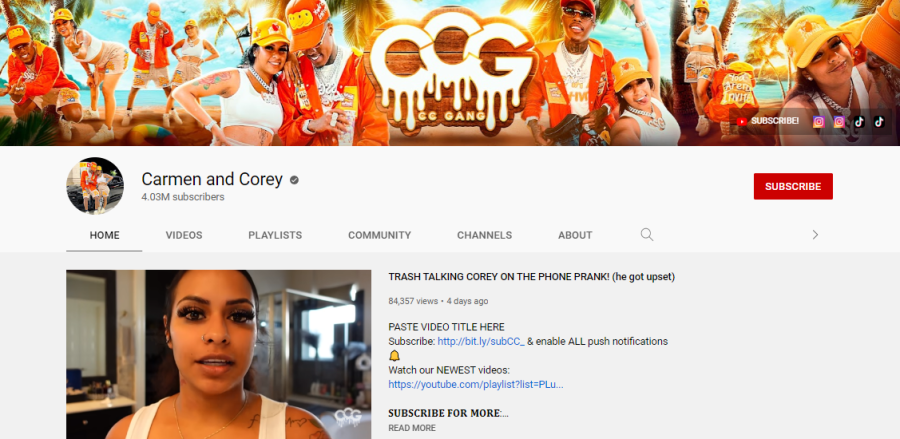 Everyone loves an easy romantic relationship. It's a plus point if you get to achieve success with your significant other. One such couple is Carmen and Corey Pritchett. Carmen and Corey are a dynamic duo that live with their adorable kids, gaining immense hype as a couple online. In fact, you can even count them among some of the most famous YouTube couples. And people on YouTube just can't seem to get enough of them. So it's not hard to understand how they've amassed over 4 million YouTube subscribers together.
Carmen is a popular influencer that has a great online presence on Instagram, YouTube and TikTok. Corey also works as a full-time YouTuber. And together, their videos are filled with funny pranks, surprises and more. They also give you a deeper glimpse into their lives by posting their pregnancy updates and story vlogs.
Besides that, you can also find tons of spicy challenges and pranks on their channel too. Their relationship is full of excitement and YouTube lobes move them. Carmen and Corey post the most hilarious prank videos that will have you clutching your stomach with laughter.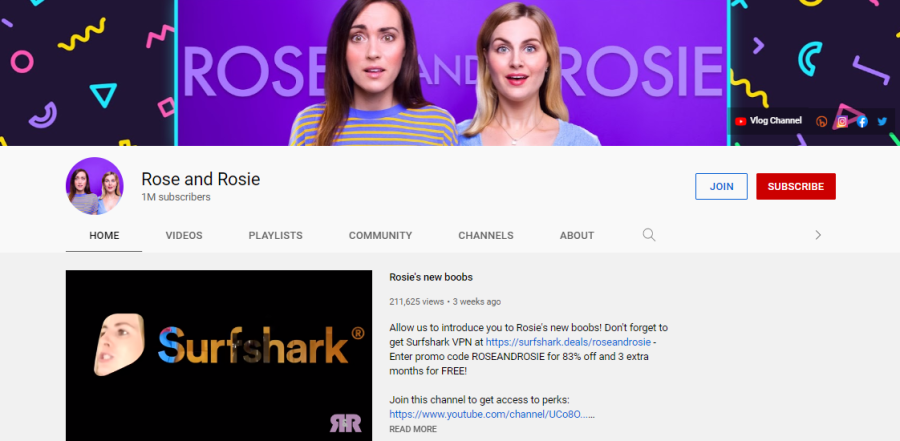 Rose Dix and Rosie Spaughton are one of the best queer YouTube couples on the platform. When they met in 2011, Rose already had a YouTube channel as a requirement for an assignment for her film degree. Rosie also fell in love with how fun it was to make YouTube videos while she was studying media and communication.
Their very first appearance together online happened a year later. It came in the form of a collaboration on Rose's YouTube channel, Rose Ellen Dix. They also created a channel called "Let's Play Games" to post gaming videos. Later on, Rose's channel, Rose Ellen Dix, was renamed Rose and Rosie. Similarly, Rosie's Roxerta changed to Rose and Rosie Vlogs. Both channels have a large number of subscribers that are vying to watch every video they post.
The Rose and Rosie channel posts tons of challenges, popular trends, gaming videos and collaborations. On the other hand, the Rose and Rosie Vlogs channel contains popular favourites like the Real Talk and Bisexy Series.
Whatever content they post on YouTube becomes a crowd favourite. This is because they offer a large collection of videos from gaming to life guides. If you're looking for variety in couple YouTubers channels, you should check out Rose and Rosie's channel.
Conclusion:
There are thousands of videos to watch on YouTube. One of the most popular niches on YouTube happens to be that of YouTube couples. People on YouTube just can't get enough of watching two people in love document their relationship.
These famous couples on YouTube post everything from spicy vlogs to pranks, challenges, surprise videos and life updates. So you can hop on to any of their channels to watch them have a great time together. It is also a great way to get your daily dose of relationship vibes even if you aren't in one. So go ahead and check out the best couple YouTubers to watch their videos right now.




© Upviews 2022 All Rights Reserved.