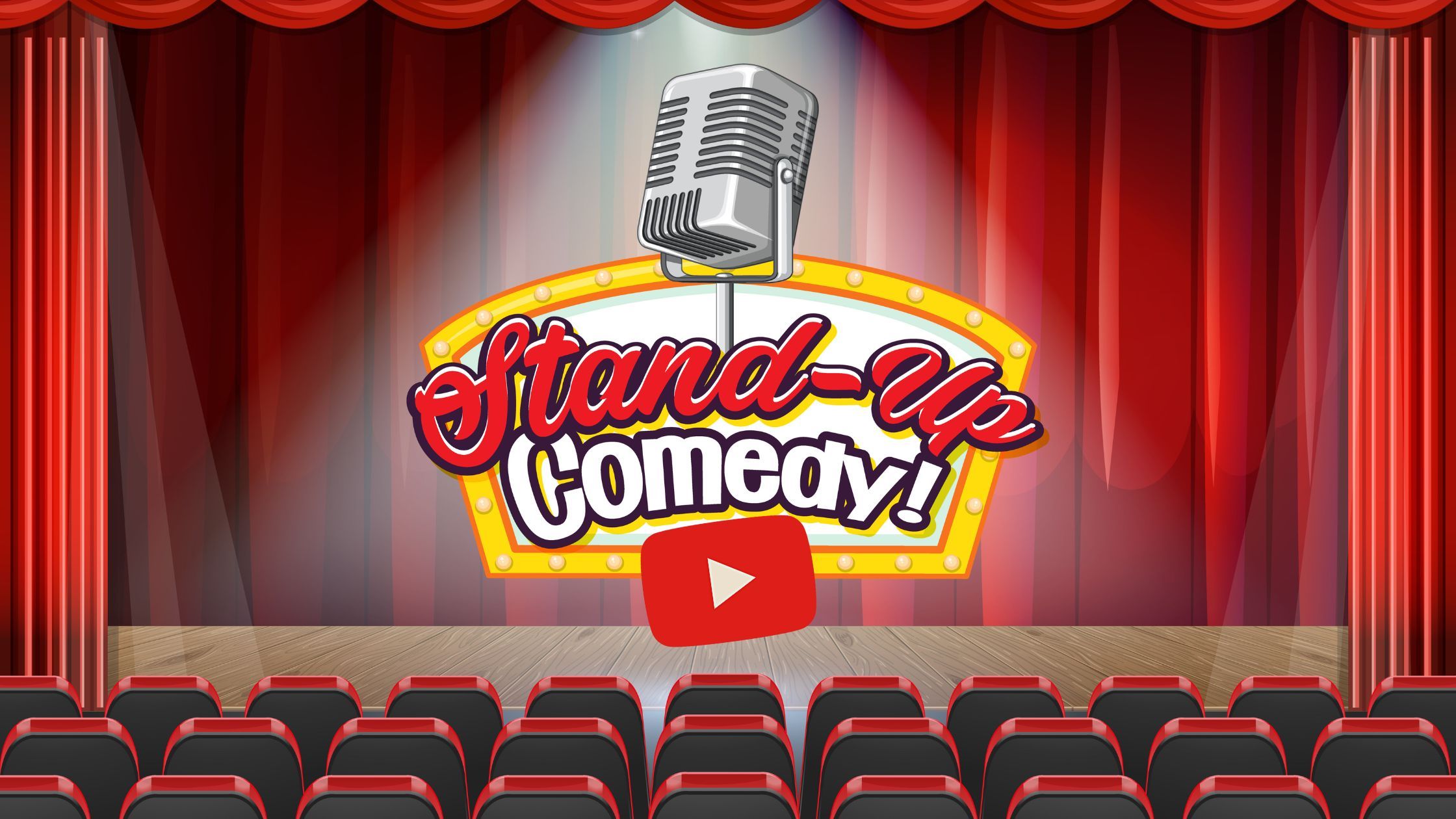 Stand-up is an art form that is not that old. The current form of this craft is only a few decades old. Seeing a comic perform on stage gives you a different sort of feeling. It feels as if a funny friend of yours is just talking to you about stuff. The first time I saw a stand-up set I was hooked. There is something about it that captures most people. Also, I am a sucker for stand-up bits and clips. I routinely watch stand-up specials and often consume stand-up bits and clips on YouTube. So, today I thought of doing a list for people looking for YouTube stand-up comedy. 
Best YouTube Stand up Comedy Channels: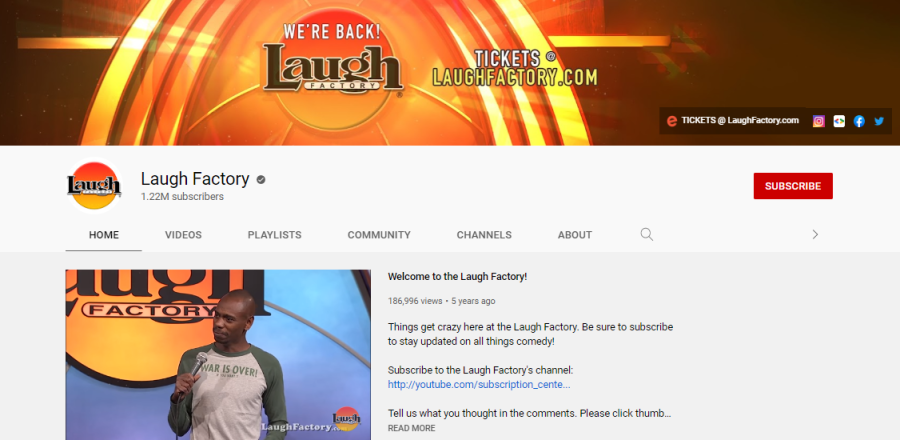 Let's start with one of the most popular stand-up comedy channels on YouTube i.e. The Laugh Factory. The Laugh Factory is a chain of comedy clubs in the US. If you are a stand-up comedy fan and love to watch on YouTube stand-up comedy then you must have already seen videos from this channel. The Laugh Factory currently has around 1.22 Million Subscribers.
The channel already has over 2.3k videos uploaded which has brought it over 538.6 million views. Some of the most well-known comedians have performed at The Laugh Factory and the channel regularly uploads small snippets of full sets from these comics.
If you want to binge on some stand-up comedy clips from some of the funniest comics in the business then you should check out this channel. It regularly uploads funny clips from stand-up sets of comics. You can do some of the best standup on YouTube on this channel. If you haven't already, just give it a try.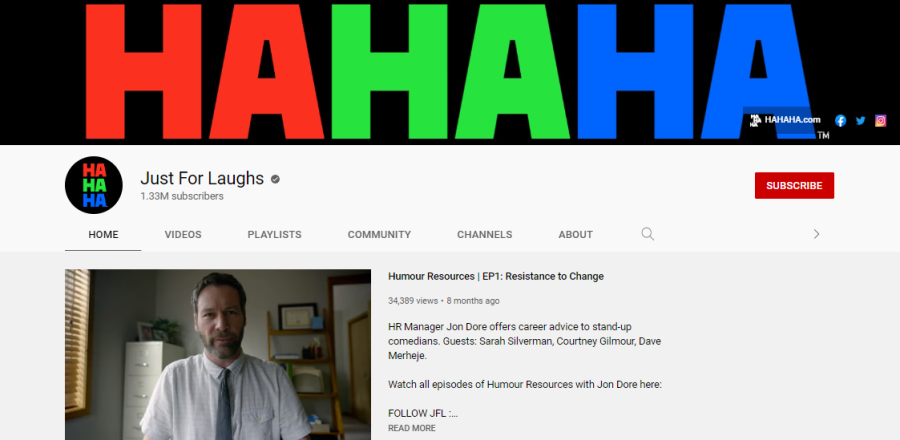 Just For Laughs is one of the biggest international comedy festivals. It is the largest international comedy festival. This venture started in 1983 and is still one of the most popular festivals when it comes to comedy and fun. Some of the greatest and best comics have performed and keep performing at this festival. You can not only find stand-up sets here but also improv comedy and sketches. The idea is to let go and be funny. Many comedians perform regularly at this festival.
If you are looking at YouTube stand-up comedy videos then you will find some decently funny ones here. Every year the festival records the sets, sketches etc. and clips from these recordings end up on the YouTube channel. You will enjoy the content of the Just For Laughs challenge. It has around 1.33 million subscribers. The channel currently has a total of 447.5 million video views from around 1,471 videos.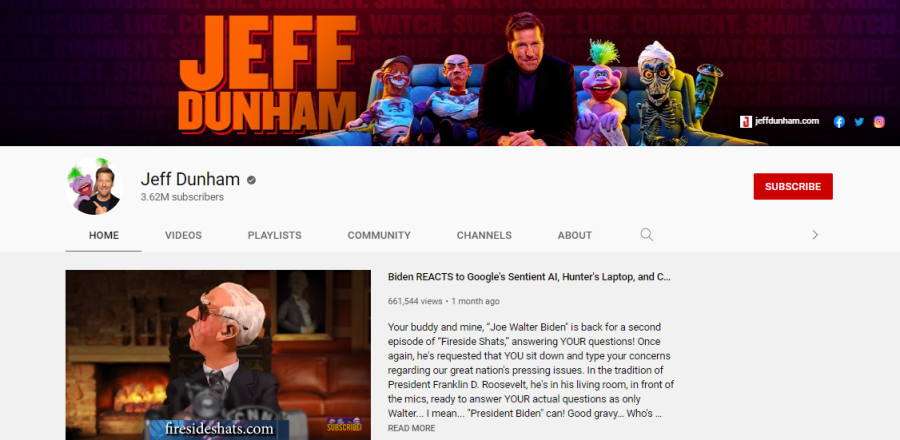 Jeff Dunham has become a household name for many comedy fans. He is a stand-up comedian who started his career at the age of 14 in 1976. Jeff has received many accolades and awards for his work. He is one of the most popular stand-up comedians. Jeff's comedy is unique because he used ventriloquism. He has different puppet characters that he brings on stage and performs his set. If you like hard-hitting, observational, and edgy humor then you will love Jeff's work.
His YouTube channel has around 3.62 million subscribers and over 953.2 million views from a total of 420 uploads. Those numbers can give you a good idea about how popular Jeff is and how funny his clips are. Jeff regularly uploads funny clips on his channel. He even does regular YouTube content with his puppet characters. If you are looking for comedies on YouTube then you can check out Jeff Dunham's channel.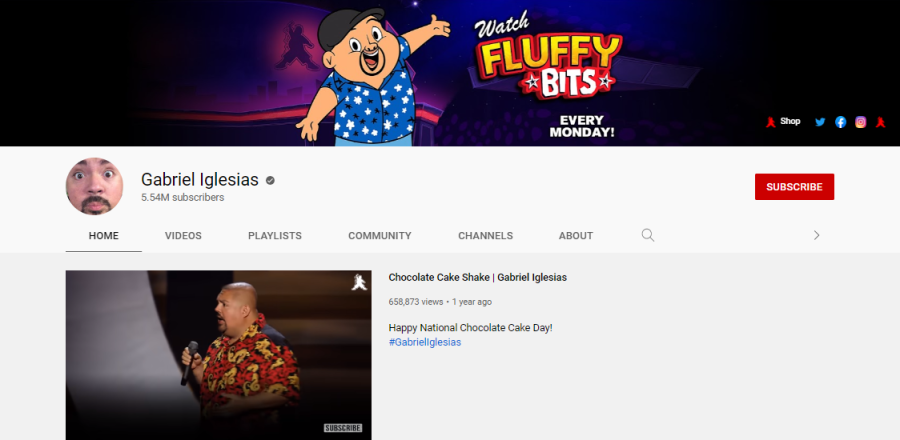 Gabriel Iglesias is one of the funniest and most popular comics. His stand-up sets are mainly observational. His take on things is really funny. One of the things that you will enjoy about his comedy is his personality. Gabriel's on-screen persona is not only funny but also very lovable. I enjoy watching bits of his stand-up sets on YouTube. His channel regularly uploads clips from his sets. These are quite funny. Gabriel started performing full-time in 1997. Like most comics, it wasn't easy to make money doing only stand-up.
But he persevered and continued performing and the rest, as they say, is history. Today, Gabriel Iglesias's channel HotandfluffyComedy has over 5.54 million subscribers which is huge. The channel has a total of 453 uploads. These videos have received more than a billion views in total. You will enjoy watching the clips on his channel. It is quite easy to binge on them for an hour.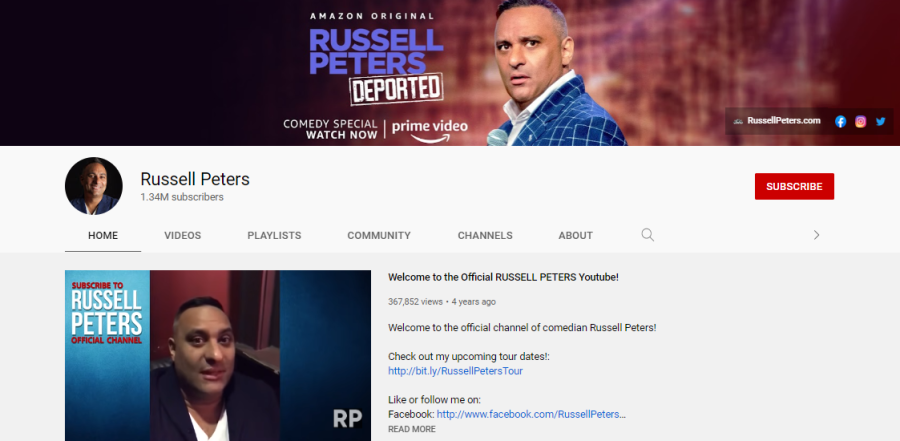 Russell Peters is one of the most famous comedians in the world. It was due to him that a lot of comedians from Southern Asia were inspired to become successful in the comedy scene. Russell started performing in 1989 and continues to wow audiences with his funny sets. He was one of the first comedians who became viral on the Internet. His clips were being shared even before YouTube! When YouTube came to the scene a couple of his sets became quite popular and he started getting more and more gigs.
Russell's comedy is unique. It's observational and edgy. You will enjoy watching him perform some of the funniest bits ever. Though his channel does not upload a lot of clips you can still find some clips from his funniest sets. The channel has over 251 uploads with a current total view count of 370.9 million views. Russell Peters has 1.34 million subscribers on his channel.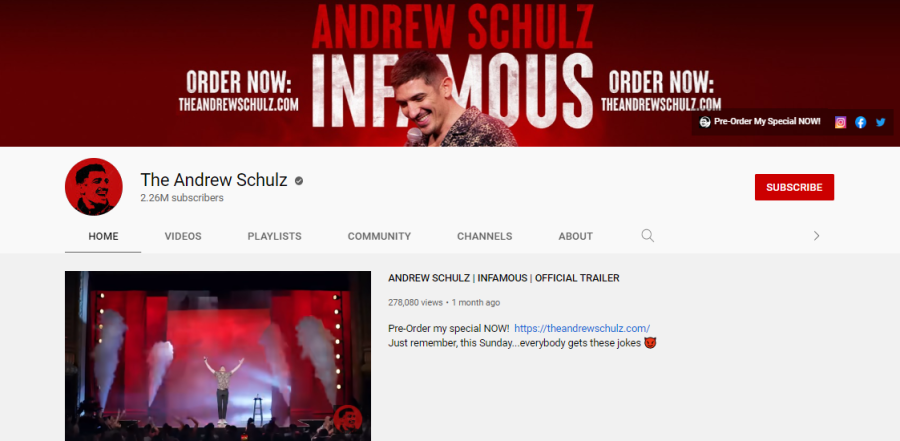 Andrew Schulz is one of the funniest comedians. Watching his comedy bits will leave you literally 'LOL'. I have watched so many of his clips on YouTube and that too after watching his special from which many of the clips come. This goes to show how funny and powerful his comedy is since you will find it funny even on multiple viewings.
If you are looking for YouTube stand up comedy then you will have to subscribe to The Andrew Schulz channel. If you are open-minded and love edgy humor then he is probably one of the best comics out there. Andrew used the internet to his advantage. He did not want to become a corporate sell-out and thus, created his brand on the internet as he directly did business with his fans.
His channel currently has 2.25 million subscribers and a total upload of 708 videos. The channel currently has a total view count of 442.7 million. He is one of the best YouTube comedians and you should check him out.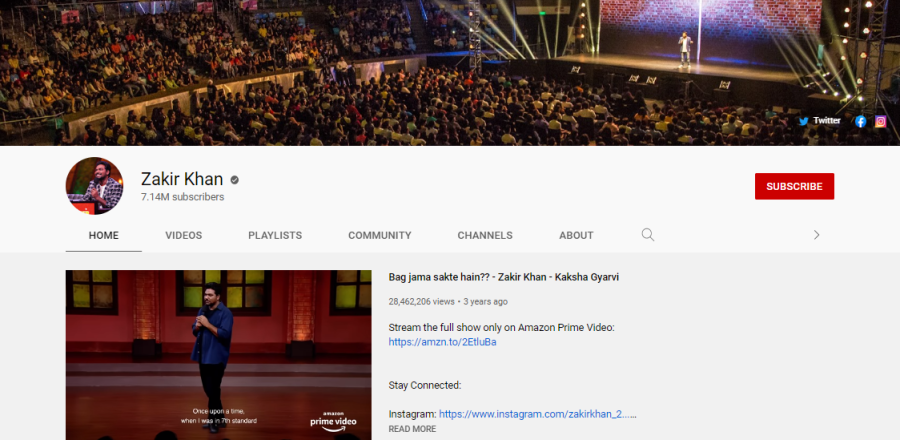 Zakir Khan is one of the biggest names in the Indian comedy scene. He is a brilliant storyteller. Most of his sets involve him telling a story. His observations are quite funny and will even make you think for a bit. Zakir is extremely talented and over the years he has created his brand. He does a lot of things. His latest show Farzi Mushaira is quite funny as well where you can listen to funny 'shayaris'. Zakir rose to prominence after winning India's Best Stand-up Comedian competition hosted by Comedy Central.
If you have an Amazon Prime membership you can watch his two specials there. Though Zakir's channel does not upload stand-up clips regularly you can still find some of his funniest bits there. Recently the channel uploaded clips from Zakir's show Farzi Mushaira. The channel currently has 7.14 million subscribers with total video views of 610.7 million coming from 115 videos.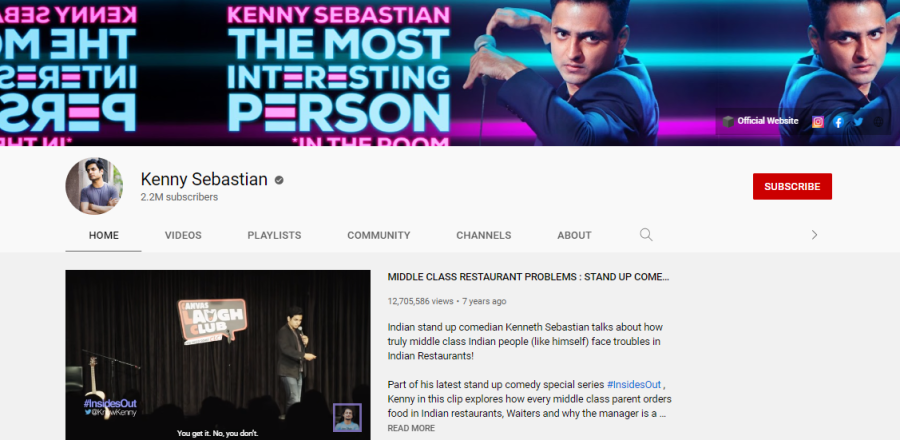 Kenny Sebastian is another popular comedian in the Indian comedy scene. If you are looking for the best standup on YouTube and you like Indian comedy in English then Kenny is your guy. He is one of the masters of observational comedy. Like Zakir many of his bits involve his telling a story with very funny and accurate observations. Kenny has been in the comedy scene for a long time.
He uploaded stand-up clips regularly on his channel which often became viral. Today, his shows sell out quickly. If you want to watch a decent YouTube comedian we suggest you check out his videos. Kenny's channel currently has 2.2 million subscribers. The channel has a total of 253 uploads bringing in around 284 million views.
Kenny even has a podcast called Simple Ken. You can find regular uploads of the podcast. Besides that, there are many funny clips from his stand-up sets. So, if you want to watch comedies on YouTube you can binge on some of the clips from Kenny Sebastian's channel.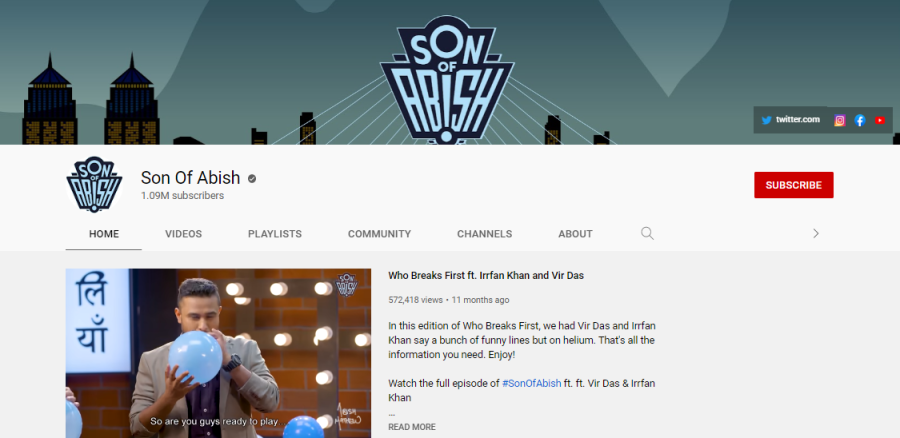 Abish Mathew is a popular funny YouTuber who got his start in stand-up comedy. Though Abish still does stand-up his main show currently is Son of Abish which is a talk show where he brings in many celebrity guests. You can find some of the funniest clips from the show on his channel. You might not find any recent stand-up clips on this channel but it has a lot of interesting and funny content. Besides Son of Abish, Abish also created a series called Journey of a Joke where he brings in popular comedians to break down their most popular sets.
It provides an interesting insight into comedy and how comedians think. If you are a comedy geek like I am or if you are a budding comedian looking to understand how people come up with bits then this series is perfect for that. The Son of Abish channel has over 1.09 million subscribers with a total view count of 153.8 million.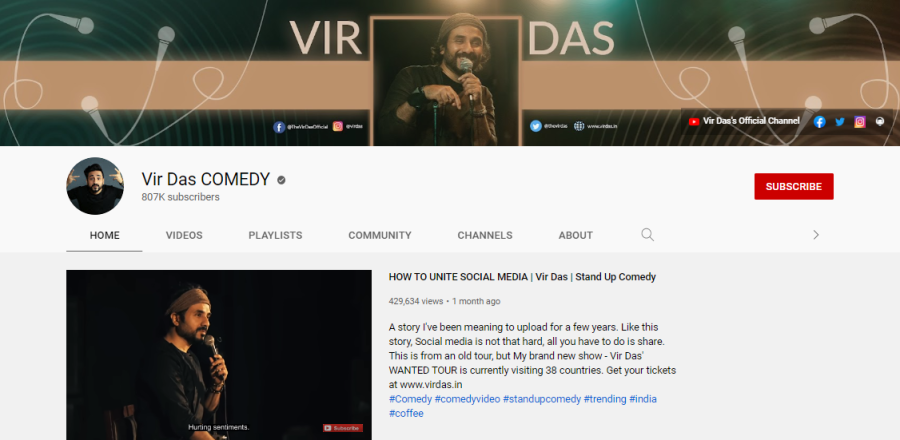 Vir Das is the comic who is often regarded as the guy who pioneered the current form of the Indian stand-up comedy scene. When he started in the early 2000s, Vir was one of the only few comics. Not only that Vir did his sets in English which made them much more uncommon. Today, Vir is not only one of the most successful comedians in India but is also popular all over the world. He has appeared in multiple American talk shows including Conan O'Brien's talk show making him the first Indian comedian to perform there.
Vir has done a lot for the Indian comedy scene. If you are looking for funny comedy bits on YouTube you will find plenty of clips on his channel. Vir's channel currently has 807k subscribers. Currently, there are 153 videos on the channel. If you enjoy watching stand up comedy on YouTube you will enjoy watching his channel.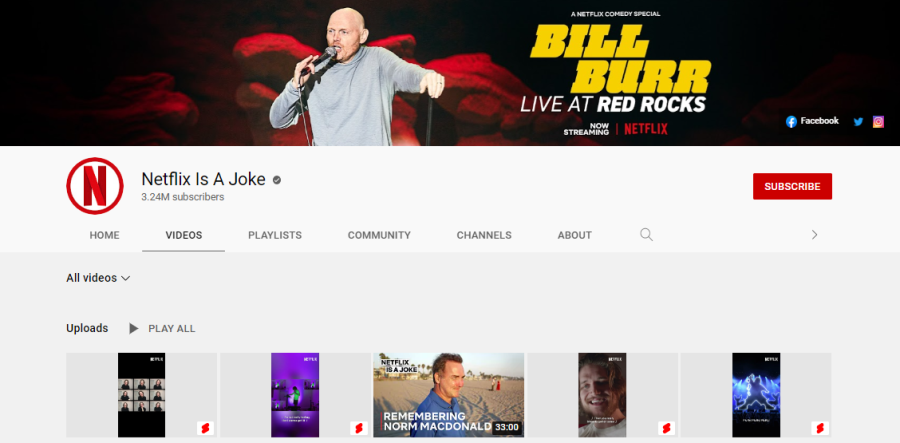 Netflix is a Joke and is one of Netflix's YouTube channels. This channel is specifically made to upload some of the funniest stand-up bits by some of the most popular stand-up comics. You can find clips from the likes of Bill Burr, Dave Chappelle, Whitney Cummings, Kevin Hart, Pete Davidson, Dave Foley, Norm Macdonald etc. If you love watching stand up comedy on YouTube then you need to subscribe to this channel.
Netflix is a brand that many comedians have worked for. So, the volume of content that the company has is huge. You can easily binge on some of the best and funniest stand-up bits by the funniest comics. Currently, the channel Netflix is a Joke has over 3.24 million subscribers. The channel has over 1.8 billion views coming from around 1.5k video uploads.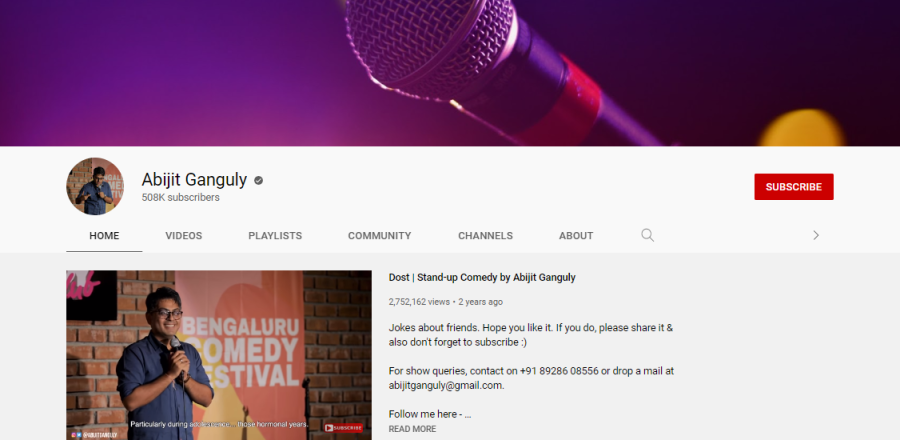 Abhijit Ganguly is another popular Indian comedian who has been on the comedy scene for many years. The way Abhijit crafts his observations into jokes is quite funny to watch. Most Indians who love stand-up comedy watch Abhijit's clips. He performs in English as well as Hindi. Abhijit used to have a corporate job which he left to pursue stand-up full-time.
This gives him a lot of unique perspectives that suit the general masses as well as the working audience. Abhijit currently has 508k subscribers on his YouTube channel. With just 51 uploads he has raked in over 65.4 million views. If you are looking for the best YouTube comedian in the Indian comedy scene then you can check out Abhijit's videos.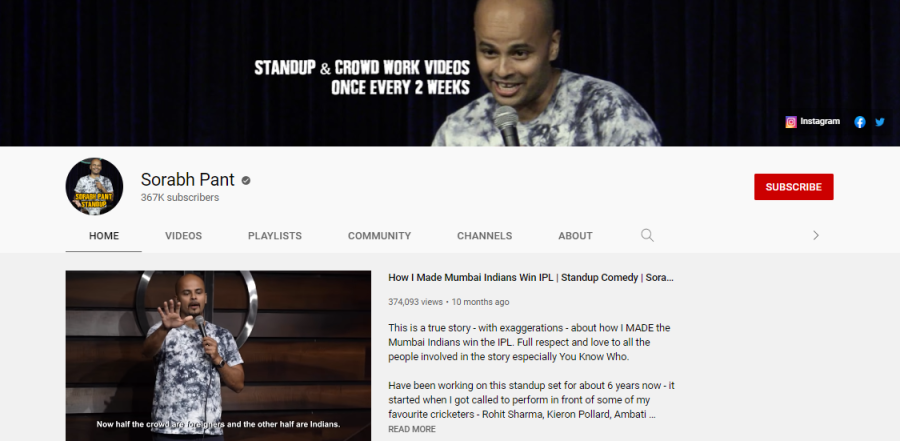 One of the Indian comedians who started performing quite early similar to Vir Das is Sorabh Pant. He was performing stand-up in English when there was not a big enough market for it. But regardless he persevered and today, he is one of the most popular comics in the Indian comedy scene. Sorabh's channel is quite active. He regularly uploads bits and clips from his stand-up sets.
You will enjoy his work as he brings amazing energy to the stage. He started a podcast which became popular during the lockdown period. He would bring in many esteemed personalities and have a nice conversation with them. Sorabh's stand-up bits are quite funny. If you want to watch some Indian stand-up on YouTube you can check out his stuff.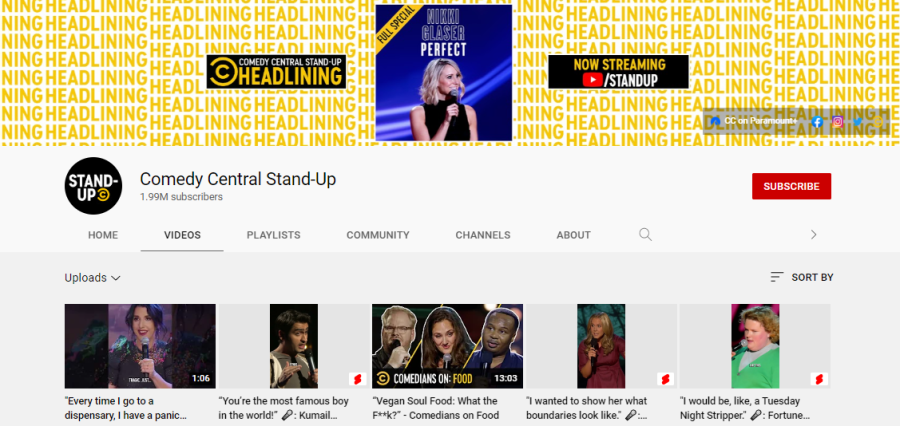 Comedy Central is an easily recognizable name. It is a cable channel that offers viewers all things funny. You will find comedy TV series, funny sketches, stand-up specials, adult animations etc. Most popular comics have performed for Comedy Central at least once. This has given the brand a good amount of content for the Comedy Central Stand-up channel on YouTube.
If you are looking for good stand up comedy on YouTube you will find multiple clips on this channel. A good thing about this channel is that it regularly uploads videos. So, you always have something to watch when you are looking for YouTube stand up comedy. The channel currently has 1.99 million subscribers and around 1.55k uploads which have brought it around 880.1 million views.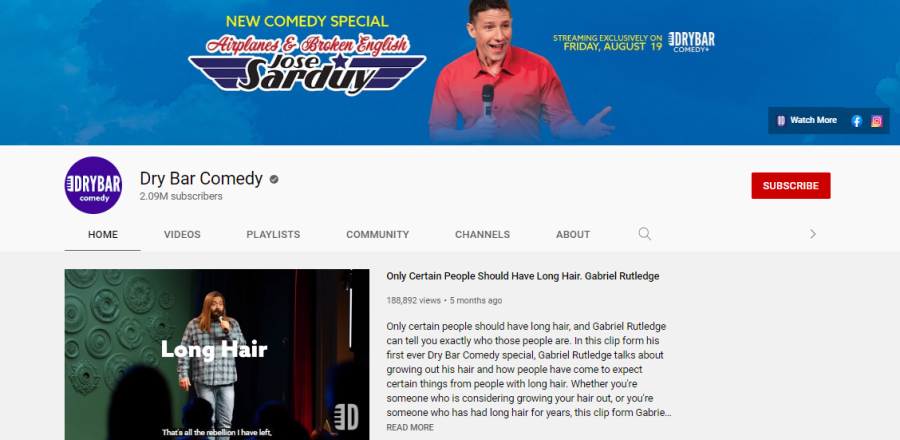 Dry Bar Comedy is another YouTube channel that regularly uploads stand-up clips on YouTube. This brand brings in different comics regularly to perform on their stage. The set is then filmed, edited and published. Some hilarious comics have performed for Dry Bar Comedy. You can find some amazing and funny clips on the channel.
Also, there is not much cursing or edgy comedy. It is generally pretty clean. So, if you are into that sort of comedy or want to watch something with the family you can check out this channel. It has 2.09 million subscribers and a total of 2092 uploads which have brought in around 671.6 million views.
Conclusion:
So, that was our list of some of the best stand-up comedy channels on YouTube. These channels are in no particular order. I just picked some of the channels that I often watch when I am bored or want something quick to watch while having lunch or dinner. Also, this is not an exhaustive list. There are just so many great channels that upload stand-up clips and specials for us to enjoy. We hope you found some good channels to check out. Happy viewing!




© Upviews 2022 All Rights Reserved.