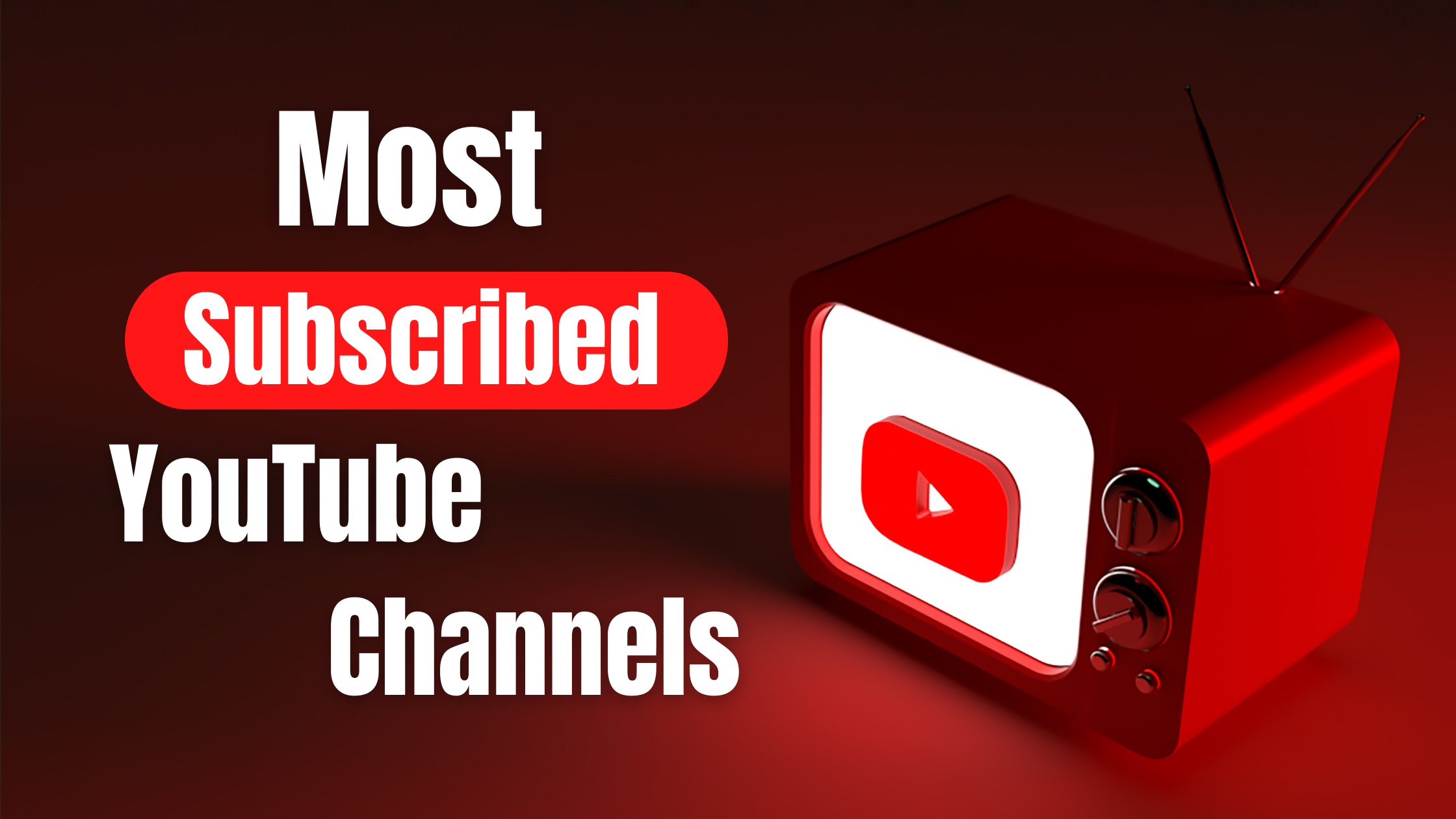 YouTube has been around for over 17 years now and is one of the most popular platforms in the world. Many people from all corners of the world have some idea about YouTube and a couple billion of us use it regularly. Over the years, many creators, companies, brands and individuals have used YouTube to deliver content to viewers and gain fame and money. Today many YouTubers have millions of subscribers who watch their content regularly. But which are the most subscribed YouTube channels?  
List of the 15 Most Subscribed YouTube Channels in 2023: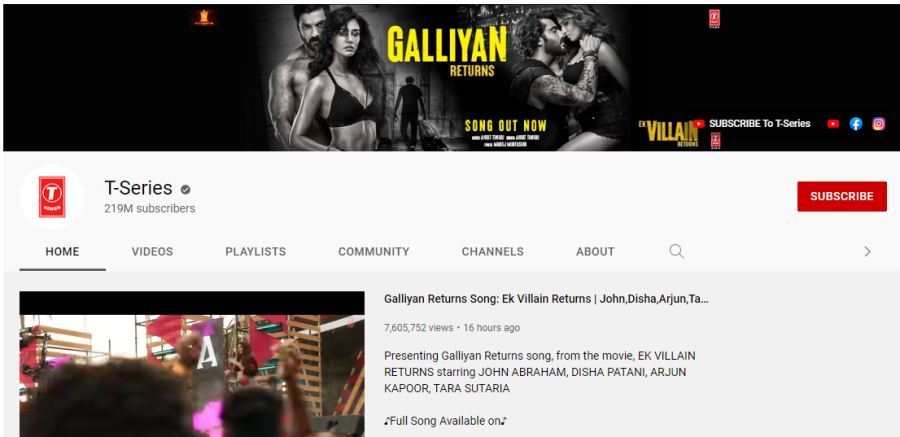 Yeah, yeah, it is the channel that became popular after the PewDiePie vs T-Series fight. It was T-Series that "won" it as it got more subscribers but the other party had significant growth as well. T-Series is an Indian company that mainly deals with music and film production.
Bollywood music is very popular not only in India but in different parts of the world as well. Today, T-Series is one of the most successful companies in India and its YouTube channel is a testament to that fact. It has got over 219 million subscribers! Yes, mind-blowing, right? It is a big brand that produces songs and films regularly.
Many of its songs get tens of millions of views, if not more. The company was started by Gulshan Kumar in 1983. The company had humble beginnings and with sheer hard work and dedication, Gulshan managed to make T-Series one of the leading music labels in India. Currently, his sons, Bhusan Kumar and Krishan Kumar run the company.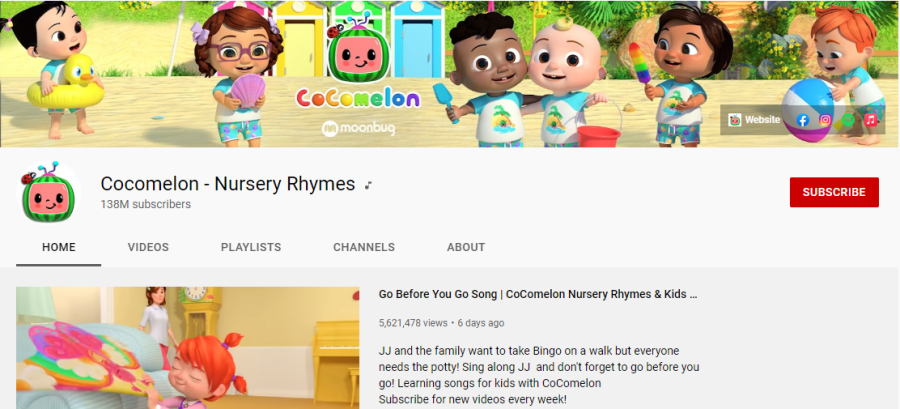 Love it or hate it, Cocomelon is the next entry on this list with 138 million subscribers. It is an American YouTube channel which is currently owned by a British company called Moonbug Entertainment. The channel is maintained by Treasure Studio which is an American company.
With over 131 billion total views, the companies involved with this channel are minting some good cash. The channel is basically directed toward toddlers and kids. That is one of the biggest general niches out there and one that is not going anywhere anytime soon.
If your kid is annoying you or is not eating their food then time to distract them with animated characters singing all types of kid songs and nursery rhymes. Kids love this channel and cannot get enough of it. My nephew watches Cocomelon with such intensity that I feel less of a person for not understanding the intricacies of kids sitting in a bus singing "Wheels on the bus go round and round".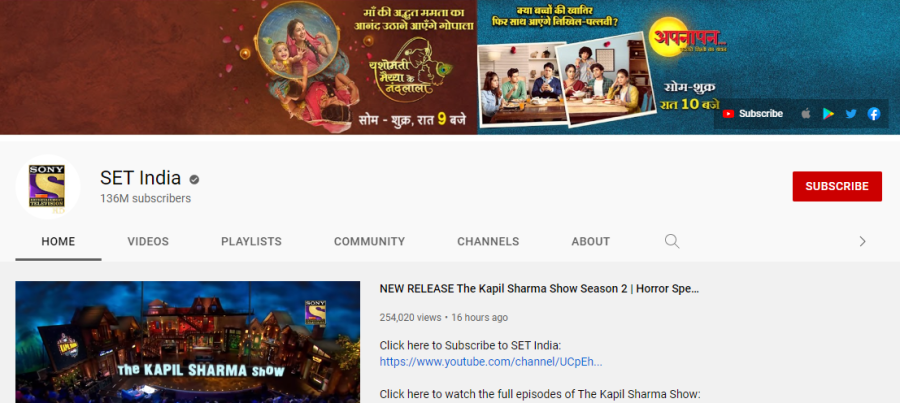 Up next, is another channel that belongs to an Indian company. I mean, Indians do consume a lot of YouTube and there are hundreds of millions of active YouTube users in India. So, it makes sense that some of the popular media companies in the country will have a lot of subscribers.
SET India has over 136 million subscribers. It is the acronym for Sony Entertainment Television. SET India creates some of the most-watched television shows and series. The YouTube channel often uploads entertaining bits and pieces from these shows.
These bite-sized videos are quite popular with the Indian audience which ensures that the channel gets more views. The television channel provides 24-hour content which people can consume throughout the day. If you want to check out colorful shows and clips of television dramas then you can check out the channel. It is one of the most subscribed YouTube channels in the world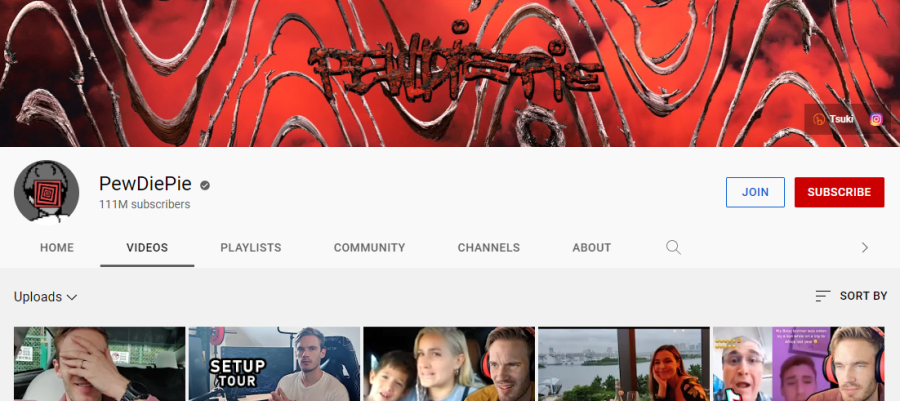 Most of us know PewDiePie. Felix is one of the most popular YouTubers in the world. He is also 'the most' subscribed YouTuber in the world. He is a very popular influencer who has millions of fans worldwide. Over the years, Felix has done so many types of content that it is hard to pin down what he exactly does.
But one of the reasons why people are attracted to his videos and channels was because of his personality. Felix initially started doing YouTube by uploading game-related content and he still does play and uploads gaming content on his channel. He used to play horror and action video games and garnered some following there.
His channel began gaining momentum in 2012 and 2013 and later in 2013, his channel became the most subscribed channel on YouTube. His content started shifting more towards vlogs, formatted shows, reactions and comedy shorts. He was the one who started the meme reviews. Yeah, he is an entertaining personality who still provides his fans with regular content.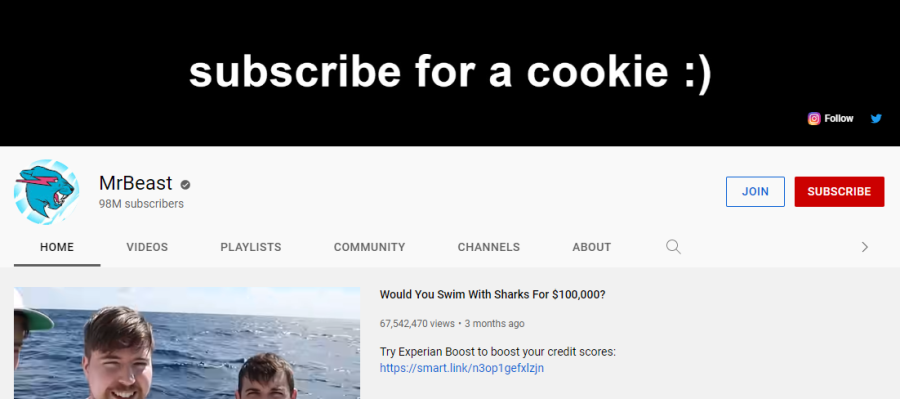 MrBeast is a beast of a content creator (see what I did there?). He is one of the most influential and most popular YouTubers. His over-the-top video ideas and his cheerful and positive personality are what make his channel so different from other similar content creators. But MrBeast is one of the very first YouTubers to have created a different sort of genre.
It is basically using a ton of money for a video. But they don't use the money on girls, cars and booze. I mean they do spend it on girls as in they donate money to people and they do spend it on cars which they give to someone in need. His content gets tens of millions of views and is probably one of the most viewed channels on YouTube.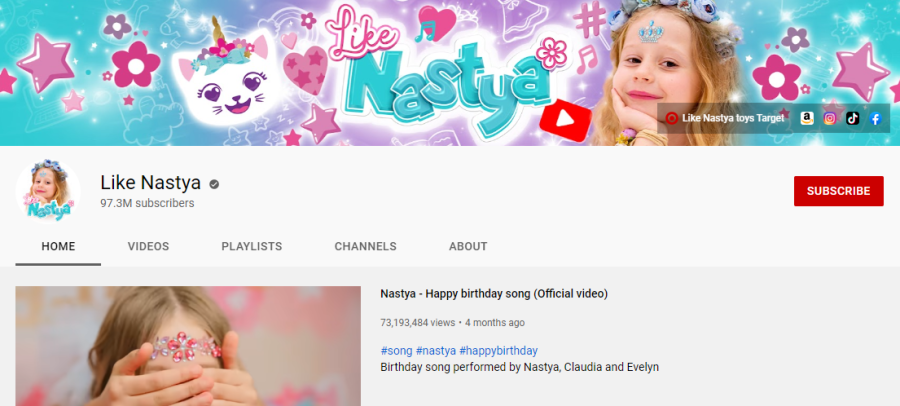 Anastasia Radzinskaya is a Russian-American YouTuber. She is better known by her YouTube channel name Like Nastya. She along with her parents Yuri Radzinskij and Anna Radzinskaya make videos on YouTube. Kids' content is very popular and the popularity of Like Nastya and the next entry on the list proves that. The channel currently has over 97.2 million subscribers.
She has the fifth most viewed channel on the platform. If your kids are not sitting still then just put on Anastasia's videos and see how she quickly hypnotizes them (not literally). Her channel consists of fun and cute content including Vlogs, children's songs, unboxing videos etc. Anastasia is one cute kid. Her videos are very entertaining and filled with energy. If you haven't already got your kid hooked on her channel then do so.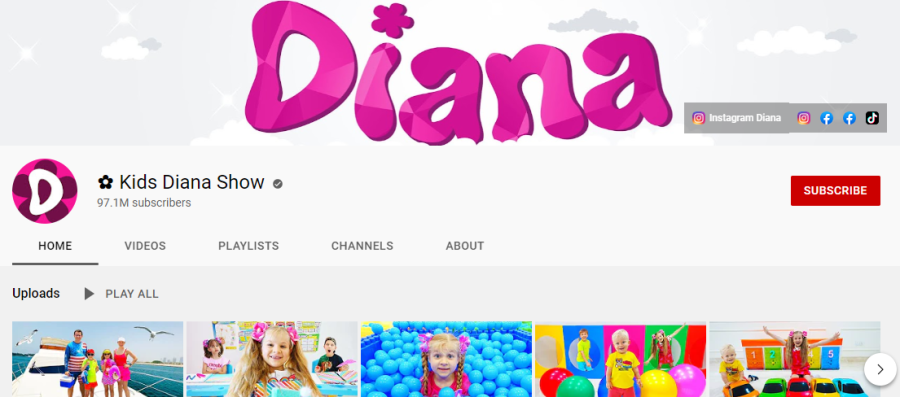 A couple of entries ago I mentioned that kids and toddlers are some of the most active watchers of YouTube videos. Kids can consume content on YouTube for hours on end. It just means that there's no difference between a kid and me. Regardless of how lazy I am, the kid's content genre is very huge and quite profitable as well.
Kids Diana Show is a family channel centered around Eva Diana Kidisyuk. She is a Ukrainian-American YouTuber who creates content for several of her channels along with her family which include her parents Olena and Volodymyr and her brother Roma.
Eva is currently eight and most of her videos are basically her role-playing some character and her family playing different parts. Eva is a cute girl and she seems quite comfortable being on camera. Her cute voice and along with the colorful and cheery tone of her videos are goldmines for kids. The main channel of Eva which is Kids Diana Show has 97.1 million subscribers.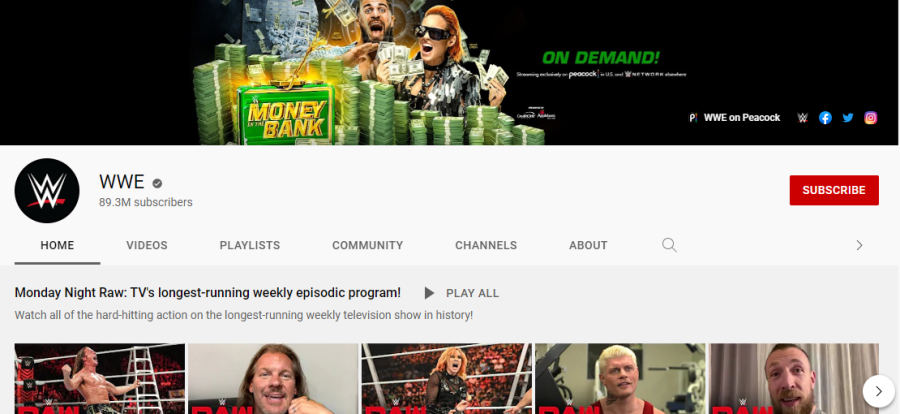 Who doesn't know about WWE? Yeah, it may be sixth on the list of most subscribed YouTube channels but it is one of the most popular brands in the world. It is probably more recognizable than most of the names above it on this list. Everyone loves seeing sweaty dudes beat up each other with overly dramatic moves and stunts.
It's romantic, beautiful and adrenaline-pumping at the same time. For the uninitiated, WWE or World Wrestling Entertainment is a pro-wrestling company that has been organizing high-quality pro-wrestling events for decades now.
It is the most popular pro-wrestling franchise in the world. The wrestling superstars that make a name for themselves in WWE instantly want millions of fans all over the world. People say that it's 'fake'. So, what? Movies and TV series are fake too. But we still enjoy watching them because of the drama, the thrill and the adrenaline rush. If you want to enjoy some nice pro-wrestling clips then subscribe to this channel.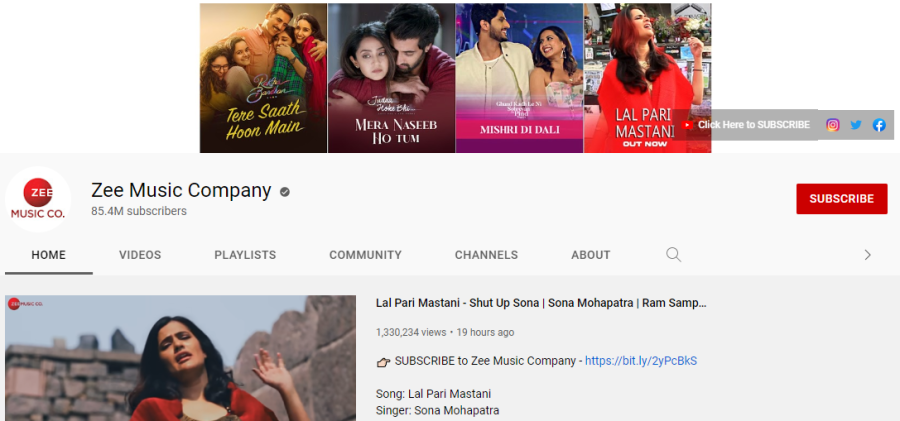 Yes, it's another Indian media company that is on the list of the most subscribed YouTube channels. Zee Music Company is a part of Zee Entertainment Enterprises. Zee is a popular name in Indian households. Many popular soap operas are produced by Zee. But the popular channel has everything to do with music. Indians and many people worldwide love Bollywood music and Zee is one of the top music labels in the country.
This subsidiary of Zee Enterprises was founded in 2014 and it has been producing a variety of popular music in India. Many of the top Indian artists are signed with Zee Music. If you want to listen to some nice music then this channel is perfect for you.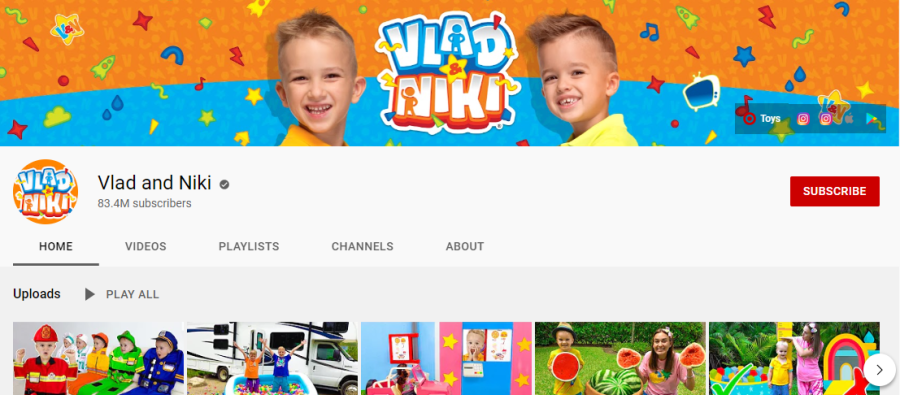 Up next, we have another channel that makes videos for kids. Vladislav Vashketov and Nikita Vashketov are the main faces of the channel. They appear alongside their parents Victoria and Sergey Vashketov. The channel is immensely popular among kids. It has got over 83.4 million subscribers.
The videos are quite fun and are perfect for kids. The family owns a total of 18 channels. This is because they have channels in different languages. So, once they make their videos they dub them in different languages for better reach. Many of the other channels have millions of subscribers as well.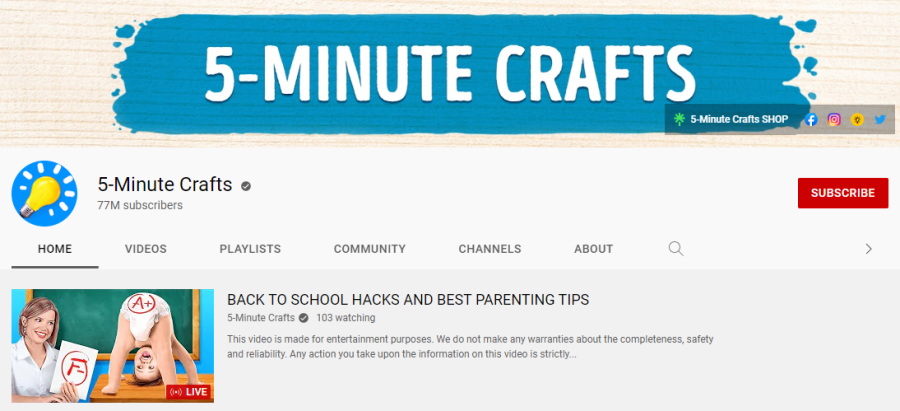 Look, even though a lot of the crafts and hacks that this channel shows are annoying or outright don't work, it is still one of the most subscribed channels on YouTube. 5-Minutes Craft knows how to create videos and thumbnails that attract more people to the video.
Doesn't matter whether you like the videos or hate them, they do know how to grab your attention. I just watch the videos assuming that they are satire and that makes their content quite funny to me. This channel currently has 77 million subscribers on its channel and hundreds of millions of people watch the videos of 5-Minute Crafts across all the popular social media platforms.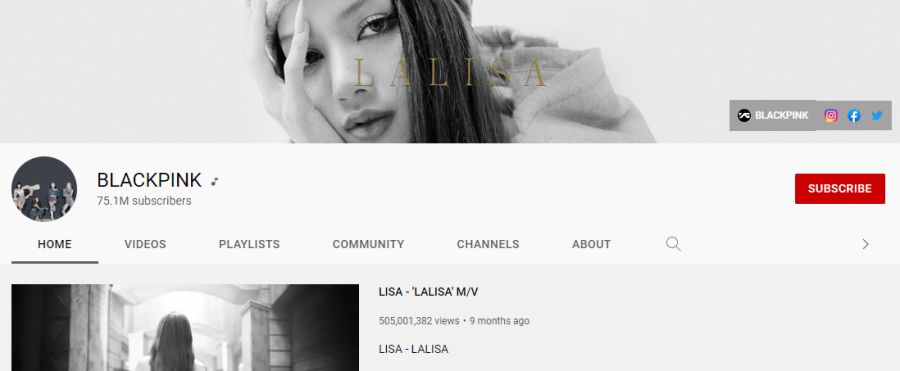 South Korea trains and generates popstars and creates groups that deliver entertaining music that is loved all over the world. Even if you don't listen to Korean Pop music, you might have heard of Blackpink. They are one of the most famous K-pop groups in the world.
This girl group was formed by YG Entertainment and has been popular since its debut in 2016. The members of Blackpink are Rosé, Lisa, Jennie and Jisoo. Their fans are very loyal and whenever they release any music it becomes a hit because of the fandom. If you are looking to venture into new genres then you can try out K-pop. Who knows, you might like it as well.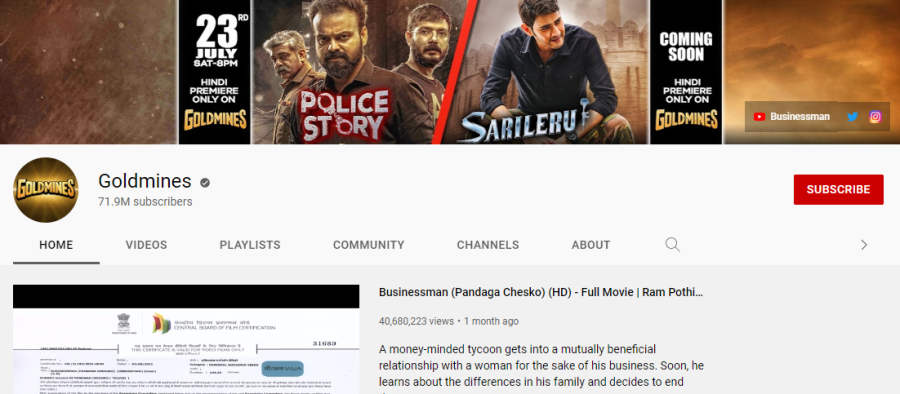 We have another channel from an Indian media company. Goldmines Telefilms provides YouTube users with the opportunity to watch different Indian movies for free. This channel is very popular because people can watch different movies for free.
Yes, full-length movies! The channel has around 71.9 million subscribers and that's probably for good reasons. I mean who doesn't like to watch a movie or two for free on YouTube. If you want to watch Indian movies then you can check out this channel as well.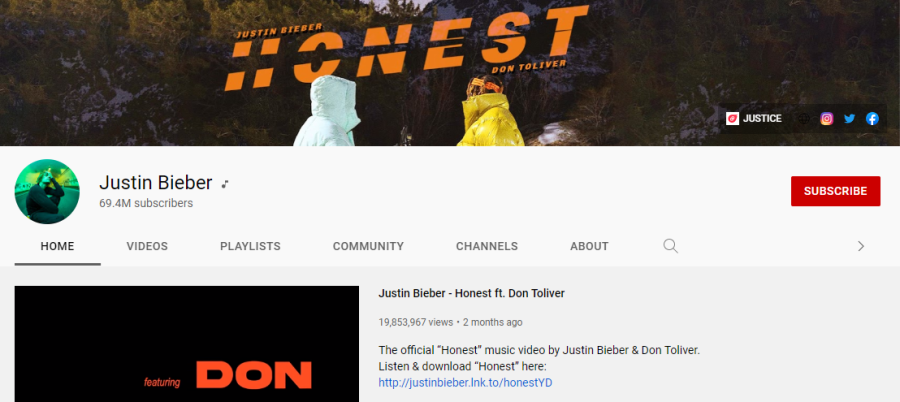 Justin Bieber is one of the most popular pop stars of our generation. He got fame at a very young age. He was quite talented and had a very good singing voice. After being coached by some of the OGs in the pop music industry Justin dropped and made his debut.
His track Baby was an instant hit. Many people all over the world enjoyed the song. Justin has been in the music industry for more than a decade at this point. He still keeps releasing songs that often become hits. His channel has around 69.4 million subscribers 
Let's end the list with another Indian channel. Sony SAB is a pay television channel very popular in India. This channel brings to its audiences fun clips and episodes from various shows that aired on the channel. SAB was initially founded in 1999 and focused primarily on Hindi Comedy shows.
After being acquired by Sony, it moved towards a more general niche. Today, the TV channel itself is more focused on Hindi shows and drama. The YouTube channel provides clips and episodes from the shows for free. This has helped the channel gain a whopping 69.2 million subscribers making it the 15th most subscribed YouTube channel on this list.
Conclusion:
So, that's our list of the most subscribed YouTube channels. Keep in mind that the list is based on the month of July 2022. These are the most popular channels on the platform; many of them are quite neck-and-neck. So, some channels may gain subscribers at a faster pace while others might be slower or even lose subscribers. The aim behind this list is to provide you with an idea of what type of channels are the most popular on the platform so that you can take some inspiration. We hope you found our list useful and hope you like these channels. Keep browsing!




© Upviews 2022 All Rights Reserved.