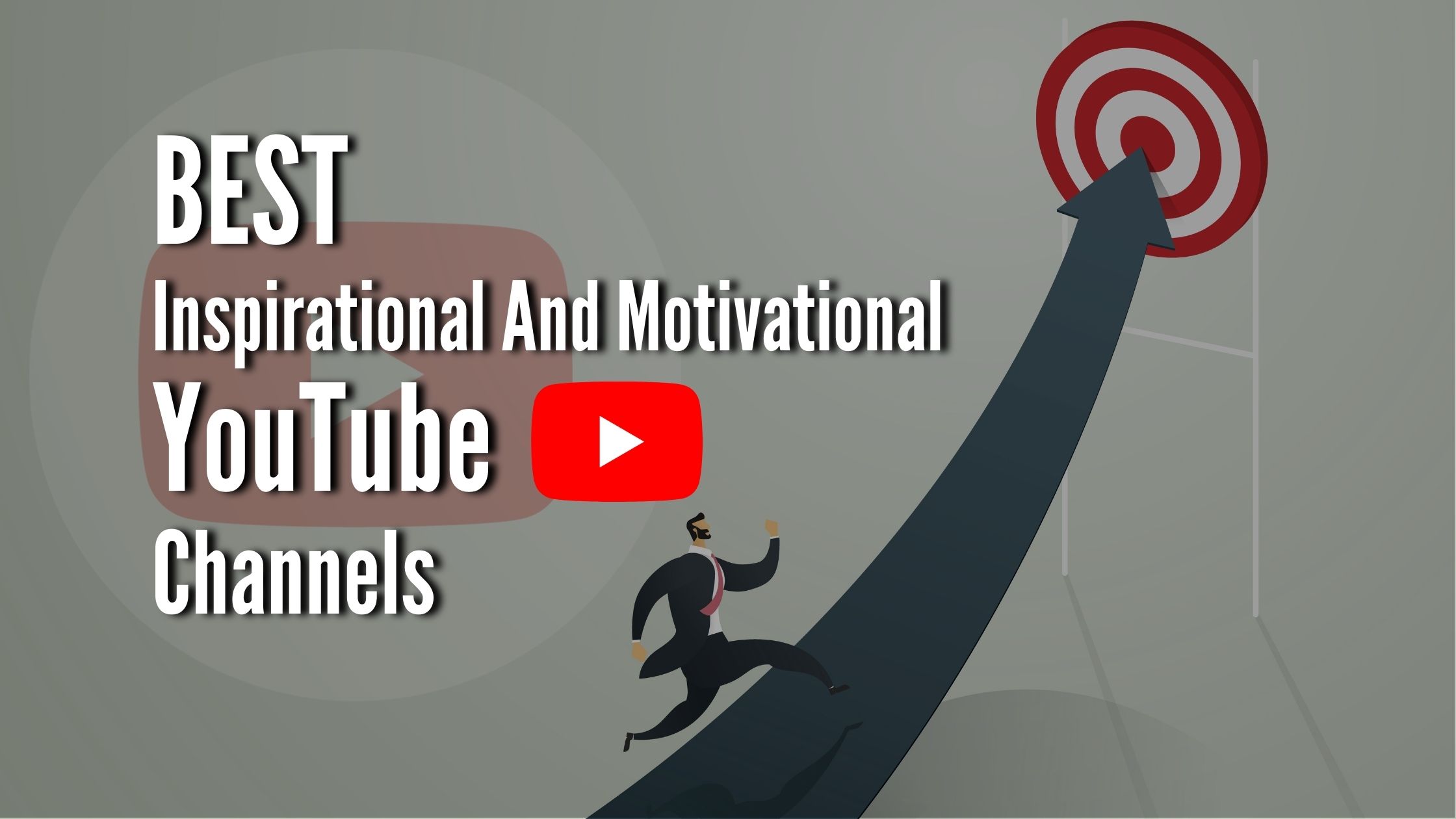 13 Best Inspirational & Motivational YouTube Channels for You
We all are born and entailed with a spark in us, but it is inspiration and motivation that helps us bring out that spark in us. From time to time, it is inspiration and motivation that helps us begin something, keep us going, and ultimately lead to achieving big milestones. Individuals can achieve success only by realizing their true potential and it is inspiration and motivation, that help in this process.
For a very long, the primary source for us to get inspiration is the support, encouragement, and guidance of some specific people. These are people who believe in us and want to see us successful in life. These people mainly include parents, coaches, mentors, spouses, friends, bosses, and teachers. However, there are often times and instances when this source is not available and become hard to sustain for a long time.
Luckily, these days, all these doses of inspiration can be achieved from many sources easily. These days, it can be achieved by attending motivational YouTube channels, motivational shows, seminars, and workshops. It can also be achieved by reading specific books. Out of all, the source that is most preferred, popular, and relied on these days is following or subscribing to specific personalities on social media platforms including motivational YouTube channels.
Best Inspirational And Motivational YouTube Channels: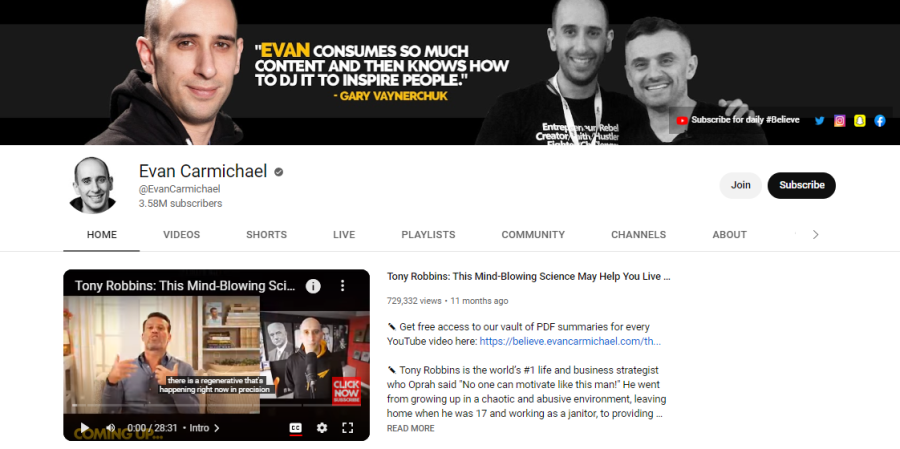 One of the biggest problems that are faced these days in the world is Untapped human potential. Well, this channel, created by Evan Carmichael, is devoted to solving the same problem. 
Unlike other entries previously discussed in the list, Evan Carmichael does not record and post videos on his channel. Instead, he watches a vast amount of inspirational and motivational videos of elite entrepreneurs and successful personalities.
After watching, he edits and put together these clips into "Successful person's name 10 rules" style videos. In Evan's videos, you can expect life-changing advice and model to master your full potential. If you prefer short videos, then his 30 seconds to 5 minutes videos are the perfect option for you.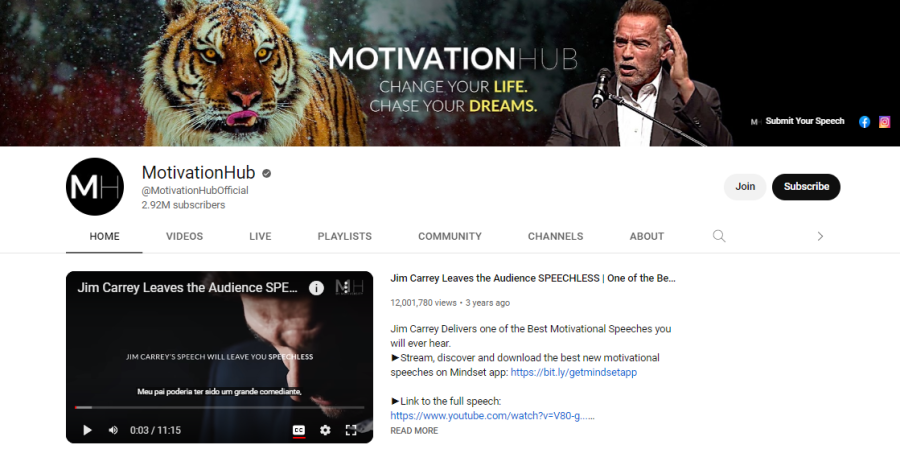 If you are someone who wants to be the best version of yourself, overcome obstacles, and don't want to give up, inspirational YouTube channels like MotivationHub are for you. Also, if you are someone who wants to overcome obstacles and doesn't want to give up, you can head straight to this channel. Motivation HUB is a lot more than just a Youtube channel. It is created for a community of like-minded people who are courageous enough to change their lives and accomplish their dreams. 
Videos on this channel feature some of the top motivational speakers. The best part is that all the speeches, music, visuals, edits, and all other content on the channel are completely new and original. Today, the channel boasts nearly 3 million subscribers and viewers.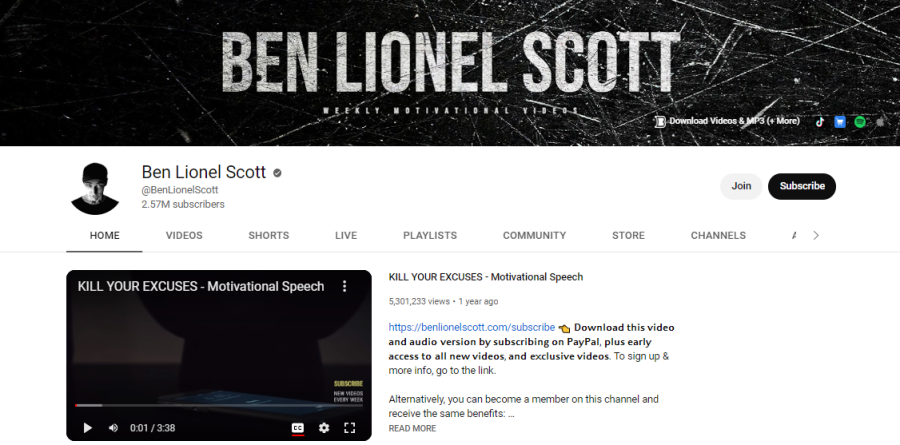 The last and final entry that we have on this list is Ben Lionel Scott. Ben Lionel Scott is a very popular motivational and inspirational personality from Australia. He is a video editor as well as a producer and has a pretty strong presence on all major social media platforms including Youtube.
Well, his content mainly includes a full dose of motivation from some of the most successful and high-achieving people in the world. You can watch his videos on Youtube, and listen to weekly motivation series on Spotify, and other platforms to stay inspired and motivated throughout.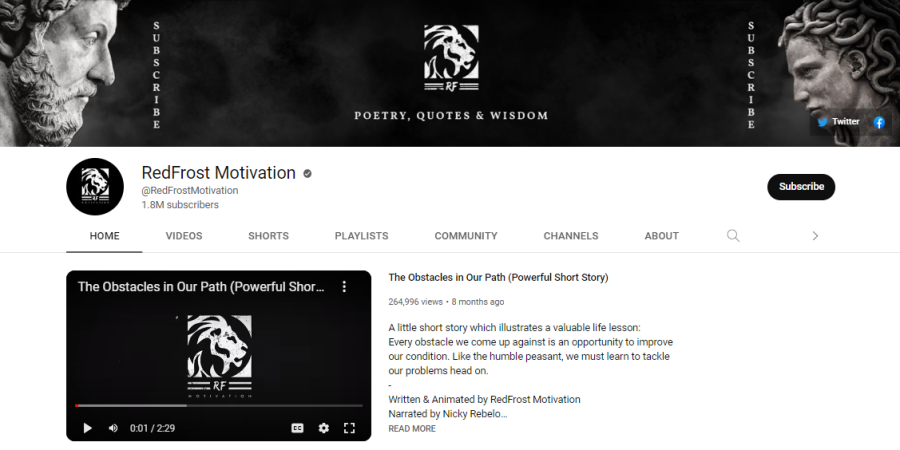 If you are someone with the mindset to look at every obstacle as an opportunity to improve your condition, you'll like videos on this channel. The creators and professionals at RedFrost Motivation work with award-winning voice actors. Well, this helps them create and upload exclusive poetry renditions, original narrated quote collections, powerful reading, and much more.
Also, they create and upload original video essays and animated short stories. The sole aim or the essence of RedFrost Motivation's videos is to bring new life to some of the greatest, most empowering texts of history.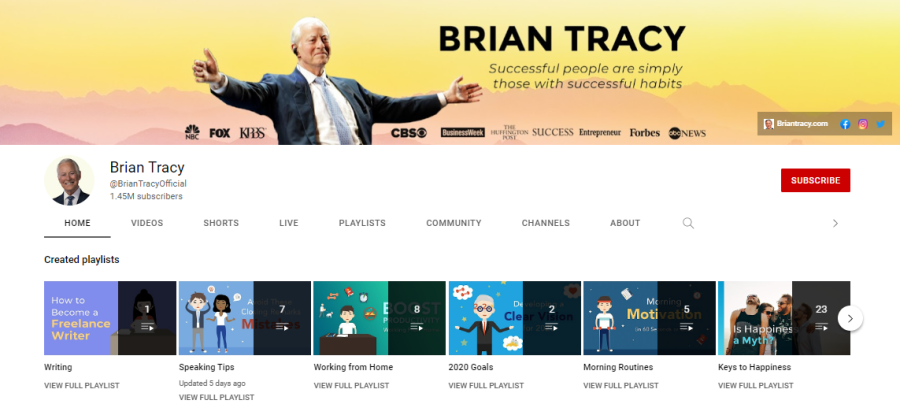 The next entry that we have on the list is a Canadian-American motivational public speaker and self-development author, Brian Tracy. He is one of the most listened-to audio authors in the world. He is known for uploading videos that help people to achieve personal and business success.
The videos on his channel are loaded with powerful, proven ideas and strategies. All these can easily be understood and implemented to get better results in all spheres. Brian is also quite famous for his fast-moving talks and seminars on leadership. He is also quite famous for sales, managerial effectiveness, and business strategies.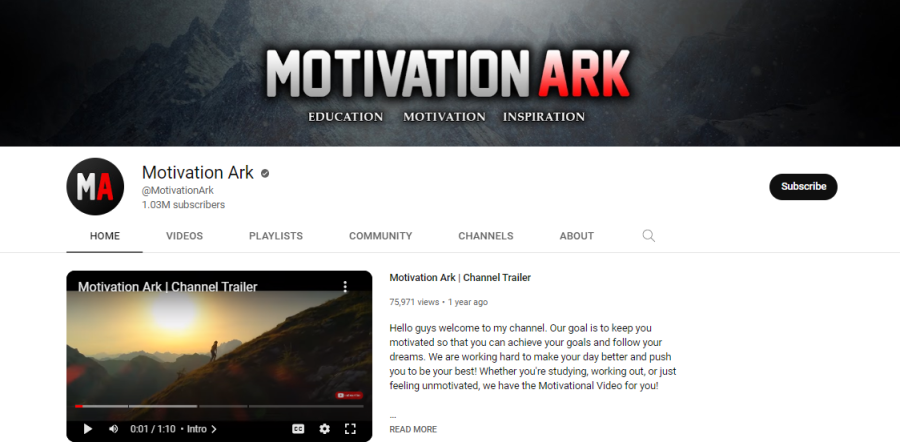 Next up, on this list of motivational YouTube channels, we have Motivation Ark. If you wish to improve your life through motivation, inspiration, and education, the videos of this channel can help you a lot. You can definitely consider watching videos on this channel to always stay inspired and motivated towards achieving your goals and following your dreams.
Irrespective of whether you're studying, working out, or just feeling unmotivated, there are videos for every purpose on the channel. The best part is that Motivation Ark's videos are from some of the high achievers of the world.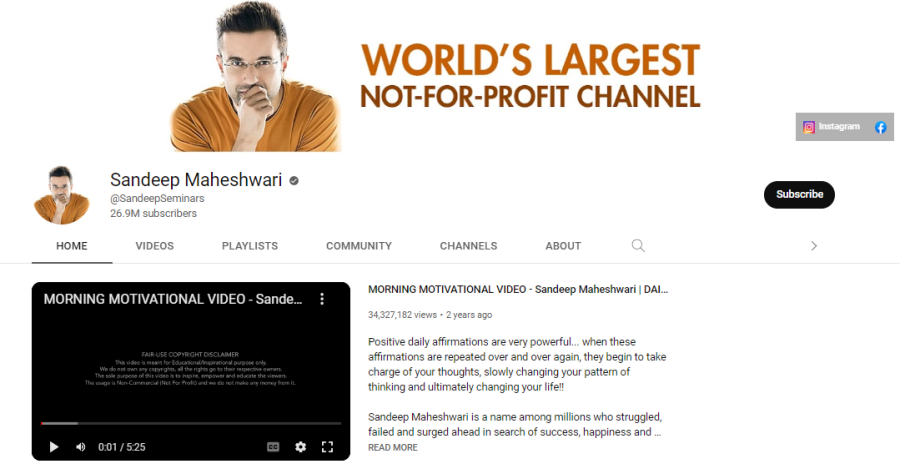 Let's start the list with the name that strikes the mind first when thinking of truly inspirational and motivational YouTube channels. Sandeep Maheshwari, born on 28th September 1980, in Delhi struggled, failed, and surged in many businesses. However, in search of success, happiness, and contentment, he did not quit till the very end. 
Sandeep Maheshwari is one of the most well-known and renowned names among millions all around the world, especially in India. He is a guide, a mentor, a role model, and a youth icon. Despite seeing so many failures, Sandeep is the CEO of Imagesbazaar.com, the largest collection of Indian stock images. As a result, today, he is also one of the most successful founders and fastest-growing entrepreneurs in India.
Sandeep Maheshwari started his journey of posting videos on YouTube in the year 2012. Being a man with a motive to inspire all with his words of wisdom and motivation, he started posting videos on the platform. He posts videos of his motivational speeches and seminars.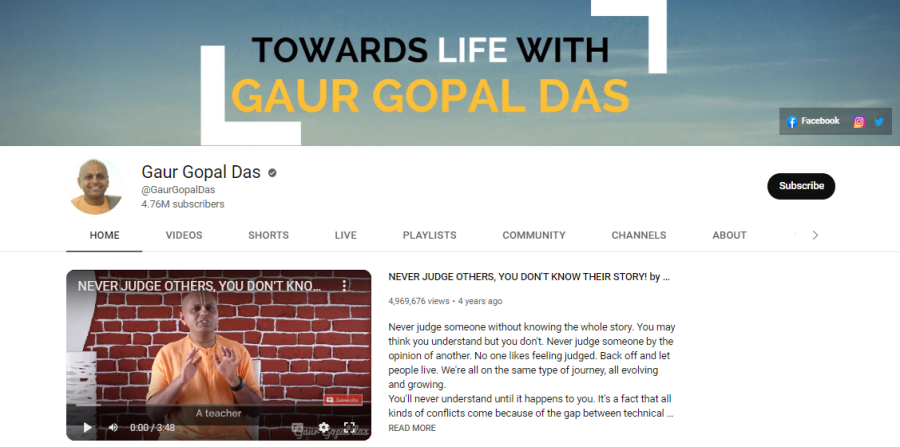 The next entry that we have on the list is the one you must have known as a personal coach, monk, lifestyle, and motivational strategist. Well, we are talking about none other than Gaur Gopal Das, also known as "The Ideal Young Spiritual Guru". You must have heard of him or watched his videos before. 
Gaur Gopal Das first started his career by doing electrical engineering. After completing his education, he then worked as a corporate at Hewlett Packard for a few years. During this course, he finally made up his mind and decided to live life as a monk. 
Gaur Gopal Das, over the period, joined ISKCON as a devotee of Krishna and started expanding his knowledge on ancient and contemporary psychology. Today, he shares his thoughts of wisdom, deeper spiritual thoughts, and insights on life with millions worldwide. 
Gaur Gopal Das started his journey on YouTube a few years back and today, his channel boasts a million views and subscribers. If you are someone who's looking to achieve happiness and find purpose in your life, we would highly recommend his channel to you.
Sadhguru Jaggi Vasudev is one of the most popular yogis, mystics, and famous authors in India as well as in the world. Born in Karnataka, India, Sadhguru today, has become one of the most renowned personalities in not only India but in the world.
Sadhguru Jaggi Vasudev is renowned all around the world for offering many programs to bring positive changes in various parts of society. He is renowned for his constant efforts and initiatives were taken in the field of education, yoga, and the environment. Sadhguru has written more than 100 books, mainly on topics like health, religion, spirituality, faith, etc., and also appeared in "The New York Times Best Seller List". Last but not least, he is the founder and head of  "Isha Foundation" a non-profit organization. 
Sadhguru has millions of followers and subscribers on social media platforms including YouTube. Impressed by quality content and his contribution to the field of spiritualism, he was awarded "Padma Vibhushan Civilian Award" by the Government of India in 2017.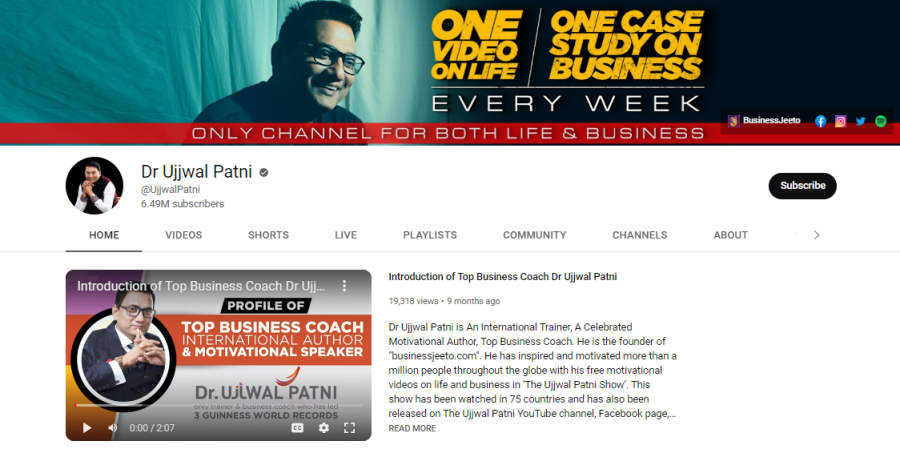 Next up, on this list, we have a famous international trainer, author, and motivational speaker. We're talking about none other than Ujjwal Patni, one of the top names that inspired and motivated millions of people. Ujjwal Patni is well renowned all around the world for his motivational saying and words on life and business 
Ujjwal Patni has been on YouTube for many years and is one of the most successful speakers both domestically and internationally. He runs a famous video show on YouTube named "The Ujjwal Patni Show". His content on YouTube and other platforms is very popular among entrepreneurs, business owners, teachers, etc., all over the world.
Ujjwal Patni is one of the few motivational YouTubers who has several Guinness World Records and other international rewards. He is the founder of businessjeeto.com, and is known for being a true leader, risk-taker, and dreamer. He is also known for his written works, which include more than 7 books and 500 plus articles.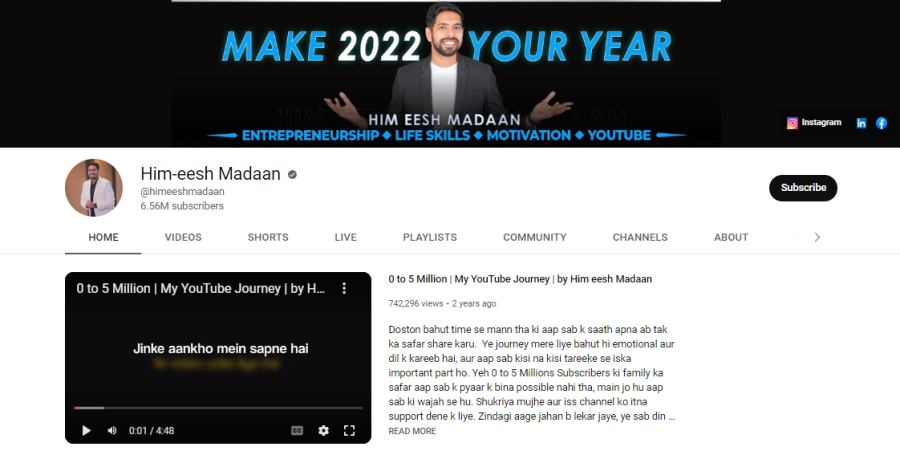 If you're looking for the best motivational YouTube channels for a while now, then your search ends here. Him-eesh Madaan is one of the best motivational speakers and performance coaches in the world. We don't say this just for the sake of it as he has proven records of training more than 100 million individuals.
Him-eesh Madaan is known all around the world for his passion for training and a spark to motivate all. He is one of the few personalities blessed with a penetrative mind, wisdom of thoughts, and another plethora of skills. Apart from being a motivational speaker, he is a renowned writer, poet, and actor.
Him-eesh is a master at infusing dynamic energy and motivation into his audience through his videos on YouTube. The key highlight of his videos is his way of addressing the audience. He addresses his audience in a very unique, powerful, and enthusiastic manner. Hence, if you also want to be motivated at all times, his videos are a must-watch for you.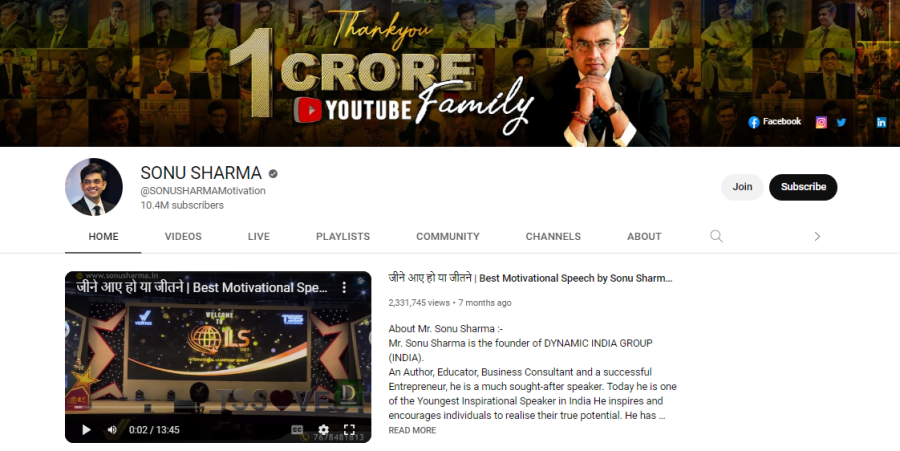 If you are looking for the best motivational videos on YouTube, you need to check out the videos on this channel. Sonu Sharma is one of the most inspiring and very in-demand speakers in India as well as abroad. Apart from being a successful speaker, Sonu is also a successful author, educator, business consultant, and entrepreneur. 
Sonu Sharma started his journey on YouTube on Oct 7, 2006. Today, more than 500 million people watch his video on YouTube from across 114 countries. His videos showcase his 21 years of study and expertise in the direct sales sector. His videos aim to motivate people to reach their full potential, be always inspired, be encouraged, and achieve success. Tens of thousands of individuals as well as companies all around the world have benefited from his content.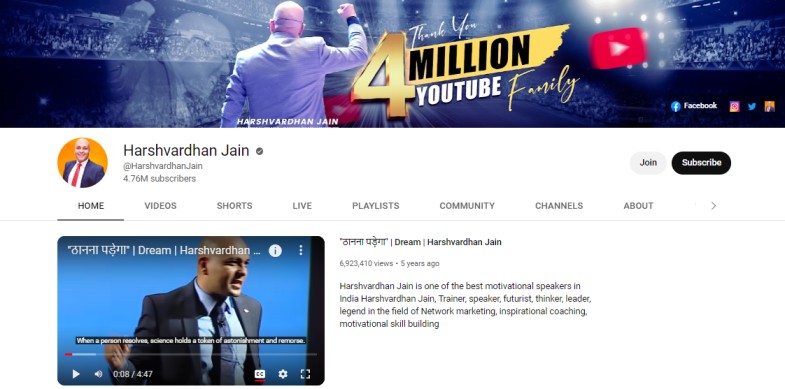 Harshwardan Jain is a quite popular name in the business world and there're chances you must have heard of him before. The name is also quite popular when it comes to motivational YouTube channels. Well, it is because Harshvardhan Jain is one of the most successful motivational speakers and businessmen out there. 
Harshwardhan comes from a lower middle-class family and has seen a lot of struggles during his upbringing. He was born on April 21, 1980, in a small village in Rajasthan, India, and joined Youtube on Apr 5, 2016. Harshwardhan Jain posts videos on his YouTube channel in which he tries to infuse education with life, effectiveness, and joy. Speaking of numbers, to date, more than 15 million individuals have been motivated by his motivation videos and engaging workshops. 
Conclusion:
There you have it, these were 13 top picks for the best inspirational and motivational YouTube Channels to visit. Above, we have covered everything and now, we hope you find at least one YouTube that you feel inspired and motivated by. You can visit the aforementioned YouTube channels, watch some videos, and then pick the ones that you like the most. Also, there are many more brilliant YouTube channels out there you can go for apart from the above-listed ones.
With the aforementioned YouTube channels, we are sure you'll never again feel low or be short of any inspiration and motivation in life. We are sure you'll be able to turn your dreams into reality and achieve something big in life soon. 
Before we end, we would like to remind you to save this list in case you feel the requirement for some inspiration and motivation in the future. We would like to remind you to share this list with anyone you know who needs some inspiration and motivation. Lastly, we would like you to let's know through the comments below about your favorite channel, queries, new suggestions, etc.




© Upviews 2022 All Rights Reserved.