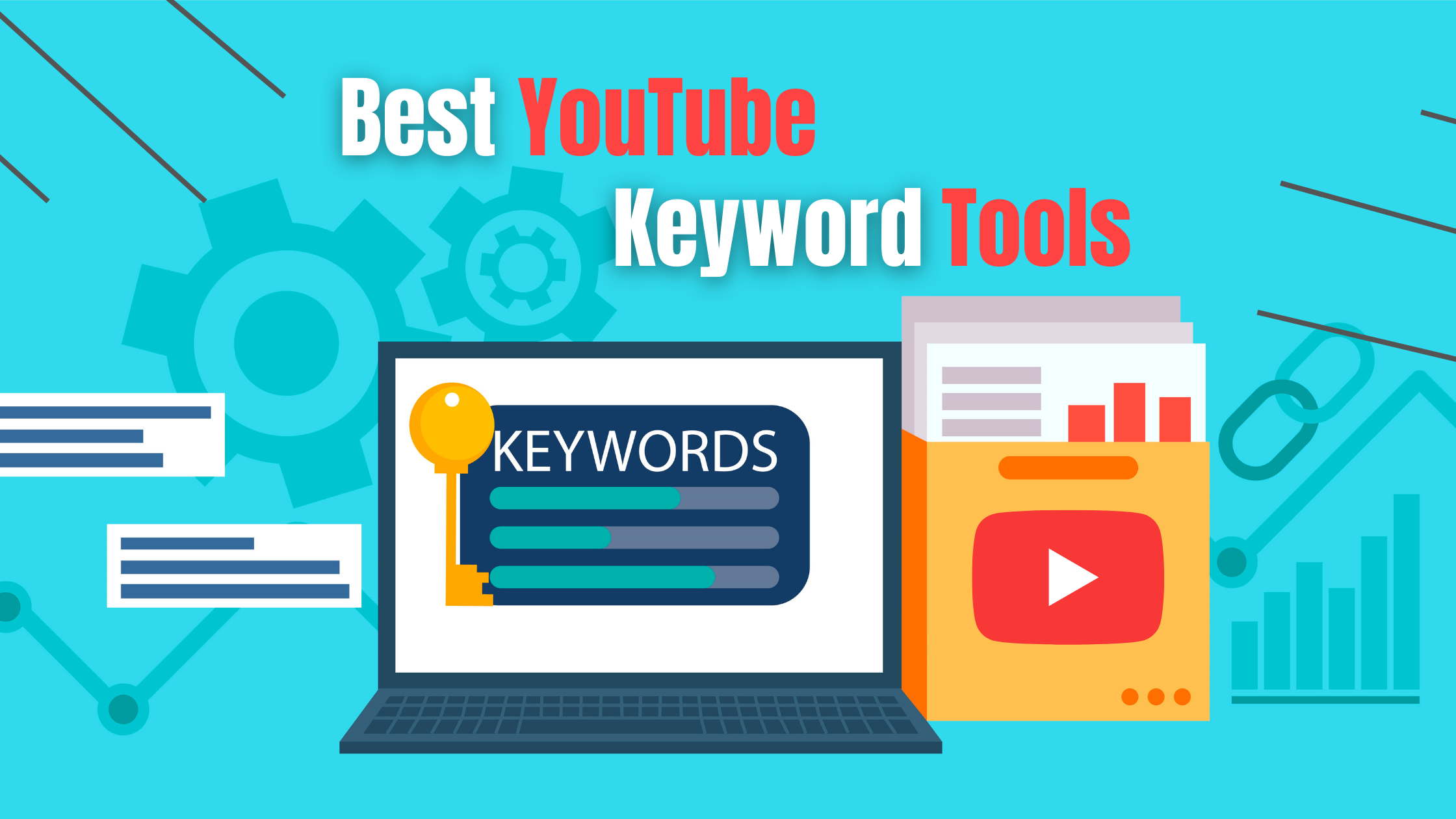 If you ask any marketer which platform you should set up base in to boost your social media marketing, they'll all tell you to head to YouTube. YouTube is the second largest search engine with over 14.3 billion visits every month. It is also the second most-visited site right after Google.
So it's no wonder that marketers, content creators, and businesses all consider it a must to have a channel on YouTube. Posting YouTube videos is a great way to push your brand awareness to the next level. You can also leverage one of the largest audiences on the internet to drive traffic to your website and increase sales.
But as everyone has the same objective as you on YouTube, the competition is quite saturated. So you need to polish your channel to ensure that your content stands out.
Like other search engines, YouTube relies on its algorithm to bring accurate videos to the right audience. To work together with the algorithm, your content needs to include the keywords that are most relevant to the target audience and your niche. As a result, you can rank higher on the search results and the recommendations list. Your visibility and reach will increase as more people start tapping on your videos.
The best way to optimize your videos is to use a YouTube keyword tool to obtain all the right keywords. So read on to find out which are the ten best keyword tools for YouTube right now.
Best YouTube Keyword Tools: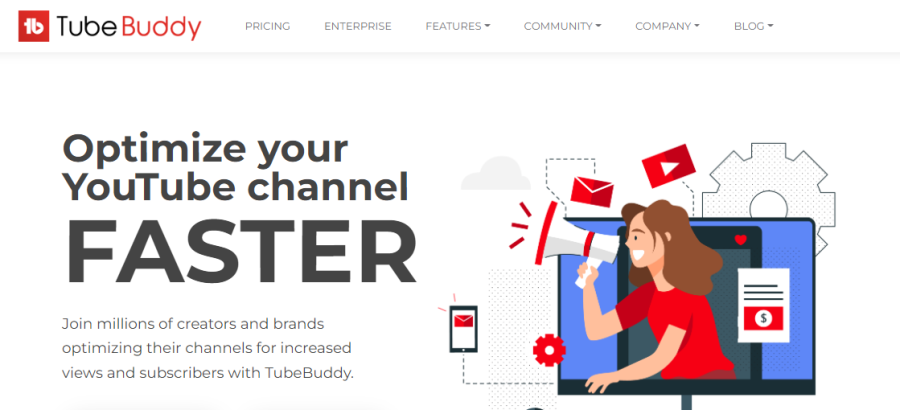 TubeBuddy is an SEO marketer's wildest dreams come true. You can find it on Google Chrome as a free browser extension. So it is not just easy to operate but also very easy to install on your device. This YouTube keyword tool is specifically designed to help you find long-tail keywords that can help you optimize your videos to their fullest potential.
Using this tool, you can discover keywords and tags that are relevant to your search terms. In addition, the dashboard also displays the overall score of your search terms, how competitive they are and how many times the audience has searched the term.
Besides that, TubeBuddy also carries out a best practice audit to make sure that your videos follow YouTube's recommendations. It can translate your video titles into many languages too. You can enjoy all these features free of cost.

VidIQ is another great YouTube keyword tool that assists marketers, content creators and businesses to find the best keywords and improve content searchability on YouTube. When you search for a keyword on VidIQ, the extension shows you the search volume, competitiveness, keyword stats, related searches and overall keyword score. You can also view the tags from top-ranking videos and leverage them for your own channel. 
If you want to boost your YouTube channel, using VidIQ is a great way to confirm that you're using the right keywords. It is very easy to operate as you simply have to paste the keywords you want to search, choose the targeted countries and you will get the insight you need.
There is a free verification of VidIQ you can use to enjoy these benefits. But you can enjoy even more enhanced features if you pay just $7.50 for their subscriptions. So it is pretty affordable even for micro-influencers and small businesses.

Keywordtool.io is another powerful and free YouTube keyword tool that helps optimize your videos. By searching for a video on YouTube, you end up with a list of recommended results that other users have searched for frequently. Keyword tool.io leverages this data and autocompletes them to rank hundreds of keywords according to popularity.
Then it gives you a detailed list of keyword suggestions, questions, hashtags etc. For instance, if you run a business selling supplies for pets, you are likely to repeat "pet supplies" as a keyword. With keywordtool.io, you can improve your keyword optimization with better keywords such as "pet supplies toys" or "pet supplies shampoo" which are more detailed and more likely to rank higher.
Additionally, you can keyword popularity trends during different times of the year to strategise better. Keywordtool.io is a very helpful tool to help improve your SEO strategies on YouTube. You can leverage all the basic features free of cost. But they also offer monthly plans ranging from $69 to $159 where you can enjoy many additional benefits.

Ahrefs Keywords Explorer offers a bunch of helpful SEO tools all designed to make a marketer's job easier. Besides keyword research and identification, this YouTube keyword tool offers comprehensive competitor analysis too. Its results are very impressive as it manages to provide search volumes for keywords from over 243 countries and 10 different search engines worldwide.
But that's not all. With Ahrefs, you can improve your keyword optimization with the help of over 640 million keywords on YouTube. Plus this multipurpose tool will also show you search phrases relevant to your keyword and a "clicks" metric. The lower the click count is, the less satisfied the users are with the results.
As they provide a ton of detailed insights, their plans start at $99 per month for a single user. But with so many benefits, it is definitely worth the investment. You can try the $7 for 7 days trial to see how you like it too.

If you own a business that operates internationally, you'll need to optimize your content on YouTube accordingly. Kparser is a great YouTube keyword tool for international brands as it generates keywords based on geography or location.
This way you can customise your SEO strategy by country and language to increase your reach and bring more viewers in. Besides that, Kparser also helps generate relevant keywords for other platforms like Google, Amazon and eBay.
You can simply type in a specific phrase and Kparser will bring up a detailed list of other high-performing keywords that are relevant to your topic. You will also be able to view the search volume for these keywords and their cost per click.
The basic features on Kparser are absolutely free of cost. But just these features alone won't bring you the desired results fast enough. If you want to try their monthly membership, the prices range from $19 to $69.

If you're new to YouTube and SEO optimisation, Keyword Tool Dominator is a great free YouTube keyword tool to help you get started. It is very easy to use for first-timers and brings you satisfactory results.
You just have to type a term or phrase into the search bar and Keyword Tool Dominator pulls up a lengthy list of YouTube search phrases that revolve around your term. Plus you can pick out the desired keywords from over 1000 YouTube SEO keywords and add them to a custom list and export them from the same screen.
Just like its functions, its pricing is also relatively simple. At no cost, you can use up to two searches every day. But if you want to use it regularly, you can pay a one-time price of $49. You can also leverage Keyword Tool Dominator on other sites like Etsy, Amazon, eBay, Home Depot, Walmart, Bing and more.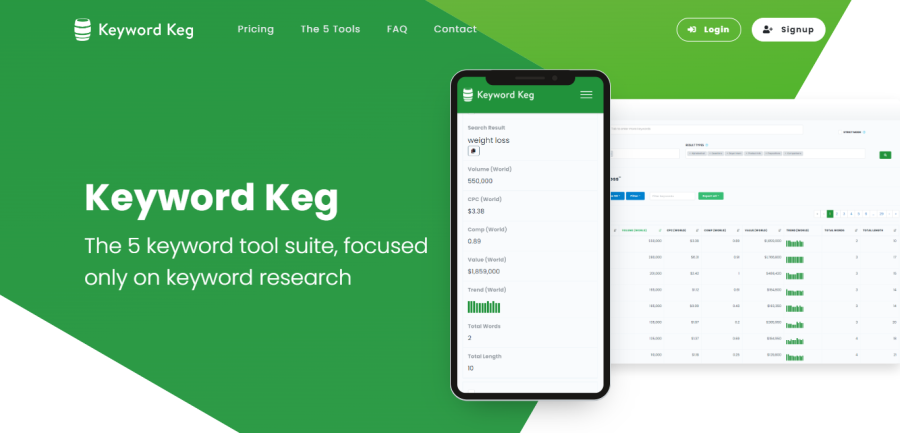 Keywords Keg is a user-friendly YouTube keyword tool that focuses on keyword research, collecting data from a total of 12 APIs. It shows you the most searched-for terms, the search volume per month and the cost per click. 
Using these insights, you can find the most relevant keywords to optimize your video, titles and descriptions. All you need to do is to type in the terms or phrases into the search bar and the tool will work its magic to bring you a list of recommended keywords.
Additionally, Keywords Keg has more impressive tricks up its sleeve. You can filter out keywords to find the ones related to high buyer intent. This allows you to shortlist the keywords that are more likely to increase conversions. You can also head to the 'Trend' section to check how well a keyword is trending on YouTube.
The packages at Keywords Keg range from $38 to $762. But you can save a ton of money by purchasing the annual package instead.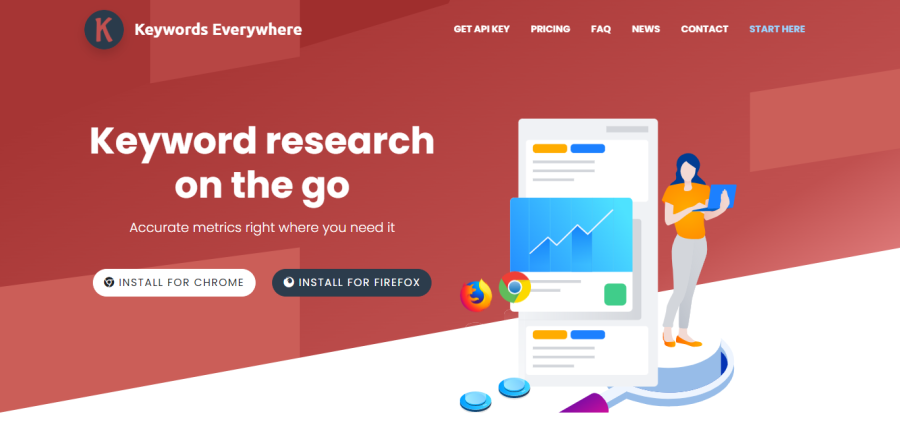 Keywords Everywhere is a free Google Chrome and Firefox extension that shows you useful insights into your keywords. Unlike your typical YouTube keyword tool, the main focus of Keywords Everywhere is not to suggest new keywords, tags or phrases. Instead, this tool mainly operates to provide you with data on your keywords.
When you type in a YouTube search term, you'll be provided with a detailed report of the monthly search volumes, cost per click, competitiveness and trends. You can also use the Search Insights Widget to get more data such as the top videos, maximum views, keywords in the title, the average age and more for every search. This gives you a good idea of what your videos have to compete against.
While you'll need other tools to get actual keyword recommendations, Keywords Everywhere is still a great addition to your SEO optimisation strategy. Some of the data come free but you'll have to pay for the rest.

SEO Chat is an amazing free YouTube keyword tool that can generate relevant keywords for YouTube, Bing, Amazon and Google. It is also very user-friendly. You simply have to add your desired keyword phrase and the tool will pull up a detailed list of high-performing search terms for any of the sites mentioned above.
SEO Chat takes a 'seed keyword' and organises the recommendations in alphabetical order. Going through these results is enough to get tons of ideas for keywords and even content ideas. 
But if you want to get on a granular level, you can select a keyword and run a second trial to expand it further. The best keywords can be exported from the tool and incorporated into your YouTube videos seamlessly.

Ubersuggest is a powerful free YouTube keyword tool that provides you with the features to break down not just your competitors' SEO optimization but also their content and social media marketing strategies. This way you can gain insight into that are working for successful YouTube channels and incorporate them too.
Besides the search volume and competition, you can also view the cost per click and seasonality of a keyword. And if you need more ideas for keywords, the free keyword tool will come up with hundreds of head terms and long-tail phrase suggestions for your YouTube videos.
The keywords Ubersuggest provides are all based on what works for your successful competitors and what people are typing into YouTube and Google. Additionally, you can also use the SEO Analysis feature if you want more traffic to your business website. It provides an analysis report that highlights all of the SEO errors you can fix to boost your rankings.
Conclusion: 
YouTube is an extremely lucrative platform to explore if you want to push your brand forward and establish an online presence there. But since many other businesses are competing to achieve the same, it can be very challenging. If you follow a mediocre marketing strategy, your videos will end up being as saturated as the rest.
A great way to become more discoverable on YouTube is to have your videos recommended by the algorithm. And all you need is a great YouTube keyword tool to make this possible.
These tools are generally designed to assist you in optimizing your videos to catch the algorithm's attention using high-performing keywords. This way you'll rank higher on the search results and recommendation lists anytime a user searches for something relevant to your keywords.
Subsequently, your videos will gradually increase their reach and bring in tons of engagement. And your content will get the chance to appeal to the viewers and convert them into loyal subscribers. So if you're ready to take your videos to the next level, use any of these great tools and watch the magic happen.




© Upviews 2022 All Rights Reserved.