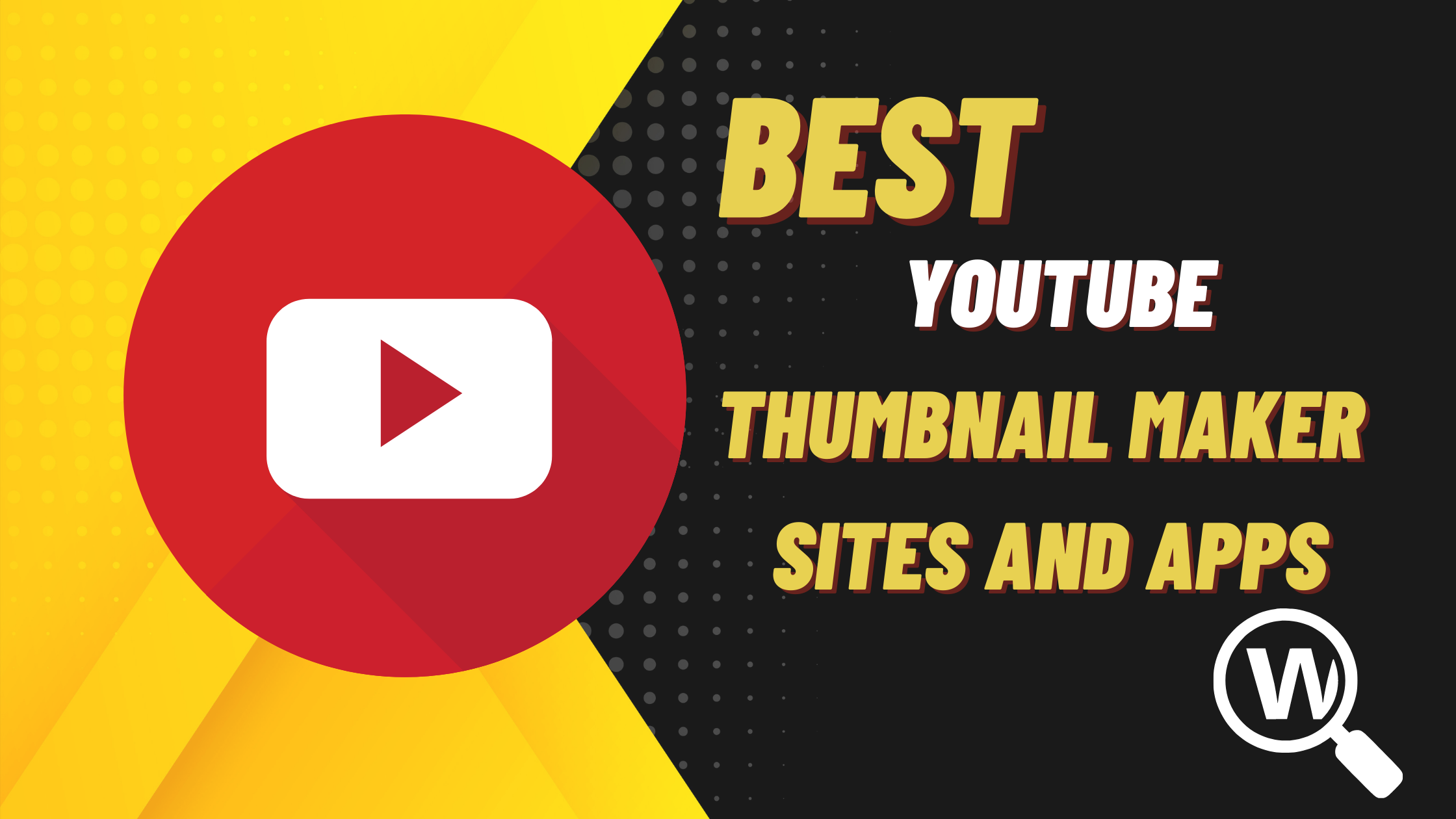 Thumbnails are one of the most important parts of YouTube promotion. Doesn't matter how good your video is, if people don't click on it you will not get any views. To get more clicks on your videos you have to optimize them. There are several things involved when it comes to YouTube optimization and one of them is thumbnail design. Your thumbnails have to stop people from scrolling past your video. It needs to grab their attention. There are many image editors that are good for designing thumbnails. But they are often complex. So, we decided to compile a list so that you can find the best YouTube thumbnail maker for your channel. Let's get into it. 
Best YouTube Thumbnail Maker Sites: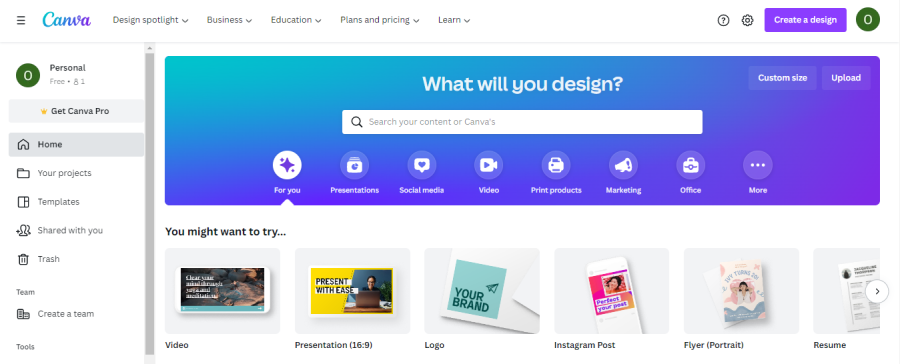 Canva is probably one of the most popular software when it comes to images. You can use the tool to edit images, get some nice templates etc. If you are looking for a good thumbnail maker for YouTube we suggest you check out Canva.
With its comprehensive set of tools, you can create some nice and attractive thumbnails to grab the attention of the viewers and grow the reach of your channel. One of the best things about this site is that the templates for YouTube thumbnails are free. These thumbnails look quite professional.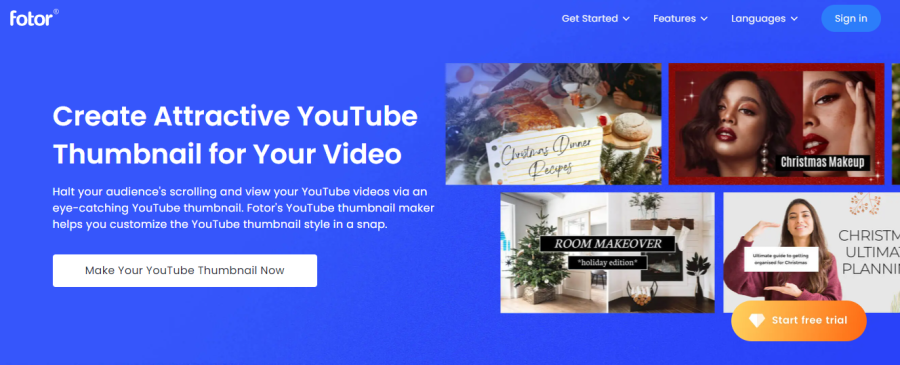 Using Fotor you can create some amazing YouTube thumbnails that will make them more clickable. The templates and designs available are made specifically to grab the attention of your audience. If you are looking for a YouTube thumbnail maker that will make your job easier when it comes to designing thumbnails then you should try out Fotor.
One of the reasons why people use this site is because of its simplicity. Many editors are more complex to use and have a learning curve. Here, you don't have to worry about a bunch of things and just focus on making good thumbnails.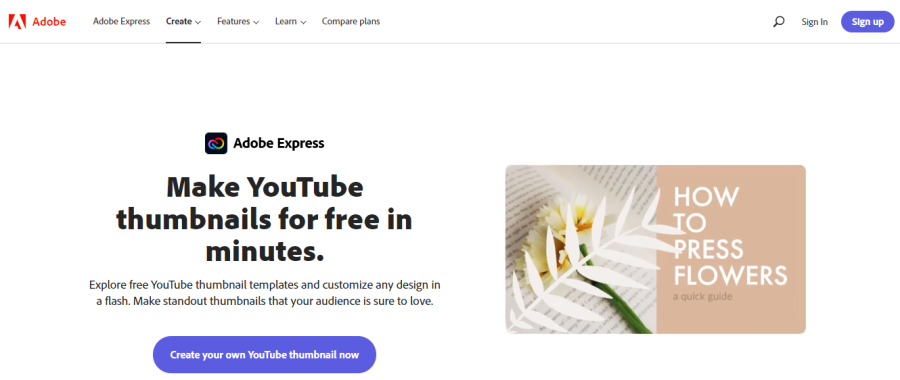 If you are looking for a YouTube Thumbnail Maker free then check out Adobe Express. This tool claims to provide all the features necessary to craft some amazing thumbnails for free. People often get spooked by the name Adobe because it seems that there is a learning curve involved in those suites of tools.
But Adobe Express is one of the easier ones to get started with especially if you are looking to make some YouTube thumbnails. Templates and designs are available to ensure that you always have a starting point for your designs. You can save and reuse templates to ensure consistency when it comes to your video thumbnails.

Let's move on to the next entry on the list which is Cyberlink. If you are looking for a nice tool to design the thumbnails for your videos then you can check out this one. This one has a free package as well as a paid one. You can download and install it on your PC or Mac and try out the free version.
There are a bunch of features and tools in the PhotoDirector Essential suite that can be quite useful in creating some amazing thumbnails. The idea is to use the tools to create images that will tell a story to your audience. So, do check it out.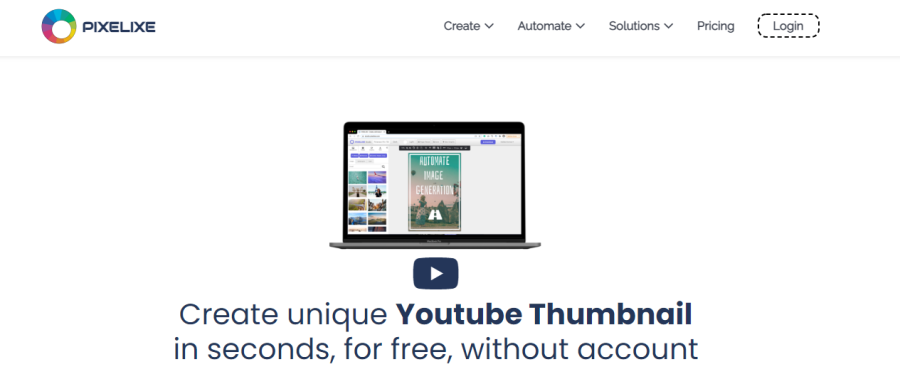 Pixelixe allows you to create good YouTube Thumbnails for free. You get an amazing set of tools and features that makes it easier to make something nice for your video. It takes only a few minutes to create something nice. In just three steps you can have a nice thumbnail for your video that will hook your audience into clicking on it.
First, you have to choose the dimension of the thumbnail. Next, choose one of the templates to base your design on. Now, just edit the template by adding or removing stuff and applying different filters. That's it. Just download the image and use it.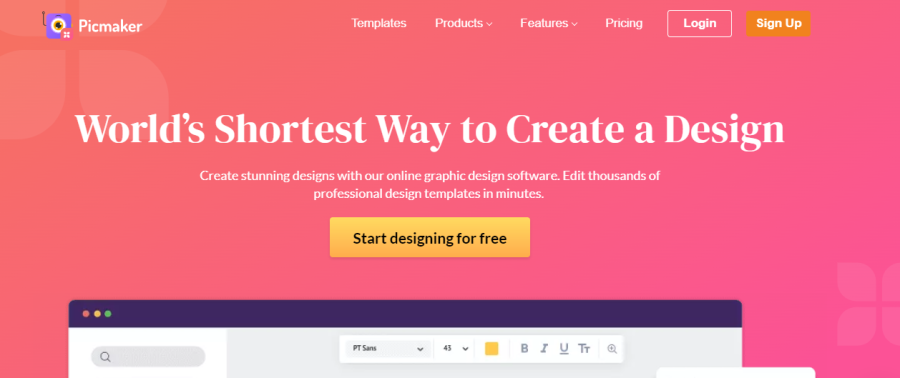 If you want a tool that lets you design something quickly then you should definitely try out Picmaker. It claims to be the shortest way to create a design. Thumbnails are basically designs. You are looking to create an attractive design that grabs the attention of people. With Picmaker by your side, you have a bunch of templates that you can use to create amazing thumbnails that make people want to click on your videos.
The company claims to have over a million users. This means that the tool is really popular and you don't get so popular without doing something right. So, if you are looking for a tool to create channel banners or thumbnails check out Picmaker.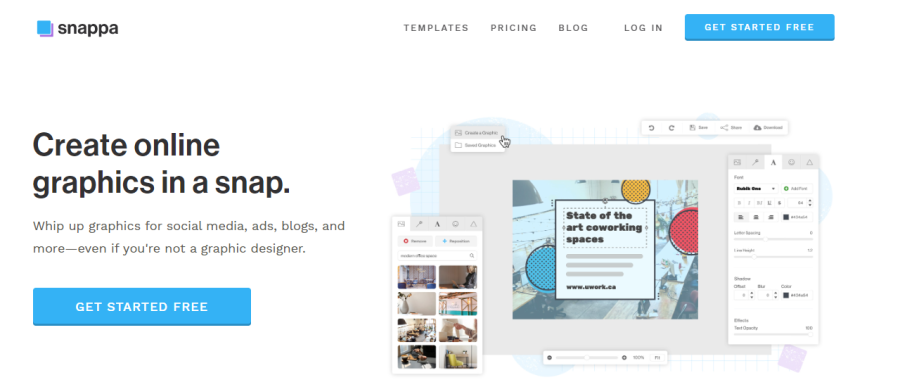 Snappa is named so because it claims that you can create graphics online in a snap. So, it is software that you can use to create images for your thumbnails quickly. Social ranking platforms are all about visual cues and hooks. You need to create appealing graphics to hook your audience. You can get started for free.
If you like the tool and want to get more features you can opt for the paid version. You can create graphics not only for YouTube but for other social media platforms as well. So, take a look at Snappa.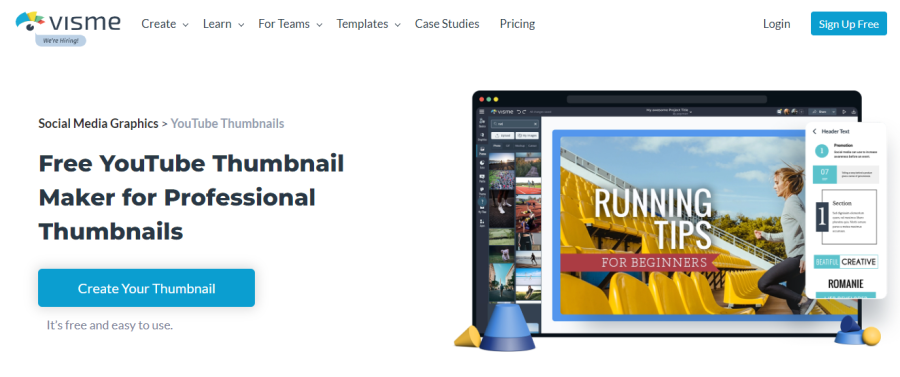 Visme is a free YouTube thumbnail maker. You can use this tool to make your videos more clickable. There are tons of templates on this site that you can use. Visme will find suitable thumbnail templates for a video in your niche. You can, of course, always customize the Thumbnails to ensure that it is perfect for your video.
You can even add your own graphics and visuals to make the template consistent with the branding of your videos. Millions of marketers are using Visme to create thumbnails. So, if you want a YouTube Thumbnail Maker free then try it out.

With PlaceIt you can make YouTube thumbnails easily. It takes a few minutes to get started and it is very simple to use. Many creators use this site to create thumbnails for their YouTube videos. There are hundreds of templates and ideas on the site that you can utilize to create the perfect thumbnail for your video.
Using PlaceIt's YouTube thumbnail maker you can create custom thumbnails that fit your video's theme and make people want to click on your videos. Visit the site to find multiple templates and designs. There's a free version as well that you can check out.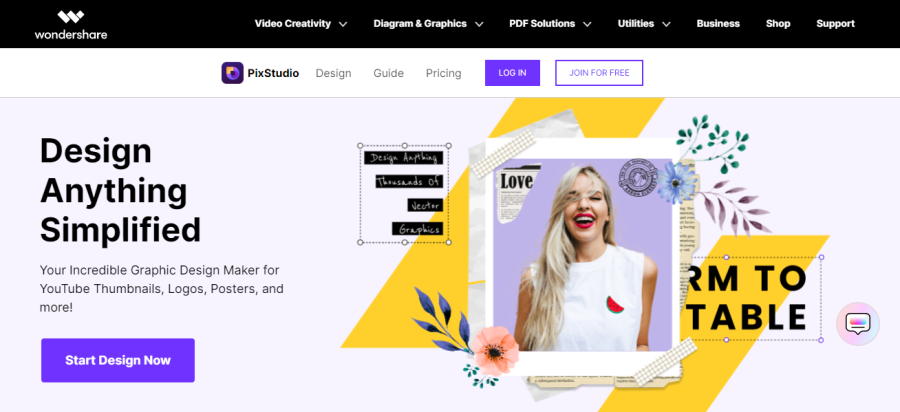 WonderShare PixStudio is not just for YouTube thumbnails. It is a powerful tool that one can use for graphic designing. But if you want to use it to create thumbnails for YouTube then you can do it as well. There are various templates, posters, logos, etc. using which beautiful designs can be created.
You can use the tool to remove backgrounds from images as well. Then use the thousands of templates to create thumbnails in an easy and simple way. You can download it on your smartphone or use it online.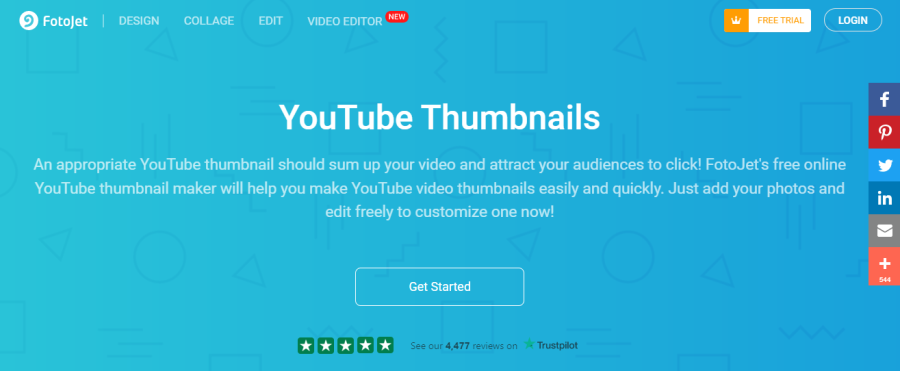 Fotojet is one of the best tools to use if you want to create YouTube thumbnails that grab people's attention. It is a YouTube Thumbnail Maker that many use. There are multiple designs and templates that can aid you in creating something nice. One of the best things about this tool is that it is free.
So, if you want a free YouTube thumbnail maker you should definitely try out this one. You can add your own graphics and images to make the design true to your channel. All the templates look very professional.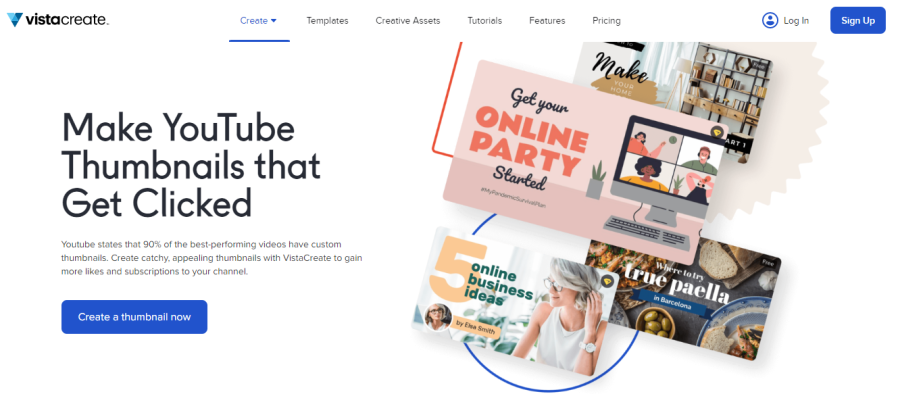 One thing that you have to understand is that thumbnails are very important. Most of the highest-performing videos are the ones where the thumbnails have been designed by the creator. So, you will need a nice tool to not only make the process of creating a thumbnail easy but also make thumbnails that work.
You can use VistaCreate to make eye-catching thumbnails. Just pick a template you like and then start working towards customizing it to suit your video's tone and feel. There are over 70k designs to choose from so you will often find something that works.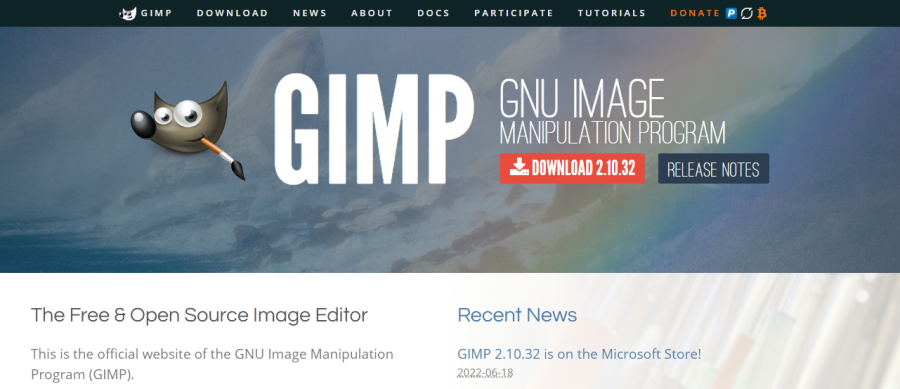 GIMP is probably one of the most powerful image editors. Many people even compare it with Photoshop. The best thing about GIMP though is that it's free to use. The idea behind this project was to create something powerful that anyone can use for free.
If you want to make YouTube thumbnails and want more customization and flexibility then this is the tool to use. It is basically an image editor that has more of a general-purpose use than just manipulating images for thumbnails.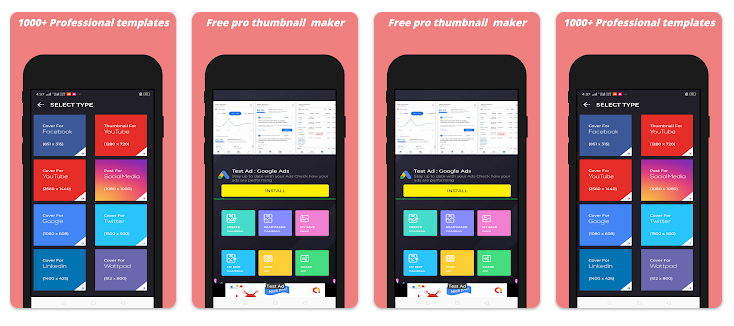 There are many thumbnail makers out in the market. A lot of developers and companies have created applications and tools that can help creators with thumbnail design. If you are looking for a thumbnail maker for YouTube that you can use on your smartphone then check out this next tool.
One of the highlights of this app is that you do not need to pay to use this. Also, a lot of tools often have watermarks that they add to the final image. But with this app, you don't have to worry about it. There will be no watermark on the templates you create.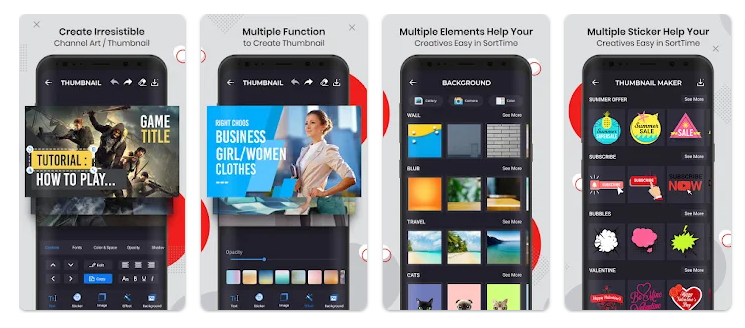 If you are looking for an app that you can use on your smartphone then one of the choices is Ultimate Thumbnail Maker. This tool has everything you will need to get started with thumbnail creation for YouTube and other social media platforms.
It has multiple templates that you can pick up to design a thumbnail for your video. It is very easy to use. Just download it from the PlayStore and start using it on your mobile. There's a special YouTube toolkit that lets you create thumbnails that will attract more viewers. 
How to Make a YouTube Thumbnail?
You have to create attention-grabbing thumbnails to get clicks on your videos. No matter how good your content is, if people aren't clicking on it you will not get any views. If you are new to the YouTube game or want to take your YouTube optimization to the next level then here are some things to consider when it comes to making YouTube thumbnails.
Get Any Image Editor or Thumbnail Maker
The first order of business is to get an image editor. You can pick any editor that you are comfortable with. The thumbnail makers that we have on the list are very good. They make the job of creating thumbnails easier. There are many templates that you can use and edit them to suit your channel theme. So, find a nice editing tool or app to work with.

If you want to grab people's attention then you need to focus on the colors you are using. Any marketer or promotion expert will tell you the importance of visual cues. Colors play quite a dominant role in making people stop from scrolling past your video. You will see a lot of people often use bright colors to make thumbnails.
May use red to point to something or highlight something. Do not shy away from using bright and bold colors. Ensure that the background and the foreground are contrasting.

Images Should Be Attention-Grabbing

Look, it's no secret that YouTubers have been stamping their faces everywhere with over-the-top expressions. It looks goofy, right? No one will ever want to click on those videos, right? Wrong. Those expressions grab attention. When you couple those expressions with other images that can be a bit risque then you are sure to make people want to click on the video.
The task of a thumbnail is to reinforce the video title. A catchy title with an attention-grabbing thumbnail can often seal the deal and get more clicks on the video.
Text is another important part of thumbnail designing. Of course, people will initially be hooked by the visuals but the text can often be another layer of persuasion to click on the video. Keep the text short and reinforce the visuals. A shocking statement that can be considered a 'hot take' can often be a good idea.
It's okay to have click-bait texts as long as you actually deliver with your content. The texts should also have a color that reinforces the theme of the video.
Conclusion:
So, this was our list of some of the best tools and apps that you can use as a thumbnail maker for YouTube. If you are looking for a free thumbnail maker for YouTube then you will find a couple of options here. We have tried to source different types of tools and ensured that most of them are easy to use and don't have a longer learning curve. If you find this difficult, there is another option to gain more audience to use growth services like to get youtube subscribers from here. Another important thing to keep in mind is that do not click-bait your audience without having the content to back it up.
This can result in less watch time which will then be penalized by the algorithm and your videos will stop getting recommended. First, focus on creating banger content for your audience and then use the title, the thumbnail and the other optimizations to get more visibility. We hope you found some useful tools from this list and wish you all the best.




© Upviews 2022 All Rights Reserved.