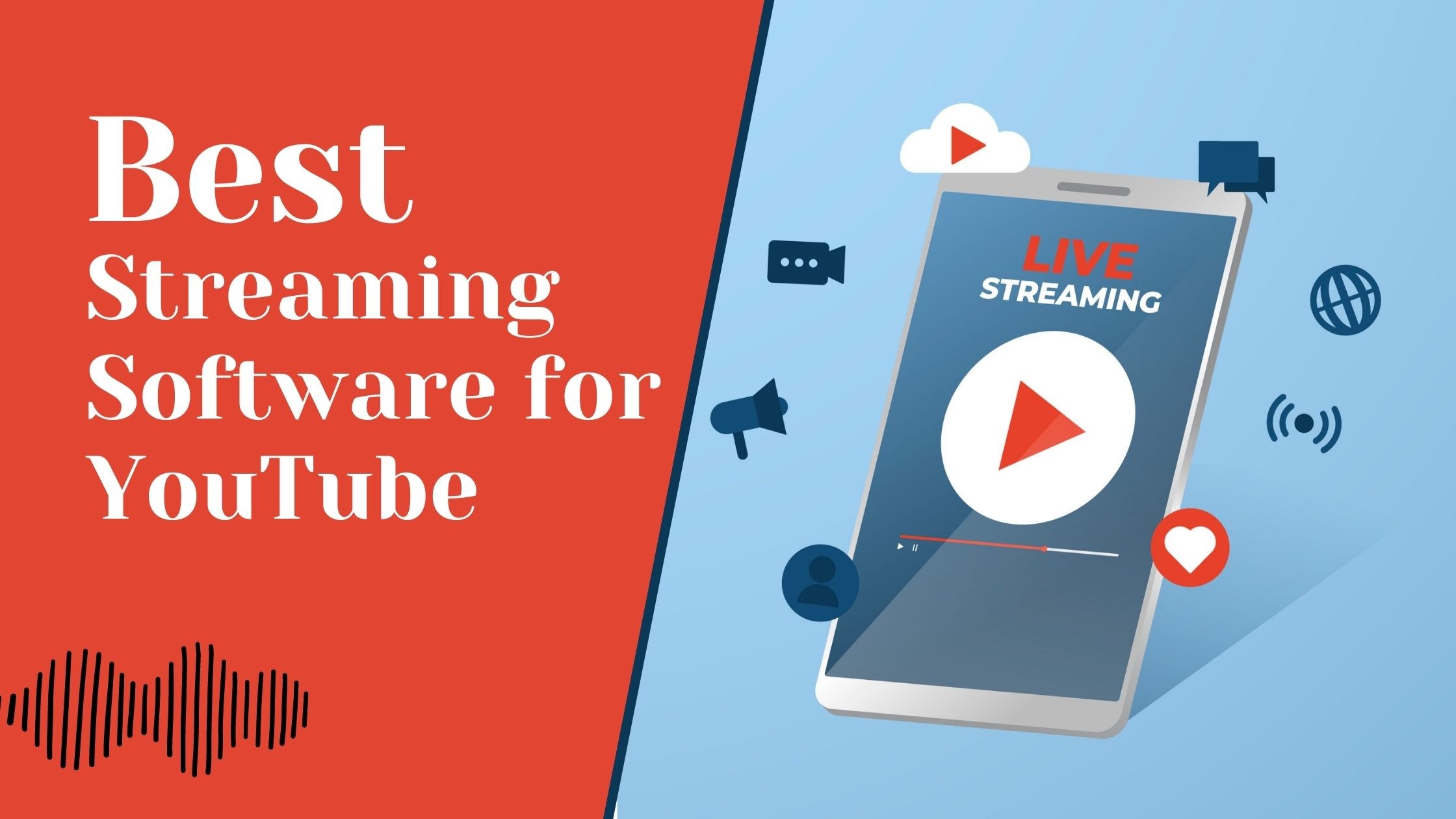 YouTube is one of the top video streaming platforms on the planet. There are tons of creators who do live streams on the platform. YouTube live streams are very popular and creators rack up millions of views on them. Moreover, the donation feature makes it quite financially lucrative as well. You should look to use some of the best streaming software to enhance your live streams. We have tried to help you out by compiling a list of the best streaming software for YouTube.
Best Streaming Software:

OBS Studio is open-source software that is used by tons of streamers across the world. This is one of the best free streaming software that can be used for all streaming platforms. However, the software is mainly used by creators on YouTube and Twitch. There are no hidden costs and you can access all of the features without paying a fee.
Since it is an open source software it does lack in the customer support department. Moreover, there is a steep learning curve that you will have to deal with. Watching some YouTube tutorials and practicing on the software should help you familiarize yourself with the entire thing.
Many streamers call OBS the best streaming software due to the massive customizability that it provides. You can play around with all of its features to find the right combination for your YouTube stream. Further, this is one of the most powerful free streaming software and provides all of the essential features.
It is compatible with Windows, Mac, and Linux so you will not face any issues in that regard. Most importantly, if you are ready to devote time to understanding the software then this is the best live streaming software for you.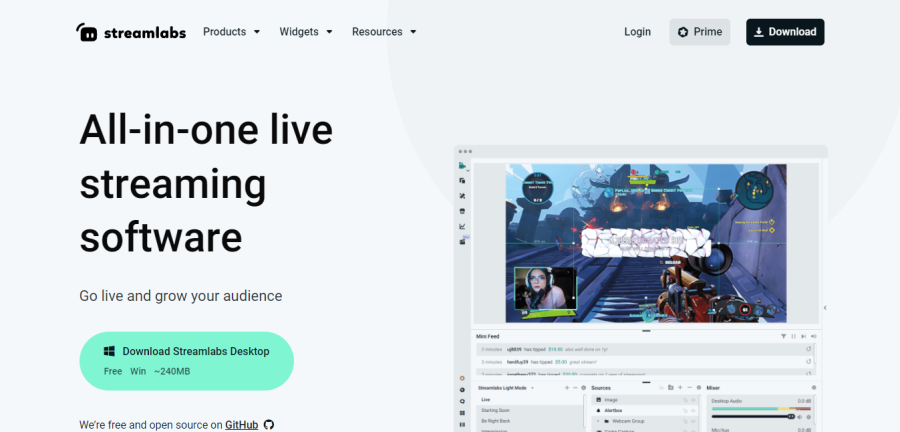 Streamlabs OBs is one of the best live streaming software and a top choice among gamers. They started as an add-on for other live streaming tools. You could combine it with another software to enhance your live stream. However, it has now combined itself with OBS to become one of the best streaming software for YouTube.
This is a free tool that is considered a must-have by the top streamers in the world of YouTube live streaming. Moreover, it provides a much better user interface and does not have a steep learning curve. You will find lots of graphics and overlays that you can use to improve your stream.
The software provides you with everything OBS has and much more which makes it an elite choice for streamers. However, it does come with its flaws. Stremalbs can only be used on Windows pcs. If you have a Mac or Linux computer, it will not be able to run Streamlabs.
They have a paid version called Stremlabs prime but you do not need it to use the software and be able to stream. Streamlabs supports your streams massively and helps you get the clutter down. Most importantly, it can be used for YouTube, Twitch as well as Facebook which makes it one of the best streaming software.

OneStream Live is one of the top streaming software for YouTube and other video streaming platforms. It allows you to operate live streams and record videos as well. It is an all-in-one software that excels at recording videos as well as providing great live stream features. Moreover, it even allows you to schedule videos that you want to be posted. It has quickly emerged as one of the essential tools for YouTube creators. The software is very easy to set up and you will not face any issues while doing so.
The interface makes it very easy to grasp all of the features and implement them in your live streams. The embedding feature makes this software rank among the best live streaming software. Using this feature, you can embed your live stream on a website.
This will help you gain more views and stream to a larger audience. Most importantly, this software provides a great overall experience. All of the features are easy to master and it helps you take your stream to the next level.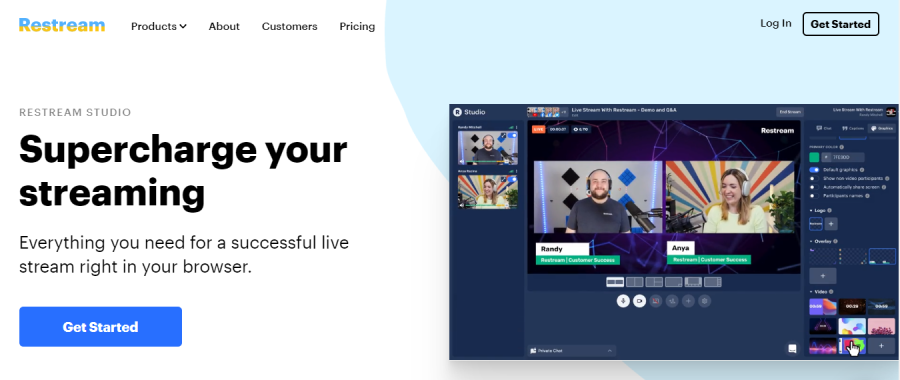 Restream lets you stream simultaneously on multiple platforms. This helps you to get the most out of your live stream. It is among the best streaming software that you can get your hands on. The biggest advantage of Restream is the availability of streaming on multiple platforms. You just need to have a single live stream set up and the software will allow you to stream on multiple platforms at once. Moreover, they have support for over 30 social media platforms and cover all of the popular ones.
On the other hand, multi-device management is another great feature that the company has to offer. This allows you to connect your stream to up to 3 devices. Therefore, even if one of your devices fails your stream will not go offline. This improves the reliability of your stream and helps you in your live streaming career.
The chat feature allows you to manage chats from your fans. Moreover, you will see all of the chats made to you in a single place which makes it easy to manage. Having so many great features makes it one of the best live streaming software. They have free and paid plans for you to choose from.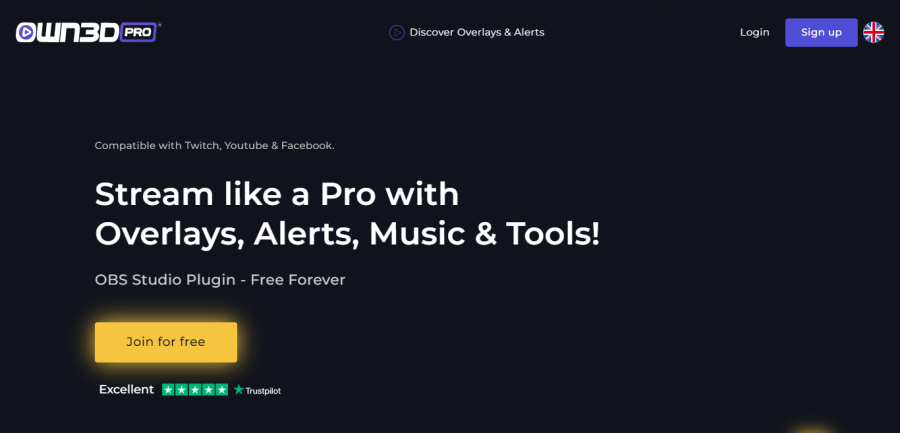 OWN3D Pro is a plugin for OBS Studio. It helps you improve on the offerings provided by OBS studio and make your streams better. It is a great way to modernize your stream and add the latest elements to it. OWN3D music is one of the top features of this software.
It allows you to add copyright-free music to your live streams. Therefore, you get to add music from a large music library without having to worry about any copyright issues on your YouTube live stream.
There are both free as well as paid versions available for this software. The free version is quite limited in the number of things that it offers you. Moreover, to enable the software you will first have to download OBS Studio. Only after that will you be able to add this plugin and boost your stream. However, this software has quite a few features that can be used only for Twitch and do not have compatibility with YouTube live streams.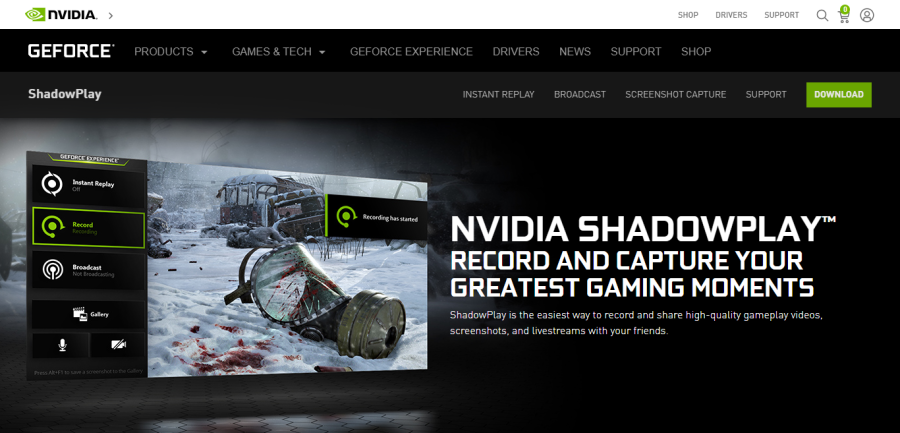 Nvidia ShadowPlay is one of the best streaming software for YouTube. This comes as a part of the Nvidia GeForce graphics cards. If you have this graphics card on your computer, you can use this streaming software. This software has to be one of the most innovative ones.
As it comes with graphics cards, it uses the GPU of the computer to stream. Therefore, your CPU is not used for the live stream. This results in a much faster computer. You can easily run the highest graphic games without encountering any lag in your streams.
Moreover, this streaming software is optimized to stream games but can handle other things as well. This software has great speed as well. You can stream your games to YouTube with just a few clicks which take no more than a few minutes.
However, Nvidia Highlights has to be one of the game changers which makes this software so popular. This feature automatically captures the crucial parts o your games. Thus, you can easily replay them or even edit them to post as YouTube videos. It makes your job much easier.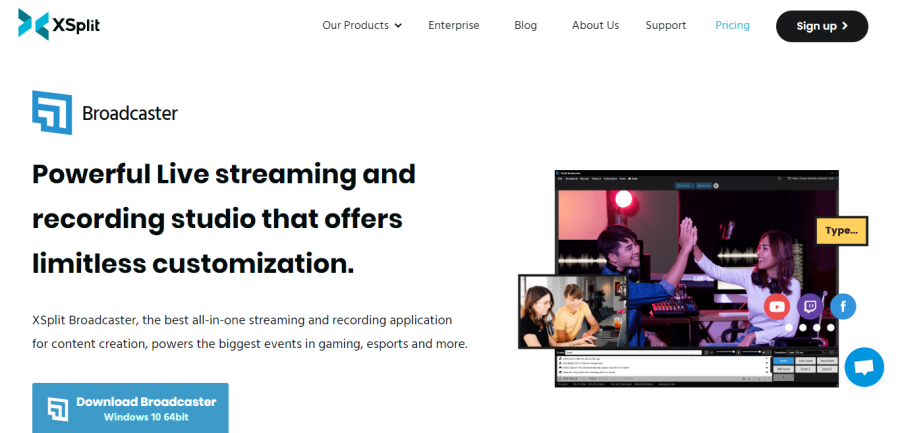 XSplit Broadcaster has one of the cleanest user interfaces and is a top streaming software for YouTube. This software has a combination of great performance and amazing features. Moreover, they have developed the software to include all of the essentials and much more.
However, you have to choose a payment plan to continue. This software justifies the price that it charges. They have 24/7 support. You can contact their team at any time and they will be more than happy to help you. The company also provides full customization which makes it popular among streamers. You will be able to customize all of the elements of your stream and give it a personalized touch.
Further, they have a recording option that allows you to replace the background of your webcam without having to use a green screen. Having a collection of amazing features has made them one of the best options when it comes to YouTube live streams.

vMix is one of the most powerful streaming software for YouTube. They are a company that has oriented itself toward gamers. They have developed one of the best streaming software for streaming games on multiple social media platforms. Moreover, they have some of the most advanced features which will be a massive help when you stream games on YouTube. However, the interface is quite tricky to learn.
You will have to give yourself some time to familiarize yourself with the software and its features. Further, they allow you to stream at the highest video quality and deliver an amazing experience to your fans. Although they have a free version, you need to buy the software to experience all of the cool features they have. Most importantly, they have great customer support which snakes them one of the best streaming software.

Melon focuses on reliability and affordability. It is one of the best streaming software which provides great features. They optimize your live streams so that they can be played from any device across the world. Moreover, their systems ensure that there are no issues with the playback of your stream. The company has managed to develop one of the simplest software that works a charm.
Further, you will love the speed at which you can modify the elements of your stream through the software. They also provide you with additional features such as a donation counter, local recording, and more. You will always find the essential elements in addition to some extravagant features which help to take your stream to the next level. Above all, they keep updating their software which makes it one of the best streaming software.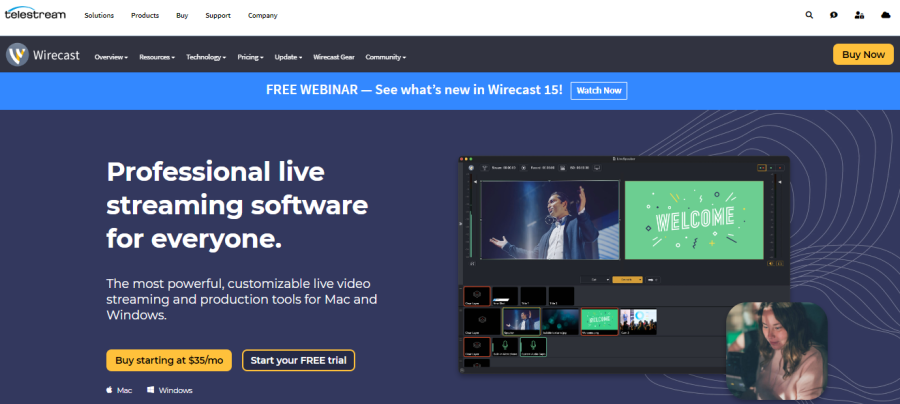 Wirecast is different from other streaming software for YouTube. Instead of charging monthly fees, they charge a single fee which provides you lifetime access. Moreover, this access costs more than $900. While this may seem expensive, it can provide great value for money.
If you want to become a full-time streamer, this plan will provide you with great value. You will be spending much less than what you would be paying for monthly paid packages. Further, they have a pretty simple setup that can be understood by even beginners. However, you should take into account the cost of the membership before committing to the software.
Conclusion:
These are the best streaming software that you can get for YouTube and other platforms. This software helps you to improve your streams a lot. You will find many options in this list and you should choose the one which fits you best. We have also covered the best free streaming software and they will prevent you from blowing your budget. Above all, you need good streaming software to have the best streams. Try finding the ideal one for your stream to help you become the best streamer on YouTube.




© Upviews 2022 All Rights Reserved.