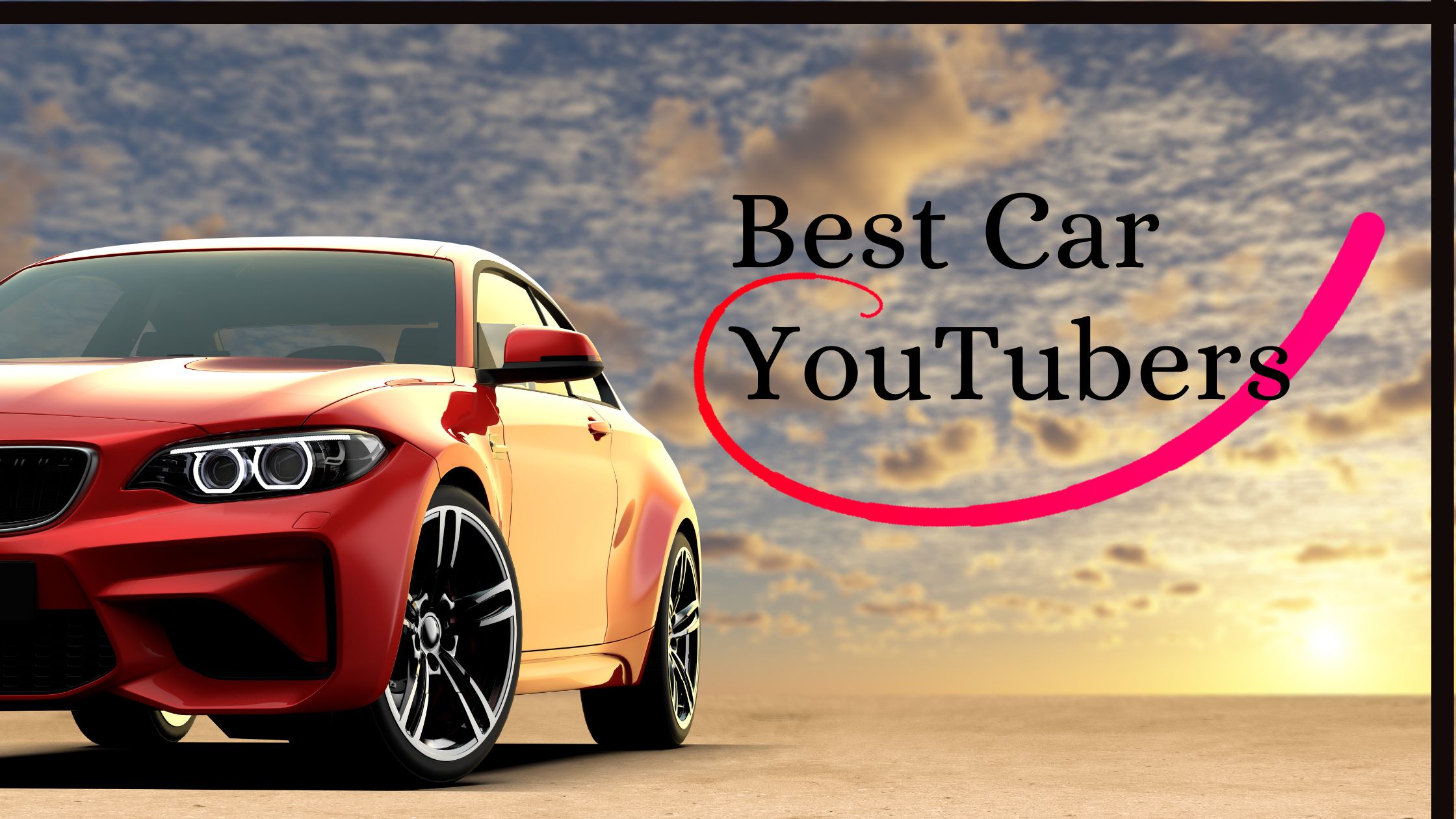 From dancing and singing to dressmaking and stitching to cooking and swimming, YouTube is filled with a variety of content from all around the world. There's content on YouTube to watch for everyone. Similarly, there's also plenty of content for all the automotive aficionados and car enthusiasts out there on the platform.  Although there are TV shows like Top Gear to give you the car content you want, they sometimes are not enough. It happens that sometimes you need more of the car content. Well, it is then these car YouTube channels or car YouTubers come to the rescue.
There are tons of channels on YouTube having a wide variety of content on cars. You can go for watching the content posted on these channels to satiate the automotive enthusiast in you.
Without any further ado, let's have a look at the best car Youtubers: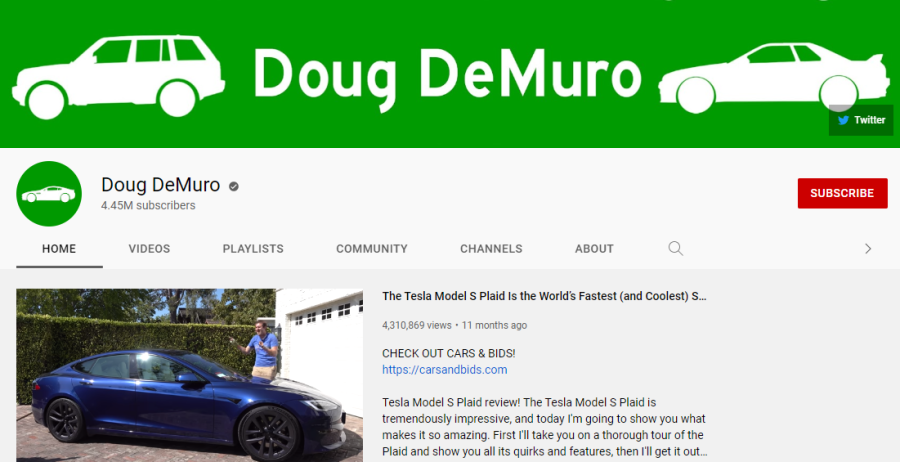 Let's start the list with one of the must-visit and best car YouTube channels out there, Doug DeMuro. If you are an automotive enthusiast, then we're sure you must already know about this amazing channel. Well, if it isn't the case, let's introduce it to you.
Doug DeMuro is one of people's favorite car channels on YouTube. The reason why we say so is that the channel has a whopping 4.45 million subscribers. Also, we assume that you must know about Oversteer, the famous Autotrader car news and reviews site. Well, Doug DeMuro is a car writer and columnist for the site.
On Doug DeMuro's YouTube channel, you'll find content that mostly deals with basic luxury cars like Mercedes, BMW, Audi, Bugatti, Ferrari, and many more. He reviews the variety of cars on the channel while showing off each car's characteristics that make them unique.
From mundane cars like the Ford Fiesta to extravagant and expensive cars like the Bugatti Veyron and the Ferrari LaFerrari, you'll be able to find reviews for all types of cars on this YouTube channel. We're sure that you'll be quite impressed with the mix of Doug's simplified presentation skills, quirky humor, and smart information provided by him.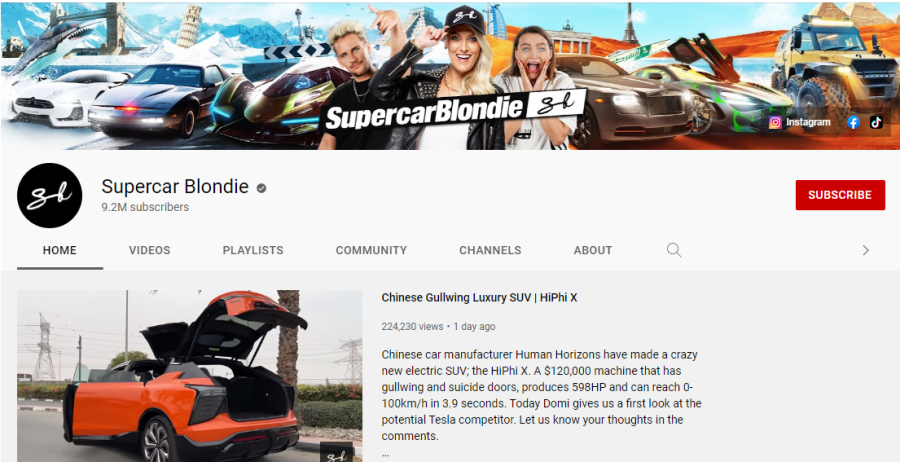 Being an automotive enthusiast, we're sure that somewhere or the other, you must have heard about Supercar Blondie. If that's not the case, then it's high time that you get to know about Supercar Blondie. Well, Supercar Blondie is one of the biggest car YouTubers out there. You'll be surprised to know the person behind the channel is not any boy rather, it's a girl. If there's anyone who's successfully proving that girls love their fast cars as much as guys, then it's Alex Hirschi.
Alex Hirschi is one of the most famous Aussie car vloggers and also one of the fastest-growing automotive personalities out there. Her YouTube channel, which is known to us and you as Supercar Blondies has almost 9.1 million YouTube subscribers.
You'll be able to find some of the most top-notch car content on the channel. On Supercar Blondies, you'll be able to find Alex Hirschi, showcasing some of the most exotic cars out there. Not just this, here, you'll also get to watch review videos of some of the most extraordinary prototypes and concept cars. Unlike other car YouTubers out there, Alex Hirschi, even through the global pandemic, didn't fail to entertain her audience.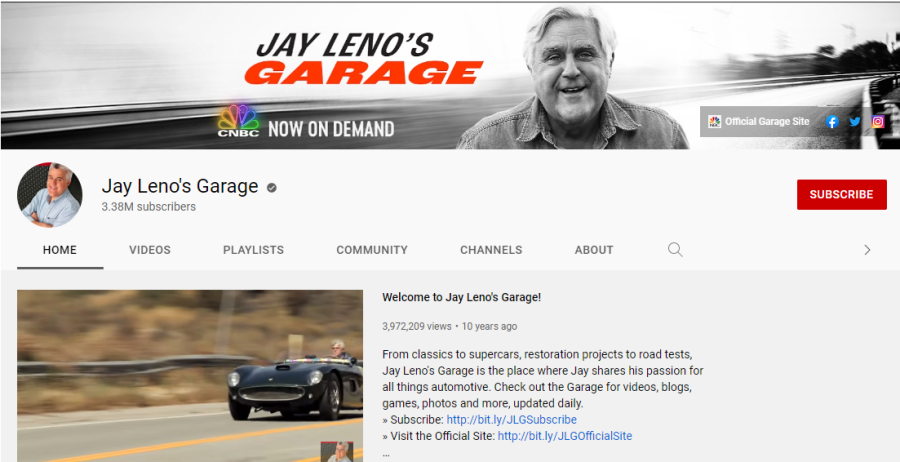 If you are looking for car YouTubers who review cars and motorcycles as well as compare models, then Jay Leno's Garage is the place you should head to. Apart from reviews and comparisons, you can also rely on the channel for getting updates about the latest trends in the automotive industry. Jay Leno also shares ideas and opinions on several updates on the channel. Here, you'll also be able to find content on customizing projects related to the automobile industry. Hence, altogether, Jay Leno's Garage is a one-stop shop for all the car enthusiasts out there. 
Jay Leno himself owns some of the finest, most exotic, and rare car and motorcycle models. Jay Leno's massive collection includes over 280 cars and 120 motorcycles. This makes him the right person to review the other cars and biggest car YouTubers out there. Jay's YouTube channel has almost a whopping 3.4 million subscribers. 
There are approximately 870 videos posted and each one of them is full of jaw-dropping. The thing that we like about the channel is that he drives these cars himself. From time to time, you'll be able to see videos coming featuring several special celebrity guests.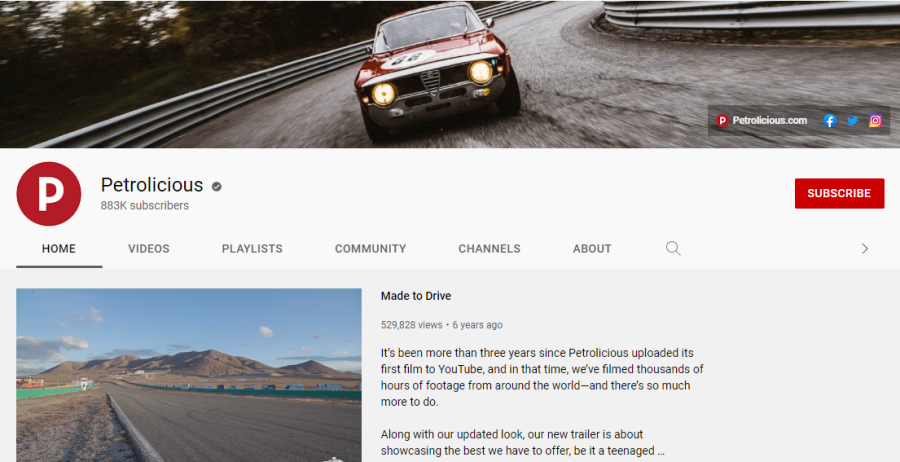 If you are a diehard car fan, then you must already have heard of Petrolicious. Although the number of YouTube subscribers is quite less than other channels out there, the content on the channel is worth watching. Petrolicious is not just limited to YouTube as a platform. Petrolicious is also an automotive website and blog on the web written for and by diehard car fans.
Unlike other car YouTubers out there, Petrolicious focuses its content on unique, rare, often vintage, and/or otherwise noteworthy vehicles. The channel does not focus on highlighting the latest and greatest hypercars like the rest. Rather, Petrolicious showcases the individuals that own and drive such noteworthy vehicles and the subsequent relationship between the two.
On the channel, you'll mostly find videos that are documentary-style of gearheads and their classic cars. From air-cooled Porsches to a Ferrari 330 P4 and a 1991 Toyota Previa, the channel has content on all types of cars. 
On top of all these, there's one more thing that is worth discussing in Petrolicious' videos.  It's their top-notch production quality, camera work, and cinematography. Well, we're that their videos will make you drool.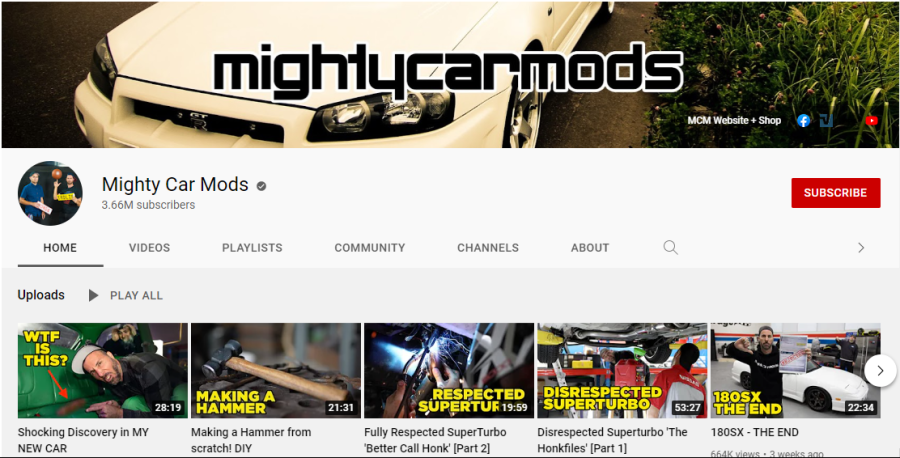 Next on our list of best car YouTubers channels, we have Mighty Car Mods. It is yet another popular option for car channels among all the car enthusiasts out there. Even if you're not a car enthusiast, if you have any type of car and want to get better with its performance, Mighty Car Mods becomes a must-visit for you. It's no doubt why the channel is preferred by so many people out there. As a result, Mighty Car Mods' Youtube channel has a whopping 3.66 million subscribers.
The channel as well as the community of Mighty Car Mods was started by two friends Marty and Moog. All they wanted was to make YouTube cars and film them for their uniqueness. Today, the duo is popular for making and customizing all sorts of automobiles at their homes.
Being car vloggers, they work on creative projects while capturing the journey, editing, and publishing them. At Mighty Car Mods, you'll not just get great knowledge and information about cars but also ideas on car projects.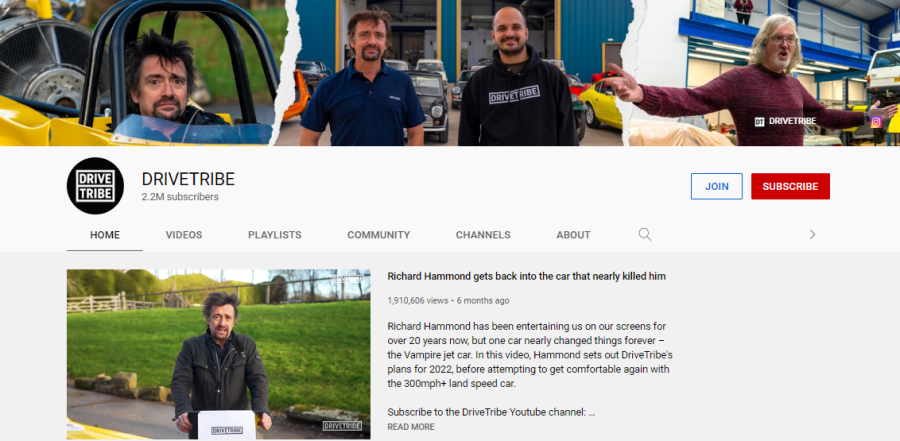 You must already know about the famous trio including Clarkson, Hammond, and May. Well, when the trio left Top Gear and the BBC, they set to work creating a new empire. First, in the process of creating a new empire was The Grand Tour, one of Amazon's hugely successful series. The second was DriveTribe, a common platform for car enthusiasts all around the world to talk about cars and motoring.
As a part of The DriveTribe, the trio created the YouTube channel by the same name. On the channel the trio posts quality videos covering cars, motoring, and motorsport at quite regular intervals. We would say that the channel is well worth subscribing to.
It becomes even more worth subscribing when the trio actively reveals secrets of both Top Gear and Grand Tour. Here, on DriveTribe's YouTube channel, you'll also find plenty of Q&As and interviews with special guests. Some of the names include David Coulthard, Edd China, James May, Richard Hammond, and Ant Anstead.
DriveTrbe's YouTube channel has a whopping 2.2 million subscribers and the channel is still going strong day by day. On the channel, the trio showcases interesting cars, talks to other YouTubers about their collections, rebuilds rare vehicles, and more.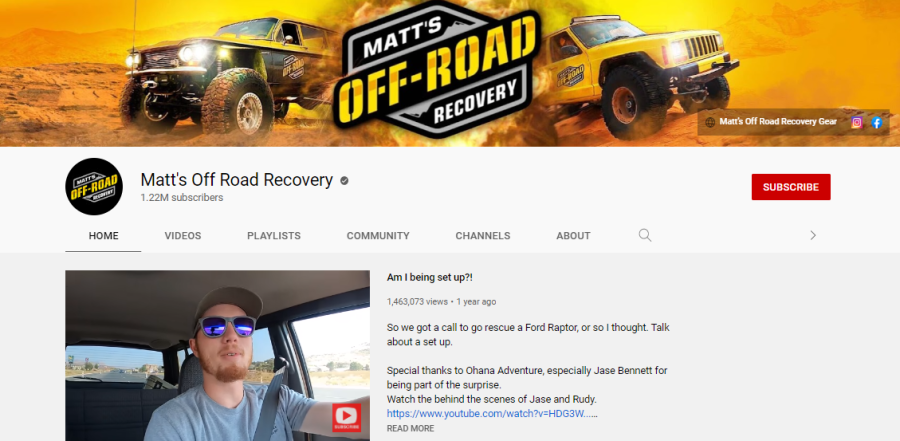 If you are addicted to watching compilations of driving fail or car crashes YouTube, then Matt's Off-Road Recovery is right up your alley. If you are interested in car videos involving interested in off-roading and towing, Matt's Off-Road Recovery is a must-visit for you.
The channel features Matt and his 'Yellow Banana', a heavily modified Jeep Cherokee XJ. The videos posted on the channel mostly involves Matt and his Jeep towing, recovering, and rescuing people. These are people who got stuck in the sand or snow in the Southern parts of Utah. Apart from the Jeep, Matt's Off-Road Recovery also features 'Morrvair', an even more heavily modified Chevrolet Corvair wagon. The wagon is specially built for the job at hand and YouTube car crashes.
It is one of the most natural and raw channels where there's no cast or pretend scenario. You'll get to see all the drama unfold naturally as the GoPros keep recording. You'll never find a dull or boring moment when it comes to their videos.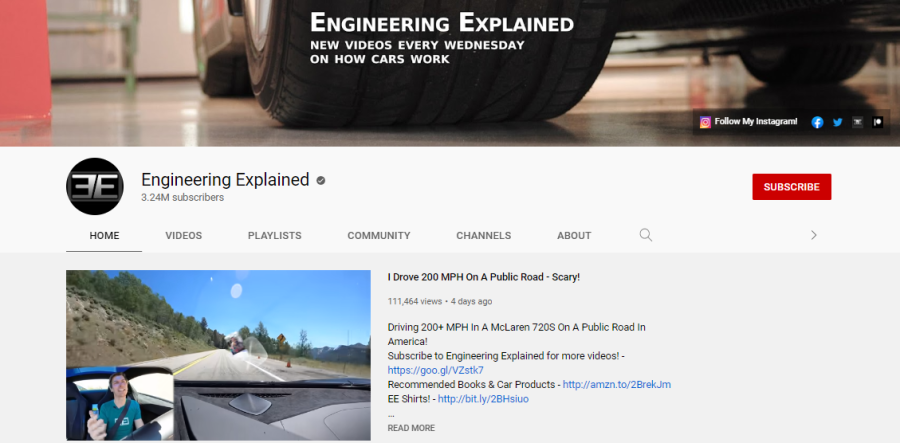 With over a whopping 23.24 million subscribers, Engineering Explained is a hub of content on cars YouTube. Most people out there look for videos that showcase the fun to drive around in the new car. However, Engineering Explained is not quite the best option for such viewers. Well, Engineering Explained is the best place for car enthusiasts who find it more interesting to watch how such new cars were built. It's the place for those who always look to find out about the major technicalities behind the simple functions of cars. 
Engineering Explained is hosted by one of the biggest car YouTubers, Jason Fenske. For all the automobile maniacs out there, he simplifies the complexities behind the making of a car. All the videos are in most layman's language and do not include many complicated terminologies. 
Out of all types of videos available on the channel, the review videos are one of the best. We say so because you can watch these videos to know about the details to look for while purchasing a car. Through these videos, you'll be able to know the complete efficiency of any vehicle. Hence, we think that Engineering Explained is absolutely worth the time.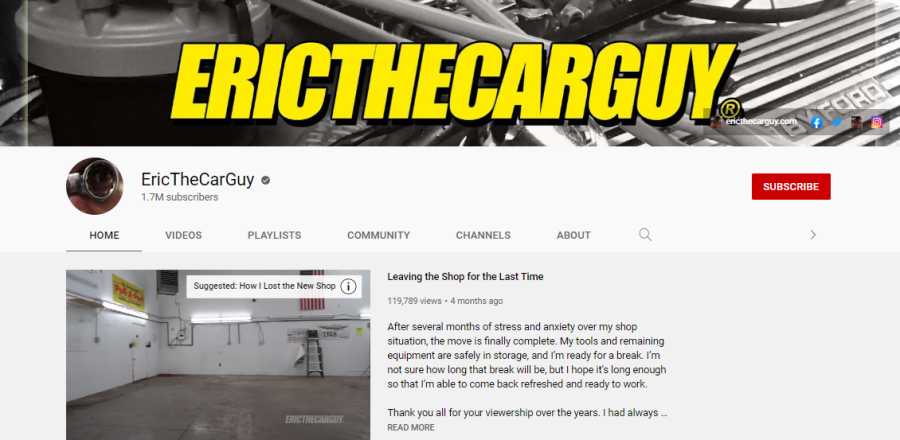 Next up, on our list of best car YouTubers, we have EricTheCarGuy. If you own a car and want to solve some problems related to it or enhance its efficiency or improve performance on road, you can rely on Eric to help you with it. No matter which company, type, or model car you own, we're sure you'll find something useful and valuable on the channel. This channel is the one-stop shop for all your vehicle-related problems and needs.
EricTheCarGuy has a whopping 1.7 million subscribers and is one of the most useful car YouTube channels out there. All the videos posted are top-notch and proven for assisting people in maintaining and handling automotive-related problems.
Here, you'll be able to find doable tricks and tips to keep your car in order and functioning. It may happen that you might not even need to depend on mechanics and professionals for some needs.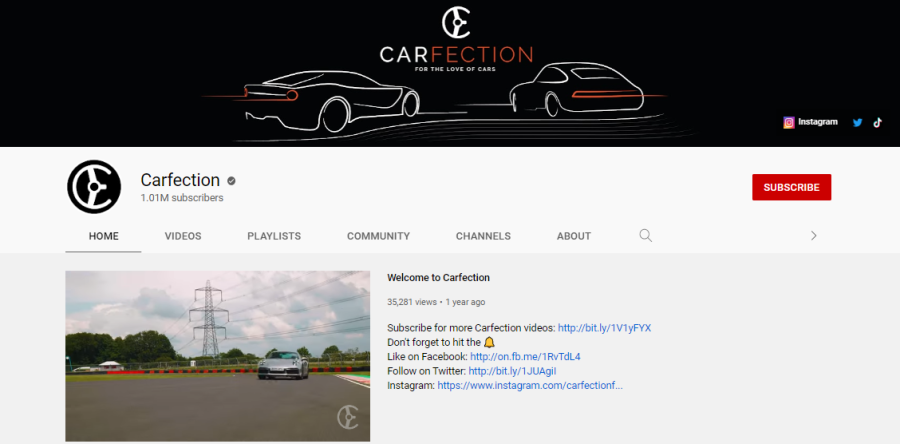 If you're looking for car channels that are majorly dedicated to luxury cars and their reviews, your search ends here. Carfection is one of the most popular and well-known channels when it comes to luxury car videos and their reviews. Carfection has a whopping 1 million YouTube subscribers and has over 1.2K videos posted on the channel. Thus, the channel has more content than you could ever watch.
Some of the most watched videos on the channel are the ones having content on the amazing behind-the-scenes of cars. There are also videos in which the history particular of cars is put forward in the form of a story. Nearly all the videos published on the channel are mind-blowing. Hence, one thing's sure that you won't be disappointed. We're sure that the videos will boost your interest and enthusiasm related to cars. 
The people behind the channel are some of the most experienced professionals in the automotive industry. Hence, if you love cars and want an honest opinion and review from the best, you can rely on Carfection. The review videos have plenty to say about each car.  Hence, now, you can very well understand that going for Carfection will be worth it.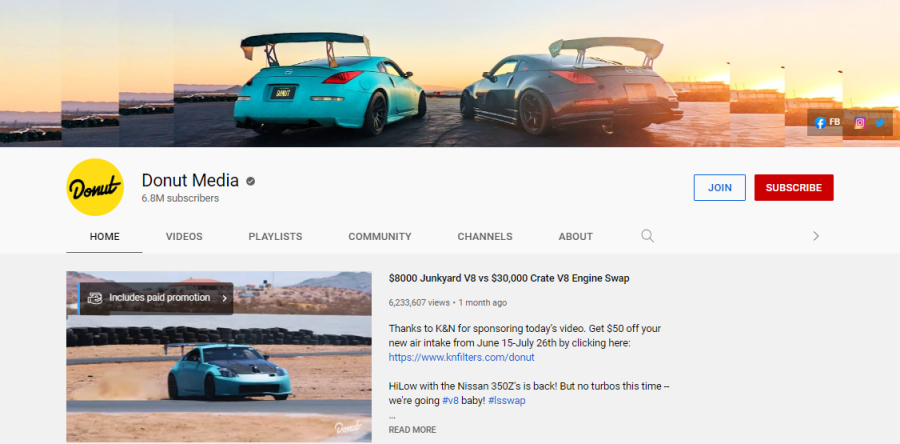 If you're a fan of anything and everything related to cars, then Donut Media is the place for you. Donut Media is one of the best car YouTube channels out there with a whopping 6.8 million subscribers. The channel started in the year 2015 and today, there are over 1.2K videos on the channel. Donut Media has made a huge splash in the automotive genre on YouTube with its car-related humor and daily videos. All the videos cover a variety of topics related to cars in a hilarious, yet informative way. 
There are different series of videos that you'll be able to find on the channel. First, there is the Up to Speed series. These videos mainly feature historically significant cars and what makes them special. Second, there are the Bumper 2 Bumper series.
The videos of this series mainly include custom cars related to pop culture or completely outlandish ones. Third, is the Wheelhouse series. The videos in this series mainly deal with answers to crazy car-related questions and general opinions.
The amount and variety of videos that Donut Media offers are quite unmatchable by any other channel out there. We're sure that you'll have plenty of fun and laughs watching videos of Donut Media.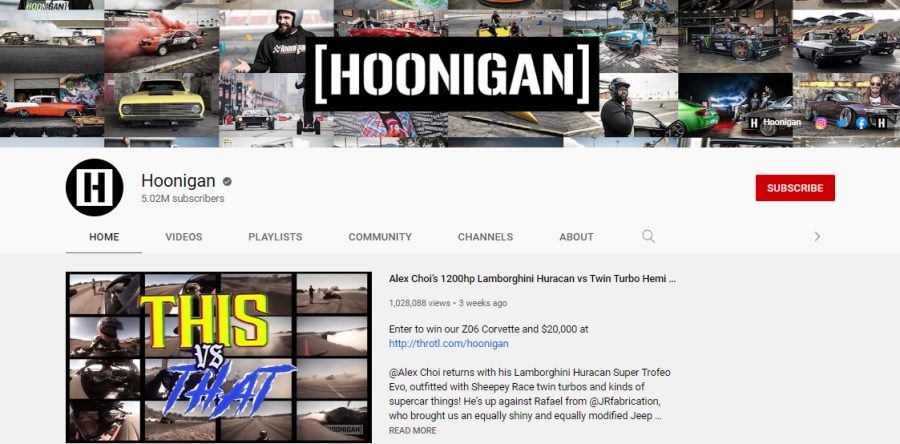 The Hoonigans is one of the ideal YouTube call channels for all the racing fans and custom car builds aficionados out there. Also, it is one of the best options if you're someone who racing, burnouts, and a lot of burning rubber. 
At The Hoonigans, the car YouTubers are super funny and irreverent. All the car YouTubers of this YouTube channel love showing off and competing against one another. The Hoonigans has a whopping 5 million subscribers and has nearly 1K videos on the channel. The videos posted on the channel are of great variety and diversity. Hence, you won't be tired and bored of watching the same type of car-related content again and again. 
The types of videos you'll find here include challenges, car build breakdowns, occasional driving tutorials, and more. Also, the channel boasts a number of regular shows, which include The Unprofessional, A Beer With, Field Trip, and This Vs That.
The Hoonigans have some deep-pocketed sponsors. It makes their production value second to none and allows them to feature some of the coolest motor builds and best driving. Hence, they're able to produce unquestionably some of the best motorsport content on the internet.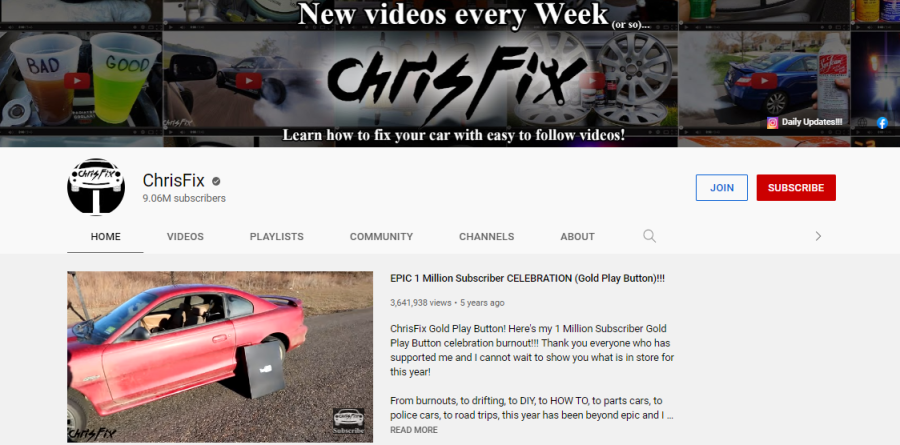 Next up, on our list of best car YouTubers, we have CrisFix. Well, ChrisFix is different from the aforementioned entries on the list like The Hoonigans and Donut Media. The channel does not have content related to destroying a car, learning about racing history, or how your car works. Rather, ChrisFix's videos are all about helping people fix their cars by themselves. It's no doubt why CrisFix has a whopping 9 million subscribers on YouTube.
There are over 2K videos posted on CrisFix. Most of the videos posted mainly deal with how to fix various parts of your car. So, if you've ever tried repairing your car yourself, you must have come across or watched ChrisFix's videos in past. Apart from tutorials, ChrisFix has other types of videos as well. Other videos that you can find on the channel include product reviews, general knowledge about vehicles, questions answered, and more.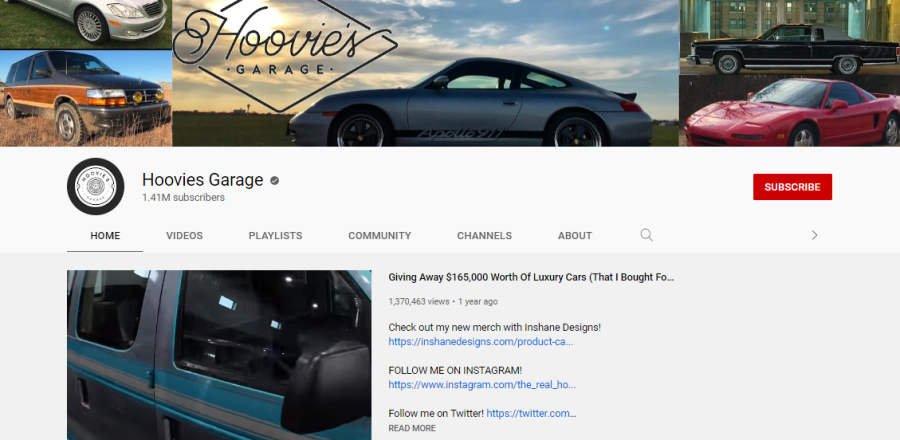 Hoovie's Garage is a pretty awesome channel to look out for on YouTube. The content and videos about cars on this channel are completely different from the content of other channels out there. The channel involves Tyler Hoover, a car collector in the US. Hoovie's Garage has over 1.41 million subscribers and has more than 500 videos posted on the channel.
Well, the videos posted mostly deal with buying cars at cheap rates and then selling them at relatively higher prices. First, Tyler Hoover looks for the cheapest expensive cars in the US. Second, he then buys those cars at excellent prices and takes them to his specialist mechanic.
Finally, after all the modifications, he then sells those cars again to make a profit. Also, there are cases when some of the cars he buys end up staying within his collection. It's because of too much liking for certain purchases or because requires too much repair work.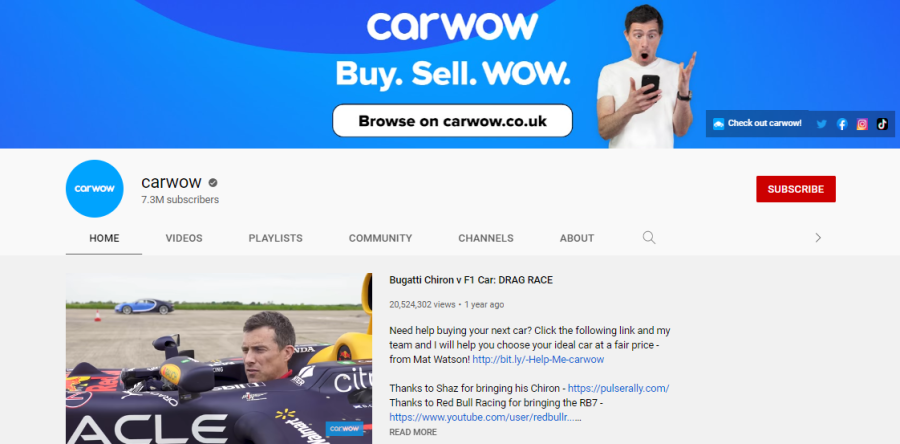 Last, on our list of best car YouTubers, we have Carwoow, a UK-based automotive review channel on YouTube. Mat Watson is the person behind the channel as well as its presenter. The videos posted on the channel mainly deals with reviewing brand-new cars, showcasing performance, trying practicality, and examining build quality.
Apart from the YouTube channel, Carwow is also a website on the internet. It is one of the most popular platforms when it comes to selling cars as well as finding the best prices for new and used cars.
Carwow has a whopping 7 million subscribers on YouTube and the channel is absolutely worth checking out. We say so because, with Carwow, you'll be able to get access to exclusive reveals of new cars. Also, you'll be able to stay updated about the world's motor shows. 
Conclusion:
So, with this, we come to the end of our list of best car YouTubers. These are the car channels on YouTube that we think are binge-worthy. With the aforementioned channels, we're sure you'll be able to find the right fit channels that you will like best. 
All the aforementioned channels have got their count of subscribers in millions. Hence, there lies a very negligible chance that you'll find videos of any channel not interesting, useless, or boring. 
Although we've reviewed each one of them in detail, we would suggest you once visit the channels to get a more clear understanding or picture of what to expect and what not.




© Upviews 2022 All Rights Reserved.